Travel is rebounding and nearing pre-pandemic levels. IATA has forecast that passenger revenue in 2023 is going to be more than 90% of its Pre-Covid level in 2019. Still, costs and revenues remain the top priorities that most companies seek to improve their profitability.
The accelerated adoption of e-commerce and online payments during the past three years has vastly transformed consumer behaviors and payment preferences.
A research by payment company Nuvei and consulting firm EDC, titled Around The World In 80 Ways To Pay, forecasts that 74% of the total revenue will be generated through online sales by 2026. But the abandonment rates in online transactions are still very high: 85% for travel abandonment and 78% for hotel abandonment, according to the report.
Kelvin Khoo, VP Sales Travel of Nuvei Asia Pacific, thinks that improvements in payment transactions will help most travel merchants grow their businesses in an effective and accelerated way.
At the recent 2023 TravelDaily Conference, Mr. Khoo delivered a keynote speech titled "Unraveling the Future Growth Trajectory of Travel E-commerce through Consumer Behaviors and Payment Trends".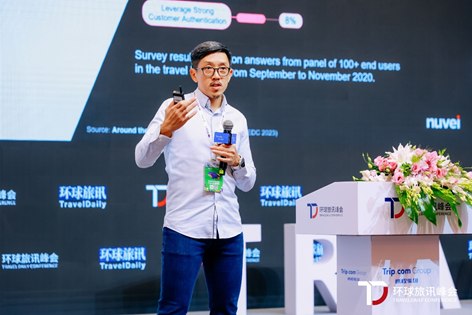 He summarized that Nuvei's core competency is in payments, providing acceptance points and data analytics. It delivers tailored solutions and account management. Partnerships, like with UATP for airline acquiring, are key. While focusing on travel, its global customer base spans industries.
Nuvei surveyed 5,000 consumers across 10 markets and benchmarked airlines and OTAs. The research shows most buyers will purchase if preferred payment methods are available. BNPL is increasingly important. Clear policies help reduce confusion. Security remains paramount.
Mr. Khoo also mentioned that offering customized local payment options and transparent policies will be key for travel companies to reduce cart abandonment and capitalize on the continued growth in e-commerce.
Following are excerpts of the speech, edited for brevity:
Good afternoon, everyone. My name is Kelvin. I'm the VP of travel for Nuvei in APAC. We have a wonderful team here today from our China office in the crowd, please feel free to talk to them as well.
Probably you'll be wondering who is Nuvei, where we are from, and what we do. Let me just give you a very brief video about who we are. Okay, does anyone know who he is? His name is Ryan Reynolds. He's a Hollywood actor. He's from Canada. He is also a comedian as well as an investor in our company Nuvei. The message that he's trying to say is that payments are not very difficult. You're not trying to sell your organs just so that you can manage payments for a particular company.
So who we are? We are headquartered in Canada. We have offices around the world as well. We are listed in NASDAQ. We are a very flexible and agile company that deals with payment technology. We want to make sure that our customers are very successful in doing their local and global payments. So that's Nuvei.
To give you a bit of a glance about where we are around the world: we have an office here in Shanghai with a very big team, an office in Singapore, and an office in Australia as well. There's another office missing there - we also have an office in Hong Kong.
Today we are processing about 128 billion US dollars of transaction volume, and 90% of that comes from e-commerce. We're present in 200 markets doing a lot of acquiring, doing a lot of domestic payments and we have almost 2,000 employees globally.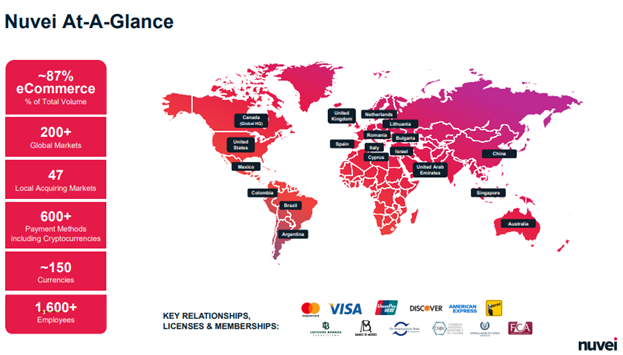 Now let's talk about the implication of the global pandemic to the travel sector. Everyone knows it's a huge impact over the last three years. It's been very difficult for all of us. But what have we Learned from it? That's the most important part of it, right? So the impact of Covid-19, it has basically accelerated online sales five years, right? So what is supposed to happen in 2028-2030 is currently happening today.
During the times in 2020, about 25% to 26% of sales were done online. It had grown so quickly within one year, and over 80% of consumers actually shopped online. It has also shifted the behavior of our e-commerce or online merchants. It has shifted the behavior of the buyers and the consumers as well.
So I, for one, actually did not expect myself to buy furniture online. Because I couldn't go to the office. Everything was locked down. I had to convert one of my rooms to become an office. So I had to buy new things, new furniture. Hence in 2021, we noticed that furniture and electronics recorded the biggest growth, about 200%. I'm a gadget person. I have a lot of screens now in my makeup office, at home. Basically, that's part of the culprit.
And then what's next? Of course, F&B, right? You can't go out to purchase food. I know it was very tough in China as well, but it happened around the world. It happened in the place where I was from, Singapore as well. So we had to buy things online. So F&B suddenly experienced a lot of online sales. Purchases were being made online. Some were not ready for this kind of change. Delivery companies, delivery drivers, and delivery agents started to boom. And in fact, general merchandisers also saw increases in online sales. All these things are transported by air. For a country like Singapore, things are moving into the country by air most of the time. New industries or certain industries also increased their sales like logistics and delivery companies. There is also a statistic that we say in 2025, 95% of all orders will be made online. This is the belief.
So the impact of the pandemic has varied significantly country-by-country, as well as the type of air travel. The domestic RPK (Revenue Passenger Kilometer) shrunk in Australia by 86%. That's a huge amount. But if you compare it with the US, that's only about 61%. After the pandemic, China's domestic airline market is now growing so quickly that it's going to be in full recovery sooner than expected. But the airline traffic in Europe is not as quick as we understand, for example in France.
Nuvei partnered with Edgar Dunn & Company (EDC), a global payments consulting firm. We created this research, available online, and is called Around The World In 80 Ways to Pay. We have a look in-depth on the analysis of what the travelers are experiencing. Let's have a look a little bit at what the research is telling us. We look at just the airline payments alone, cost and revenue, definitely the main driver for all airlines, even OTAs like you guys. But in terms of that, IATA has forecasted that passenger revenue in 2023 is going to be more than 90% of its Pre-Covid level in 2019. And the year-on-year growth has been very consistent now.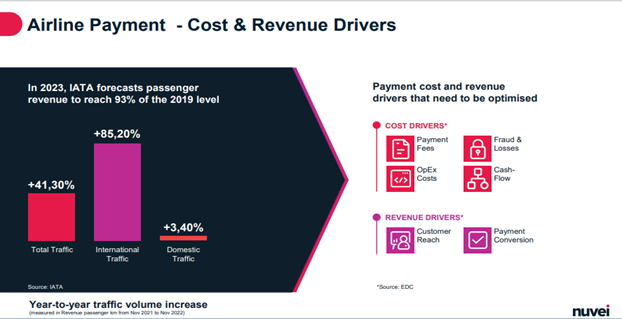 We took a comparison from November 2021 to November 2022. And we can already see that there is a huge growth rate in terms of airline travel. The biggest is international travel. Of course, once the borders are re-opened, the first place I would like to go is obviously to another country. What is the key factor for every travel company? Obviously, to reduce cost. Cost is the main driver. Payment fees, you want to reduce as much as possible what your providers are charging you.
And operation expenditure as well. You want to reduce that. You want to increase your cash flow and then you obviously will want to stay away from fraud and losses as much as possible. You want to create more places where you can make money. The revenue drivers, you want to expand into new markets, enabling more payment methods and creating more ways to capture market share from your competitors. You want to use payments to convert more into sales.
Today, more and more people are very interested in looking at how they experience the buying process or the payments, the digital experience. So there will be about 74% of revenue generated online by 2026. This is what we foresee. And for the travel industry, the travel merchants, abandonment is still very high. I'm not sure if I'm contributing to that, but usually, I'll go to different OTAs and scout for pricing before I choose one.
And what are the reasons for abandonment? People look at the experience of buying a particular travel package. It's the checkout process being the highest 18%. Why the checkout process? Because when you are on this instinct to buy, you would want to make sure that you go through the process as soon as possible. And if the process is too long, asking for too much information, you get turned off. You rather buy from somewhere else.
The payment methods have been offered there as well. Not everyone has the privilege of having different types of payment methods. So if you can offer a more localized payment method, that could actually help the conversion. One of the best practices that we have found out when we interviewed 100+ end users in the travel industry at the start of Covid is that digital experience is actually at the highest point. When people talk about digital experience, they want to make sure that when they buy something, it's always fictionless, no obstacles.
We did a survey with consumers where we interviewed about 5,000 respondents from 10 different markets. We went to different payment pages and did some benchmarking of 100 airlines and 30 OTAs. And this is what we are using, all the different measurement points like flexibility, convenience, transparency, and of course, security, to look at what are the buying behavior of the consumers.
More than 70% of the buyers will make a travel purchase if their preferred payment method is available. If not, they are not making a purchase. That's like three-quarters of the volume of whatever that's out there in the market. If you don't have something that's readily convenient for a customer to make a payment, they will go somewhere else. That's the key.
And to my surprise, but not the industry's surprise, BNPL, Buy Now Pay Later is a very important thing. 71% of the respondents said they will buy something using BNPL. You want to be as convenient as possible when you purchase something. 25% of consumers have at least experienced a payment failure in their lifetime, especially for a travel purchase. And among these consumers, 8% do not come back or do not buy. 15% go to your next door neighbor or your competitor. Imagine 15% have left your business to someone else.
The other thing in terms of convenience, which I see happening quite a fair bit, because of the uncertainty of whether the borders will be open, additional policies during the Covid and during the early days of reopening, is that 85% of customers expressed that they will use the "hold my booking" function on the airlines and travel portals. But only 30% of airlines today are offering this kind of function.
And transparency, again, has something to do with the uncertainty of border travel during that time, during the years 2020 and 2021. The refund and cancellation policies have to be very clear. You need to make sure that it's way upfront. The customers need to know what are they buying, what are they signing up for. This is just to avoid any confusion that the customers have. Almost 50% of respondents don't find it easy to read the refund and cancellation clauses on your websites. So we have to make this a little bit more transparent. And of course, 90% of the airlines don't even put it at the front. They put it at the back.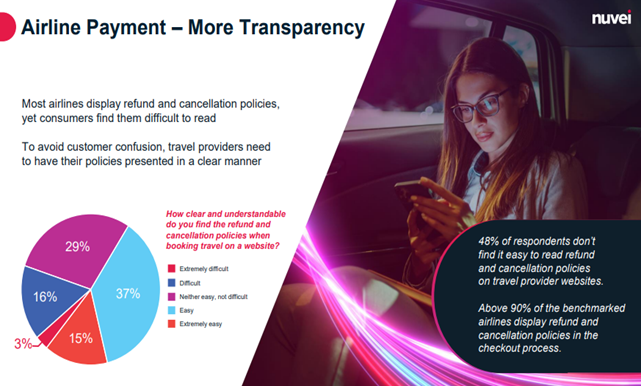 Last but not least, security is the most important thing. We want to make sure that everyone who is buying from your side is very familiar with the payment methods. I always recommend to my travel customers to use 3D Secure, which protects you as a merchant for any kind of payment transactions as well.
So in just a very quick summary, why do customers look at Nuvei for some of the things that we can offer?
No. 1, we are good at what we do in terms of payments. We are an acquiring company. We do payment technology. We provide as many acceptance points as possible to all our customers. We use that as a way to benchmark the type of data that you get. You can look at the analytics that we have generated from the payment process. Like the video, by milliseconds, we produce analysis for you and you can use that in your payment strategy. And of course, solutions and commercials have to come into play. We have a very dedicated team of account managers. As much as you like to say that automation is very good, but it's always human interaction on a very important basis that you want to always have in front of you, someone to talk to, someone to tell your problems with, so that you can get things settled.
We also have a very big team of partnerships in APAC. One of our key partners is UATP, a payment company for airlines. We partner with them as a strategic way for the acquiring part of the business. We are processing most of their transactions today for most of the airlines. And how this partnership works is very simple and straightforward. An airline would either use Nuvei directly, or use UATP to process their payment transactions and we provide them with many functions and facilities through our platform.
We don't just do airline and travel. We are an all-rounder payments company. We have a global customer base of huge retail brands as well as digital brands. And these are some of the customers that we have supported throughout the days in terms of airlines and travel.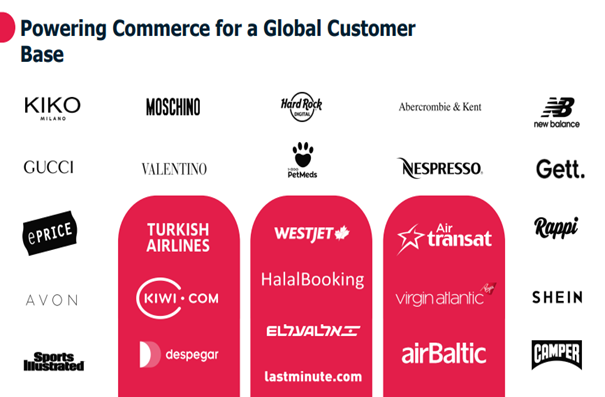 That's all I think I'm about there in terms of timing. Please feel free to talk to us. Very happy to hear you out to listen to what you have. If you want to talk to us about some ideas that you think you want to implement in your organization for payments, feel free to approach us. Thank you very much.