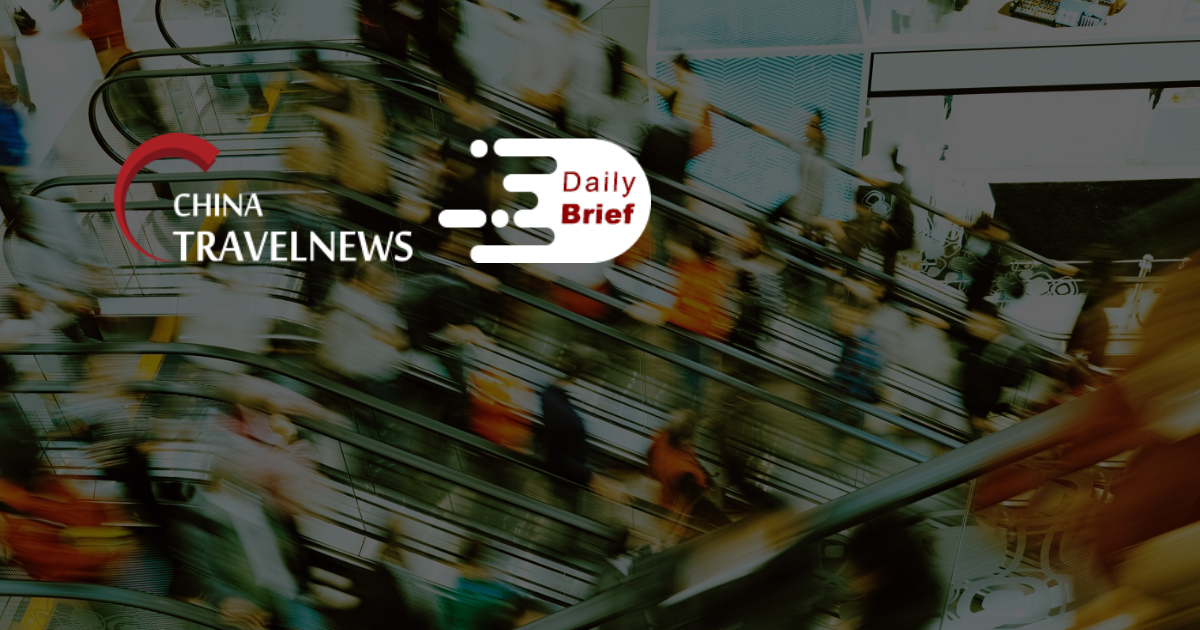 Tencent says Meituan stake-sale report is not accurate
>> Food delivery giant Meituan rose in US trading after Tencent Holdings Chief Strategy Officer James Mitchell said a report that the company intends to sell all or much of its USD 24 billion stake in the company was incorrect. Reuters reported Tuesday that the social media giant has engaged financial advisers in recent months on ways to execute the sale of a roughly 17% stake, in order to appease state authorities that have been working to curb the influence of tech industry leaders.
Tencent-invested OTA reports more than a billion Mini Program visitors
>> Tongcheng Travel, a Hong Kong-listed online travel company backed by Tencent and Trip.com Group, announced that the company's accumulated number of unique visitors in Weixin mini program exceeded one billion since the establishment of the program. As the company expects that the accumulated number of unique visitors will continue to grow.
China's hotel construction pipeline size drops slightly in Q2
>> According to the latest Construction Pipeline Trend Report from Lodging Econometrics (LE), the total China hotel construction pipeline is 3,693 projects/701,974 rooms. At the end of the second quarter, the country's construction pipeline is slightly less than the all-time high of 3,711 projects/704,101 rooms set in the first quarter (2022) and is up 7% by projects year-over-year (YOY) and 6% YOY by rooms.
Macau reports 99% fall in visitors in Covid-hit July
>> Visitor arrivals to Macau in July fell 98.8% year-on-year, due to what the government called "the lingering impacts of the coronavirus pandemic". The July tally of 9,759 was down 97.4% month-on-month, even on the weak numbers seen in June, according to data released on Thursday by Macau's Statistics and Census Service.
Aging theme park to get $73 million facelift
>> Guangzhou's Nanhu Amusement Park is about to receive a major renovation. Southern China's first theme park is showing signs of its age since opening in 1985. The city government plans to invest about RMB 500 million in the park, which will be open 24 hours a day and feature esports venues and night markets.
China travel to boom when border opens: Samsonite CEO
>> Chinese international travel is set to boom when the nation's borders finally reopen, according to the chief executive officer of luggage maker Samsonite International SA. "The real hold back for China unleashing will be international travel, which is still down 95%," Samsonite chief Kyle Gendreau said in an interview with Bloomberg Television on Friday. "When that releases, the Chinese consumers' pent-up demand for travel will be the same as we've seen everywhere else in the world and when it does open I expect it to really open with a boom."
COMAC supplier Guanglian to build $44.2 million drone plant
>> Guanglian Aviation Industry, a firm that has provided China's first large homemade aircraft with parts, intends to spend RMB 300 million (USD 44.2 million) on increasing its drone output. Guanglian plans to sign a construction agreement with a local government in Zigong, Sichuan province, for the project, the Harbin-based company said in a statement yesterday.
Cathay Pacific retires Marco Polo Club
>> Hong Kong airline Cathay Pacific said it has combined its two membership programs - the Marco Polo Club and the Asia Miles - and branded the new program simply as Cathay. In mid-2021, Cathay Pacific announced the introduction of "Cathay" as a "premium lifestyle brand."
Trip.com Group holds Traveler's Forum, focusing on content marketing innovation and destination development
>> Trip.com Group held its annual Traveler's Forum (TF) in Changsha, the capital city of Hunan province in central China, on August 18, focusing on travel content marketing innovation and destination development. The Traveler's Forum consists of three parts: International Travelers' Content Creator Forum, Travelers' Night, and a Music Festival & Lifestyle Fair. The forum offered cross-border communication opportunities to the tourism industry, experts, academics, and travel content creators.