Trip.com Group, a leading global travel services provider, has announced it will implement a global hybrid work model where employees will be given the option to work remotely on certain days each week from March 1st. With the launch of this new policy, Trip.com Group will become the first internet company in mainland China to implement a comprehensive proactive hybrid work model.
Trip.com Group's new hybrid work model will be rolled out to employees across the travel group. Beginning with offices in mainland China, from March 1st employees will have the option to apply to work remotely during fixed times subject to management discretion. This policy will be implemented in Trip.com Group's global offices adjusted according to local circumstances and COVID-19 protection measures.
Prior to the official implementation of the hybrid work policy, Trip.com Group conducted three large-scale, localised hybrid work trials in 2010, 2020 and 2021. Each of the trials focused on different groups of staff and working models. The 2020 trial which saw volunteers work from home for periods showed an increase in participant work performance and a decrease in labour turnover rates. The latest data from the 2021 trial shows that 93% of employees who volunteered felt they used their time more efficiently and over 75% reported feeling an improvement in their wellness.
"Hybrid work will profoundly impact the future of work-life balance, with huge potential and advantages", said James Liang, Chairman of the Board at Trip.com Group. "This is not a reactive measure in response to the pandemic but a proactive decision we are making for our employees based on years of research. Trip.com Group will continue to explore our hybrid work model in the long term and drive global change".
With a significant drop in labour turnover and nearly 80% of employees saying it is conducive to improved wellness and work-life balance, the announced policy closely fits with the Group's Employee Value Proposition to "live for more than work" and "to truly lead a full life in and out of the office".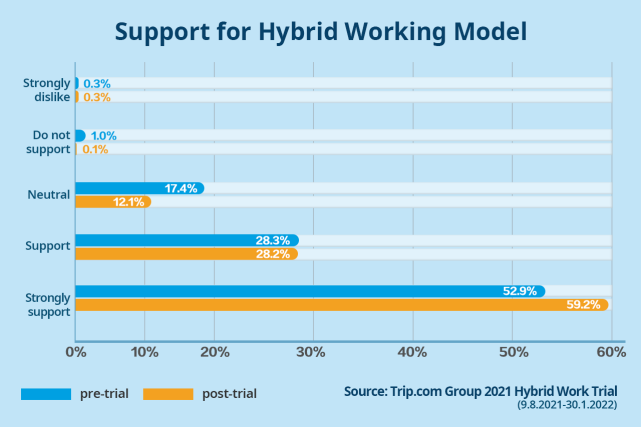 Increased job satisfaction and happiness were the two main reasons employees gave in support of a hybrid work model. Over 93% of employees agreed that a hybrid work model reduced travel time, and more efficient use of their time could be applied. Over 78% of employees felt that a hybrid work model is conducive to an improved work-life balance. While over 75% felt that their wellness levels improved and were more creative during work.
The data also shows that a hybrid work model significantly reduced staff turnover, with data from a 2010 trial of Trip.com Group customer service staff showing a 50% reduction in turnover rates. Data from the 2021 trial showed a drop of around 32%.
Trip.com Group has led the development and research into hybrid work over the past decade. As early as 2010 the company carried out its first trial and in 2013 Trip.com Group Chairman of the Board James Liang published a research paper in collaboration with experts and scholars from the Stanford University Graduate School of Business, demonstrating the positive effects of hybrid work.