ChinaTravelNews, Ritesh Gupta - Travel marketers are looking at data and processing technology to understand the intent of consumers in order to connect better.
It is being highlighted that brands are looking beyond traditional audience profiling and looking at options like behavioural data to come up with relevant message, content and ads.
Charlene Ree, EternityX's chief executive and founder, in an interview with ChinaTravelNews.com, explained that audience profiling is the process of crafting distinct audience insights by assessing consumption behaviour. "It is an important process to segment and understand your audience profile before launching the actual advertising campaign as it will certainly determine the quality of the traffic," she said.
Role of data in better profiling
What has changed as far as audience profiling is concerned is doing away with setting up of a consumer persona with relatively limited information available about consumers.
"Through AI (artificial technology) nowadays, we manage to consolidate scattered data from different platforms and data sources to develop a multi-dimensional audience profile so that more relevant content and messages can be delivered," she said. As a result, the relevancy of ads goes up, higher the chance of conversion and overall better campaign results. Charlene's team capitalizes on data from "clients and high traffic platforms" and is able to "perceive, comprehend and act on these data" by using their proprietary data processing technology.
Eventually this analysis helps in working out content for consumers and target them throughout their decision-making journey. Citing an example, she said during Chinese Lunar New Year in February this year, the team helped a premium luxury jewellery brand in their digital marketing campaign to raise awareness of its new shop in Sanya. It was directed at on-the-go visitors in Hainan, at transport hubs such as airports, terminals and train stations.
In case of travel-related products, this decision-making journey is relatively longer as compared to products from some of the other categories. "We comprehend tourists' real-time needs by leveraging our multi-dimensional audience profiling data. To name a relevant campaign, we have recently planned and executed a campaign targeting tourists in Guangdong for a luxury hotel. Through our programmatic campaign with precise targeting, we successfully increased the brand exposure in short turnaround with high conversion rate despite the current travel environment. The final exposure of the campaign reached over 12 million impressions in 12 days with the conversion reaching 15% higher than the target goal," said Charlene.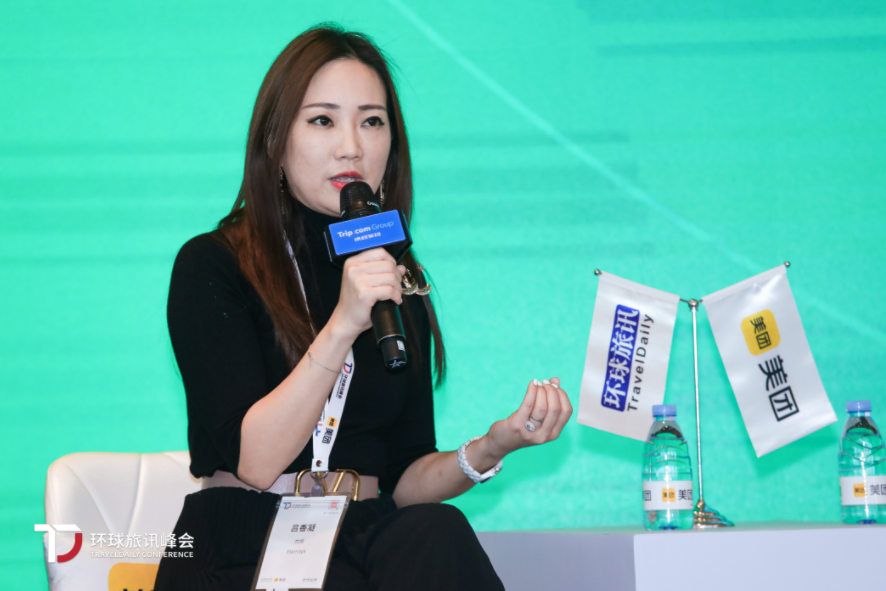 Charlene Ree, EternityX's chief executive and founder
She said for foreign brands it is important to evaluate the complexity of the digital ecosystem in China. "It is crucial to maintain a consistent brand value," said Charlene, emphasising on the significance of localization, partnering with an apt ally and local expertise.
She gave a couple of examples:
- Considering how dynamic the ecosystem is today, it is important to understand the characteristics of each platform and their target demographics. "For instance, the demographic of Kuaishou (a short video social platform) is mainly targeting the youth in non-1st or 2nd-tier cities and also smaller towns; while Xiaohongshu (a social media and e-commerce platform) targets luxury shoppers in 1st-tier cities, which makes the latter often an easier to utilize platform for travel agencies to target high consumption travelers," explained Charlene. The brand's target consumers should be aligned with the user profile of the various third party platform in order to achieve efficiency. There are also various solutions being introduced that will enable more precise cross-device and platform targeting, including EternityX's own ID Space solution.

- Live streaming is a popular trend among the young generation in China. "Compared with pre-recorded videos, live streaming's viewing period and engagement rate is three times longer and six times higher respectively," said Charlene. She referred to a new research in China, which indicates that almost 80% of the users are inclined to purchase through these live streaming sessions as it provides a more authentic and realistic experience. "And this retail model has successfully boosted sales by attracting users to place orders, and helps capital flow for product, service providers and platforms. The beauty of such personalized video content is that it does not need to be done by a well-known celebrity or a key opinion leader, but rather, more traditional sales associates or personnel are now more inclined, and becoming quite proficient, in utilizing such sales model and achieving high success rate."
Tactics during a challenging phase
Travel marketers are looking at ways to boost recovery. With the cross-border travel still remaining mostly halted now, EternityX has designed a full-stacked strategic plan for travel companies to remain on consumers' travel wishlist when travel resumes.
"Since consumers are still dreaming and planning for their next global trip, we need to create wow content, featuring relatable personalities (for example, travel influencers) to catch target audience's attention, and after that, we would strengthen the influence with relevant communities to keep the conversation and momentum; so that once the border is reopened, we remain deeply connected with consumers when they are ready to plan and book their trip," said Charlene.
She said for instance the Netherlands Board of Tourism & Conventions (NBTC) would like to inspire Chinese travellers to visit their country once border reopens. "After leveraging a combination of data sources and our technology, we utilized programmatically bid optimization for display spaces on premium media platforms in China and selected a well-known travel KOL (key opinion leader) who could send a powerful, attention-grabbing message of her desire to revisit and longing for the beauty of Netherlands," said Charlene about the initiative. "Through this precise marketing, we have achieved 20% higher CTR than promised and increase 96% of the positive comments and achieve 33% of the video engagement rate which is higher than average benchmark."
At the domestic level, too, the team has worked on campaigns.
"Prior to the Labour Day last year, the travel restrictions and ongoing pandemic drove a significant rise in domestic tourism in China. To help our client, Wanda Vista Hotel, to raise brand awareness and boost the conversion rate, we have chosen Douyin as our major medium as it has lot of quality video creators, actively uploading travel related content on the platform and their fanbase also align with our client's target audience," added Charlene. In order to target this audience, the team chose a KOL to film a short video on the Douyin platform to promote the hotel and its facilities through the theme of domestic tourism. And with viral short video on Douyin, we then utilized the soft content in the short video coupling with native feed video ads to reach the target conversion result, eventually quadrupling the conversion exceeding expectation."
People of Chinese origin living outside China
The advertising fraternity is also helping brands to target people of Chinese origin living outside China.
Talking about the same, Charlene said for every advertising campaign, the team first evaluates the local market and understands the campaign objectives, then design a precise and efficient proposal targeting. Plus, a continuous effort is being made to understand the audience via research.
"Early this year, we conducted a research on Chinese speaking consumers in Australia. The results indicate that despite being located overseas, Chinese expats retain deep-rooted connection to Chinese media platforms - almost 74% of the Chinese community uses WeChat, 57% to 62% of them regularly use Chinese digital apps, sites, news or Chinese news offerings (print or digital). It is also clear that at least 80% of the respondents speak Chinese at home regardless of how long they have been in Australia."
Also, as per the research findings, Chinese expats depend a lot on Chinese local social platforms even when they live or travel abroad.
This is where having a strong access to overseas inventory of Chinese media, as well as a thorough understanding of the same tends to help overseas brands to target Chinese efficiently.