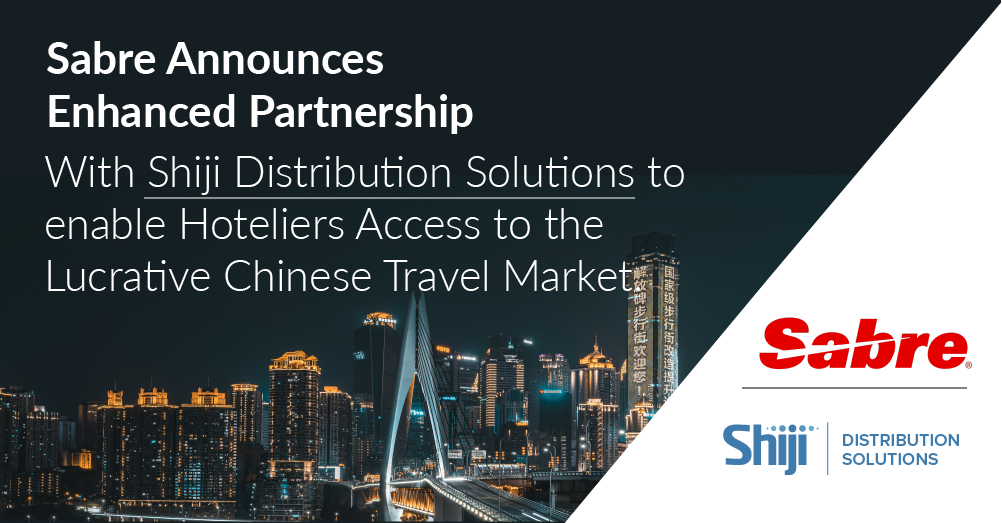 Sabre Corporation, a leading software and technology provider that powers the global travel industry, today announced an enhanced partnership with Shiji Distribution Solutions to better connect hoteliers to the lucrative, yet complex, Chinese travel ecosystem.
While the Chinese travel market is one of the biggest in the world, Chinese travellers have traditionally been hard to reach for many hoteliers. This expanded relationship between Sabre and Shiji will open up further access for hoteliers, through the Sabre SynXis hospitality platform, to the channels Chinese travellers typically use to search and book their trips across corporate and leisure segments.
Sabre has previously worked with Shiji to connect hoteliers to selected channels within China including the popular WeChat Booking Engine, as well as Fliggy and Meituan's travel platforms. The two global technology companies have now reached a much broader agreement to enable Sabre hotel partners to quickly connect to a wider range of travel agents, online travel agencies (OTAs), travel management companies (TMCs) and wholesalers across the Chinese marketplace.
Sabre's hospitality partners will have the power to connect to these channels through Sabre Channel Connect, which simplifies and automates distribution of a hotel's offers, rates and availability, and is designed to reach hotel guests where they shop.