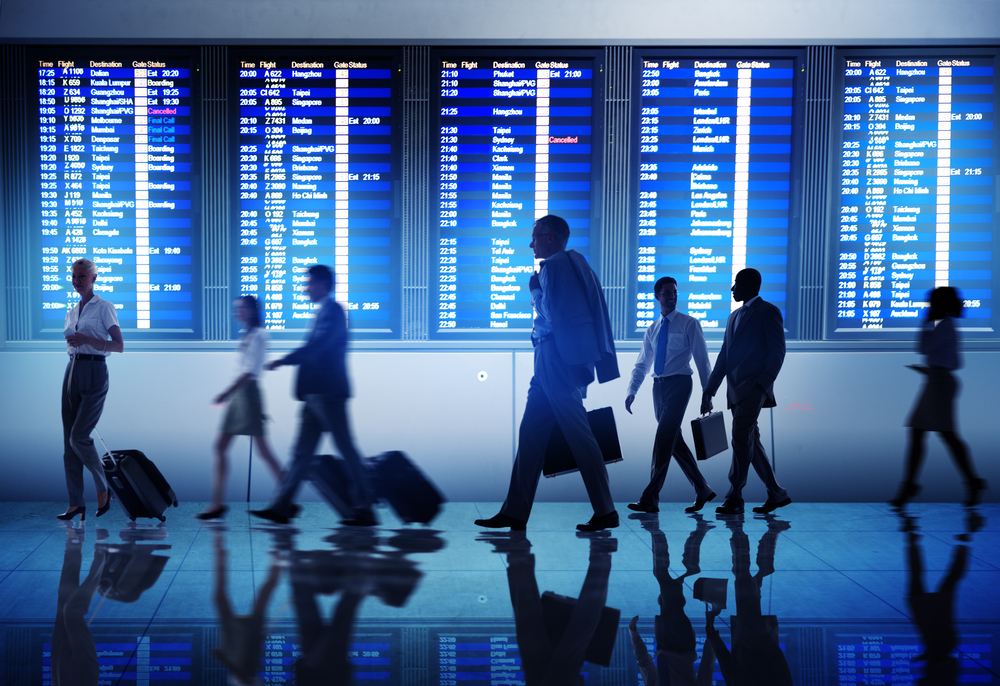 Marginal reductions in global capacity this week as always hide several regional adjustments in capacity as the seasonal holidays in some countries finish and authorities in some countries impose or threaten another series of restrictions. The inconsistencies in various travel restrictions imposed around the world continue to make no sense and confirm that geography was not a subject covered in the school of politics; apparently Reunion is a reason to keep France on the UK's banned list. Meanwhile the Delta variant rampages through the United States where access for UK & European passport holders remains impossible unless you travel via Latin America or the Caribbean first. It's a mad world!
With some 81.2 million seats this week we are half of one percent down on last week or 391,000 fewer seats, as we have said before, until some major international markets re-open then this is as good as it gets. The airlines frustrations are reflected by a further 24 million seats being removed for sale to the end of October and there remains many flights for sale that are very unlikely to operate soon. Many airlines and airports are now expecting 2021 numbers to be lower than 2020, a scenario that most people would have dismissed as impossible at the beginning of the year; well, the impossible can happen.
The closest regional market to a full recovery may surprise many, Central America is only 12% below the August 2019 levels with Central/Western Africa at 14% below the same point last year. Many countries in the region continue to allow relatively free movement across international borders and the growth in "vaccine travel" to the United States has certainly maintained levels of capacity.
Table 1– Scheduled Airline Capacity by Region



Source: OAG
Yes, the United States is the largest market in the world but with no change week on week, Chinese capacity is down by 10% week on week as the seasonal holidays begin to wind down and Canada is bouncing back with 19% week on week growth.
Chinese Taipei is in only a slightly better situation in Malaysia and with its major markets of Hong Kong and China firmly locked with the keys thrown away a recovery looks a long way from picking up anytime soon. Nine country markets remain at less than 30% of their normal capacity levels with the wide geographic spread highlighting the global challenges yet to be faced.
Table 2- Scheduled Capacity, Top 20 Country Markets Capacity Reductions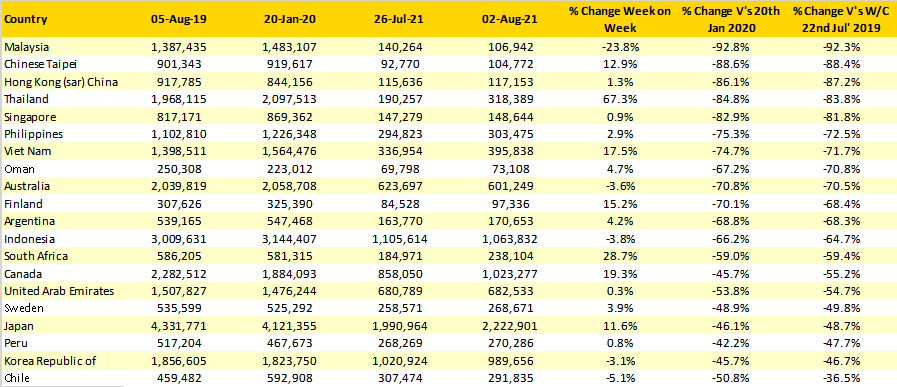 Source: OAG
Given the table above it would be no surprise that airlines such as Cathay Pacific, Singapore Airlines and Air Canada are all struggling to operate anything near their full schedule although in the last week things are beginning to improve for Air Canada. Therefore, in the table below we have highlighted those airlines that have added the most capacity since the first week of April when the IATA Summer Season started.
Perhaps slightly surprisingly Lufthansa rank fifth in this table, a legacy carrier with a heavy reliance on connecting traffic over half a million seats have been added back. It will be interesting to see what their latest quarterly results will look like, similarly for the Air France/KLM group with some 700,000 seats added. All three carriers may be enjoying the benefit of Europe opening ahead of the United Kingdom since British Airways have just manged to put an additional 206,000 seats a week back into the skies.
Table 3- Top 20 Airlines Capacity Growth Since 29th March 2021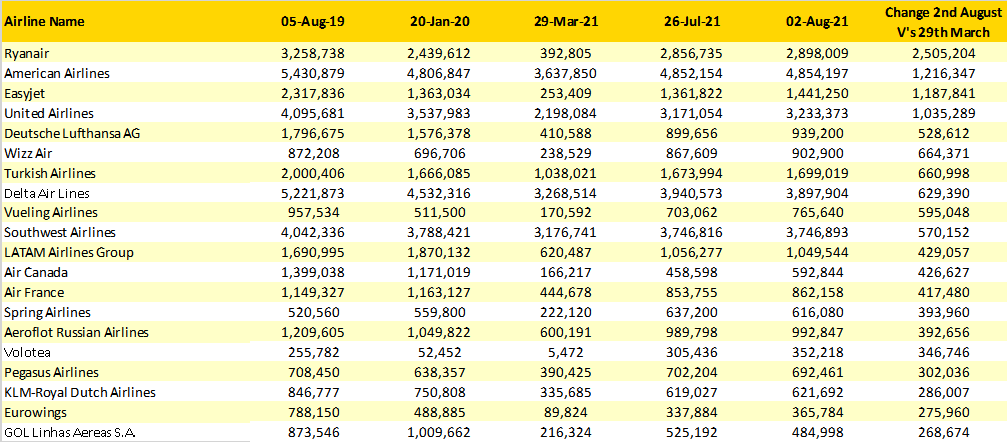 Source: OAG