COVID-19's impacts on global air transport were clearly devastating as the world recorded just 1.8 billion flight passengers in 2020, a decrease of 60.2% compared to the 4.5 billion who flew in 2019, according to the latest data from the International Air Transport Association (IATA).
Total air travel demand (measured in revenue passenger-kilometers, or RPKs) dropped by 65.9% year-on-year, while international passenger demand (RPKs) decreased by 75.6%. Total industry passenger revenues fell by 69% to $189 billion in 2020, and net losses were $126.4 billion in total.
China became the largest domestic market in 2020 for the first time on record, as air travel rebounded faster in their domestic market following their efforts to control COVID-19. The large domestic China market flew close to 20% of global RPKs in 2020, a significant rise from around 10% in 2019.
Two of the world's top five airlines ranked by total scheduled passenger-kilometers flown were from China:
* American Airlines (124 billion)

* China Southern Airlines (110.7 billion)

* Delta Air Lines (106.5 billion)

* United Airlines (100.2 billion)

* China Eastern Airlines (88.7 billion)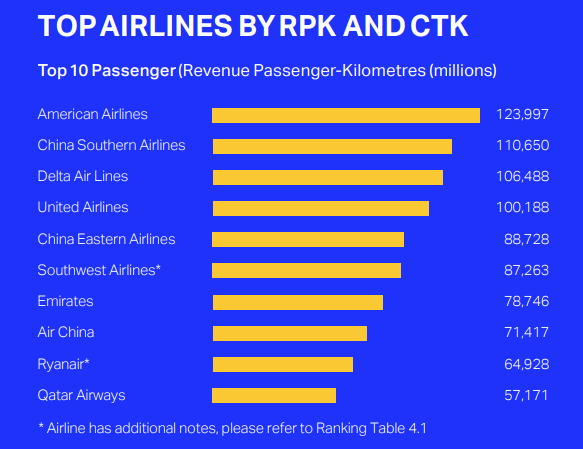 The global top five domestic passenger airport-pairs were all in Asia and outperformed top international routes as domestic recovery returned faster, particularly in China with three:
* Jeju - Seoul Gimpo (10.2 million, up 35.1% over 2019)

* Hanoi - Ho Chi Minh City (5.9 million, an increase of 54.3% from 2019)

* Shanghai-Hongqiao – Shenzhen (3.7 million, up 43.4% from 2019)

* Beijing-Capital - Shanghai-Hongqiao (3.6 million, increased by 11.8% from 2019)

* Guangzhou - Shanghai-Hongqiao (3.5 million, up 41.2% from 2019)