Trip.com Group could decrease its shareholding in Huazhu Group from 6.9% to 3.0% through the online travel company's exchangeable senior notes deals with its investors, according to the Chinese hotel giant's latest SEC filing.
Trip.com Group announced in July 2020 that it proposed to offer up to USD 500 million in aggregate principal amount of exchangeable senior notes due 2027 in offshore transactions outside the United States to non-U.S. persons. The company said it will pay or deliver to such exchanging holders, cash, American Depositary Shares of Huazhu Group, or a combination of cash and the Huazhu ADSs.
The OTA giant said it plans to use the net proceeds from the offering for general corporate purposes, including repayment of any existing financial indebtedness.
In the latest filing submitted to the SEC on July 19, 2021, Huazhu said that as of July 15 Trip.com still owns a 6.9% stake in Huazhu, or 220,494,460 ADSs, but after the exchange, Trip.com could cut its Huazhu stake to 3.0%, or 96,596,960 ADSs.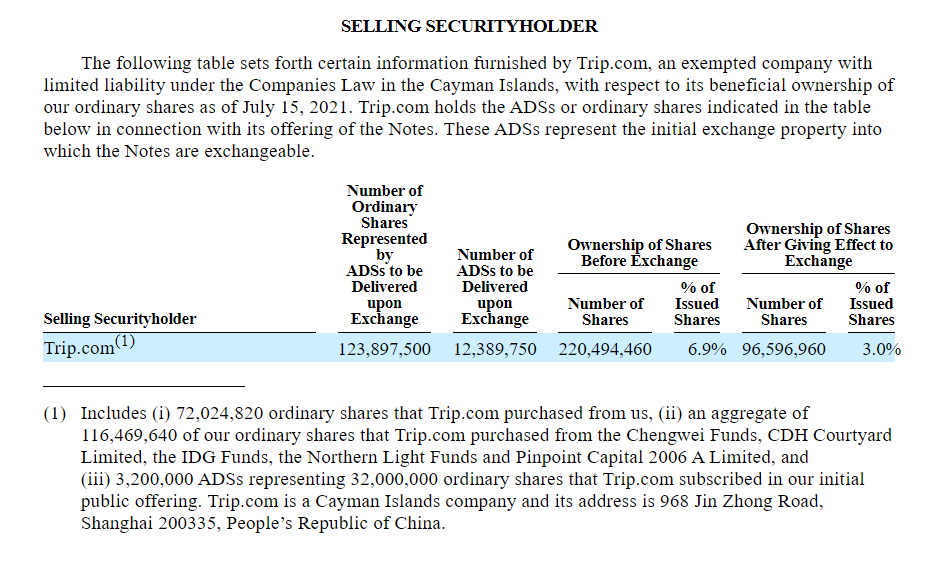 Huazhu said it will not receive any of the proceeds from the sale of these ADSs.