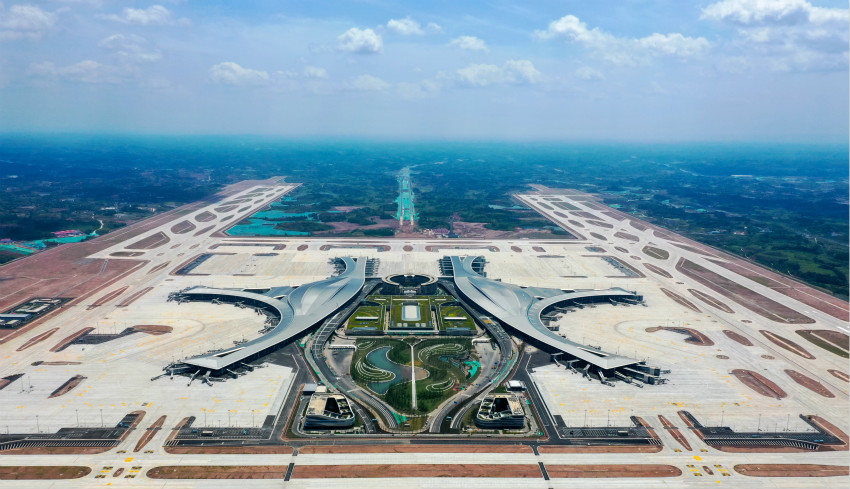 Chengdu, capital of Southwest China's Sichuan Province, became the third city in the Chinese mainland to have two major international airports after Beijing and Shanghai. The new Chengdu Tianfu International Airport started operations on Sunday and will complement the city's Shuangliu International Airport.
The construction of the Chengdu Tianfu International Airport took five years to complete. It has a capacity to manage up to 60 million passenger trips annually and a cargo volume of 1.3 million tons. It is also the biggest civil airport scheduled in the 13th Five-Year Plan (2016-20).
According to the Civil Aviation Administration of China (CAAC), the Chengdu Shuangliu International Airport operated 72 domestic routes and 14 international routes. The new Tianfu International Airport is expected to be the city's main international hub leaving the Shuangliu airport with a more secondary role to support domestic operations. The airport has two terminal buildings, with a total area of 710,000 square meters, and a comprehensive transportation transfer center.
The airport will be a new international hub for Air China, which officially launched its first flight on Sunday. Air China has successively deployed 17 aircrafts at the new airport, gradually increasing its route network to 30 destinations and increasing the number of daily flights to 60.
Air China will increase its investment in stages according to market demand and estimates that, by the end of summer 2023, the airline will cover 95 destinations from Chengdu.
Read original article