Since last week saw some of the fastest capacity growth since January 2020, we could not really have expected this week to be as strong, and it proved to be the case with global capacity increasing by some 460,000 or 0.7% with a real mixed bag of changes both at regional and country level. There is no consistency in the data we see from week to week and that may also be reflected in the consistency of decision making by regulators around the world; are the two linked I wonder?
For the month of June in total airlines scaled back capacity with some 6.7 million more seats being removed and for those carriers brave enough to look into July a further 10 million seats were removed. The indications are now that this summer season will not provide the necessary cash that airlines have been hoping for and the consequences of that for the winter season will suppress any recovery even further. If capacity can recover, clarity of messaging from regulators can be forthcoming (we can but hope for a miracle) and demand responds like never before then maybe just maybe we late July/August could be OK, but the outlook is bleaker by the day.
Chart 1 – Scheduled Airline Capacity by Month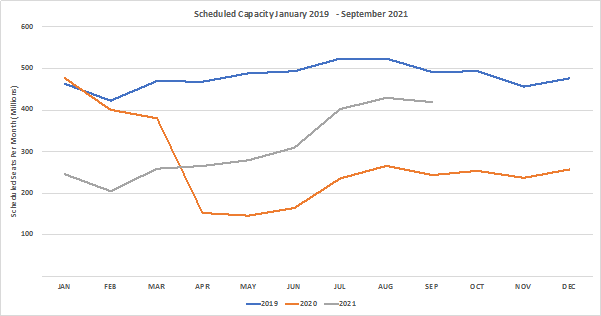 Source: OAG
This week as a bonus for our readers we have added a comparison against the same week in June 2019. Comparison against January 2020 remains relevant but equally looking at what was the capacity position in what should be one of the busiest weeks of the year is perhaps a little more relevant; although slightly more depressing.
At 68.3 million seats this week global capacity remains some 36% below pre-pandemic levels and 41% below the same week in 2019 when a staggering 115 million seats were on offer which highlights how much work still needs to be done. Seven regional markets remain at less than half of their June'19 level with South East Asia at -66% and Western Europe at -64% competing for the title that no region wants to have.
Off the back of another 1 million seats being added week on week, North America is now the largest regional market in the world ably assisted by North East Asia dropping one million seats over the same seven day period. That linkage between Covid-19 spikes and capacity can clearly be seen in two regional markets this week, the Southwest Pacific where Melbourne and the state of Victoria are once again locked down and in South East Asia where Malaysia is again suffering. Slightly more positively, it has been a good week for all of the four regional America's markets with capacity growing across them all this week, Lower South America and therefore principally Brazil leading the way.
Table 1 – Scheduled Airline Capacity by Region
Source: OAG
The United States having taken the title as the largest country market last week clearly has no intention of being caught quickly. Another one million seats week on week and a reduction in capacity in China of some 800,000 gives the United States, a near 20% lead over its nearest competitor as the locally based carriers continue to build capacity to the leisure destinations. Taking Florida alone, the state will see some 2.2 million departing seats, that would rank fourth in the list of top twenty countries!
Sadly, in the UK our traffic lights broke down this week and we no longer really know what is red, amber or green but since most travellers have developed a strange case of colour blindness and the classic file "Carry of [on] Regardless" plays to packed audiences who cares anymore! Current capacity is at less than 20% of the 2019 levels and could fall further next week, given the high levels of vaccine administered its no wonder that airline and airport trade associations are now getting angry…..too late the cry I fear!
Vietnam is the largest capacity loser across the top twenty markets from a percentage perspective with a 19% drop in capacity; at some 703,000 seats a week the country is now at 45% of its pre-pandemic levels. Other countries that have had a bad week for capacity reductions include Australia where a bubble burst and the UAE and UK where more modest reductions were seen.
Table 2 - Scheduled Capacity, Top 20 Country Markets

Source: OAG
All four major US based carriers added capacity week on week resulting in no changes in the global ranking. American Airlines now have marginally more capacity than at the beginning of the pandemic although they remain some 10% adrift of the June 2019 levels. Indeed, only two carriers are within single percentage digit of their 2019 capacity; China Eastern and Air China whilst the third largest carrier China Southern are further behind with just 80% of June'19 levels reflective of their larger traditional international network.
More telling perhaps than the list of top airlines is the list of those that are still struggling to relaunch services. Air Canada and British Airways are both currently operating at least one million fewer seats than they were in June 2019, Air Asia currently plan to operate around 12,000 seats this week compared to 862,000 two years earlier and easyjet are planning on just 468,000 seats over the next seven days compared to 2.2 million in 2019.
Table 3 - Top 10 Airlines

Source: OAG
The next week is probably the last seven days to save the summer with the leaders of the G7 meeting in Cornwall of all places to discuss lots of interesting subjects including championing free and fair trade. Apparently Boris and Joe have agreed to a meeting with the major transatlantic carriers and some selected airports, we have to hope that they are taking that meeting as part of a co-ordinated PR plan before announcing an easing of travel restrictions….
Stay safe everyone.
Read original article