ChinaTravelNews, Ritesh Gupta - Leading Chinese travel companies are reaping rewards of swift planning as they capitalized on opportunities in the last couple of months.
Buoyed by soaring demand for trips from March onwards, Huazhu Group is exploring different opportunities, for instance, in the lifestyle hotel segment. This is in addition to the focus on low-tier cities, which is an integral part of Huazhu's penetration strategy. Overall, the team is confident that it can achieve its target of 10,000 hotels in 1,000 cities by the end of 2022 or later in the first quarter 2023. Huazhu has already penetrated into 741 cities in China.
Speaking during the company's Q1 earnings call, Ji Qi, Executive Chairman and CEO of Huazhu Group, shared that more "diversified" demand from travel experience's perspective, especially in the leisure travel segment and for upscale hotels, is being observed. The same can be seen in the group's focus, as it has sustained its interest in "lifestyle market opportunities".
Lifestyle brand portfolio
Huazhu's brand, Crystal Orange, is set to open its new flagship store in Shanghai.
"This is the new Crystal Orange 2.0 version. We would like to provide new products to the business travelers from the lifestyle perspective, with better and warm services. The product will provide customers unique, elegant and exquisite lifestyle experiences during their journey," mentioned Hui Jin, president of the group.
He also stated that with the acquisition of CitiGO (for a total consideration of RMB750 million enterprise value), Huazhu will further enrich its lifestyle brand portfolio. CitiGO had a total of 28 hotels in operation in the beginning of May. It is present in 13 cities, with a total of 4826 rooms (14 properties each under the leased and owned model, and as manachised hotels and franchised hotels). Jin explained, "CitiGo's brand positioning is a lifestyle hotel with fun, targeting younger generations, creating a new concept space with functions of accommodations, catering, leisure, shared office and social networking in the central of the city."
Referring to April's operating data, he said CitiGo's RevPAR in tier 1 cities was RMB 384 and in tier 2 cities it was RMB 217. "We believe that Huazhu's strong platform capability could further enhance and accelerate CitiGo's future development," said Jin. Overall, it can end up being a strong asset for the group, which can further benefit in terms of its position in the lifestyle segment.
The group's lifestyle brands portfolio includes Blossom House (the upscale lifestyle and resort band targeting affluent travelers, 27 hotels in operation and an additional 26 Blossom House hotels under development); Jaz in the City (upscale lifestyle brand, reflects metropolitan lifestyle and draws upon the local music and cultural scene, 2 in operation) and Steigenberger Hotels & Resorts (49 in operation and first hotel in Jinan to be opened soon). The group is also counting on Manxin Hotels for this category (63 in operation).
Lower-tier cities bring in good news
"We observed that lower-tier cities recovered better than higher-tier cities," said Jin.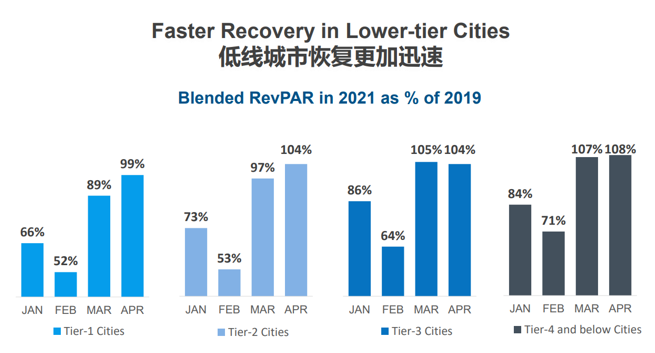 CEO Qi acknowledged that RevPAR recovery was impacted in January and February. But once the scenario evolved, lower tier properties exemplified strong financial performance. RevPAR demonstrated positive growth from April onwards.
Blended RevPAR in 2021 as % of 2019 was 56% in February, rose to 95% in March, 100% in April and 107% by 23rd May, 2021.
In fact, considering tier-3 cities, blended RevPAR was already 105% in March and 104% in April, whereas it was 107% in March and 108% in April for tier-4 and below cities. This shows the resilience of economic conditions in lower-tier cities, said Jin. As for the penetration, by the end of Q1, 38% of Huazhu's hotels in operation were located in the Tier 3 and below cities, and 54% of the pipeline is from lower-tier cities, which could lead more contribution from the lower-tier cities in the future, hinted Jin. In terms of brand strategy, for lower-tier cities, the plan is to expand the Ni Hao brand as a standardized brand to complement HanTing brand.
Growth of Huazhu's loyalty program
Huazhu believes that it is vital to expand the membership base of its loyalty program, H Rewards, which covers all of its brands. At the end of 2020, H Rewards had more than 169 million members. The base has risen from 155 million members in March, 2020, to 174 by the end of Q1 of this year.
In 2020, around 74% of room nights were sold to H Rewards members in legacy Huazhu. The team acknowledges that their astute direct sales capability was also one of the critical factors behind such strong and better than industry recovery during 2020.
The focus with H Rewards is not just on running lower-cost, targeted marketing campaigns, but also to look at expectations and meet them with apt use of resources within the company. For instance, mobile app and technology available at the property level. A case in point – having access to room card from self-check-in kiosk within 30 seconds. Huazhu's chief digital officer, Xinxin Liu, referred to this advanced online checking function for members in the H-World 3.0 version. "This online function is integrated with our 30-second check-in and 0-second checkout, via the installed self-check-in kiosk in the hotel. Such function would create a very convenient check-in and checkout service for customers," said Liu.
This functionality also means greater operational efficiency, as there will be less staff needed for front desk work, said Liu, who added that the coverage of 30 seconds check-in service has touched 4516 hotels as per the latest update. A total of 6,881 hotels or 662,512 hotel rooms in operation as of March 31, 2021.
Net loss attributable to Huazhu Group Limited was RMB248 million (US$38 million) for Q1, compared with an RMB2.1 billion loss for Q1 of 2020.