China's Baiyun International Airport in Guangzhou topped the list of the world's busiest hubs in a coronavirus-wracked 2020, knocking Hartsfield-Jackson Atlanta International off a perch it occupied for more than two decades.
Baiyun moved up from 11th place, trade group Airports Council International said in a statement, capping a year when the Covid-19 pandemic disrupted global air travel. Hartsfield-Jackson slipped to second place, as hubs in six Chinese cities joined Beijing Capital International in the top 10 based on passenger traffic.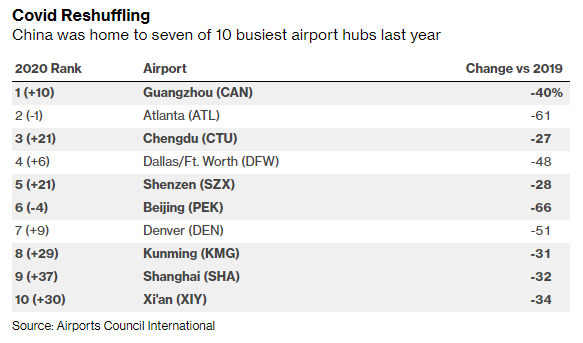 Guangzhou is the home base to China Southern Airlines, the country's biggest carrier.
The report from the airline industry's global trade body puts an official stamp on a changing-of-the-guard that was accelerated by the pandemic, which slashed air travel across the world last year, especially in Europe and the U.S. Gone from the top 10 are the main airports in Los Angeles, Dubai, Tokyo, Chicago, London and Paris.
China was already closing in on the U.S. as the top market before the outbreak. But its ability to contain the virus, combined with a large domestic network, made it the only major nation to fully recover the capacity lost during the downturn -- doing so despite its borders remaining mostly shut to international visitors.
Read original article