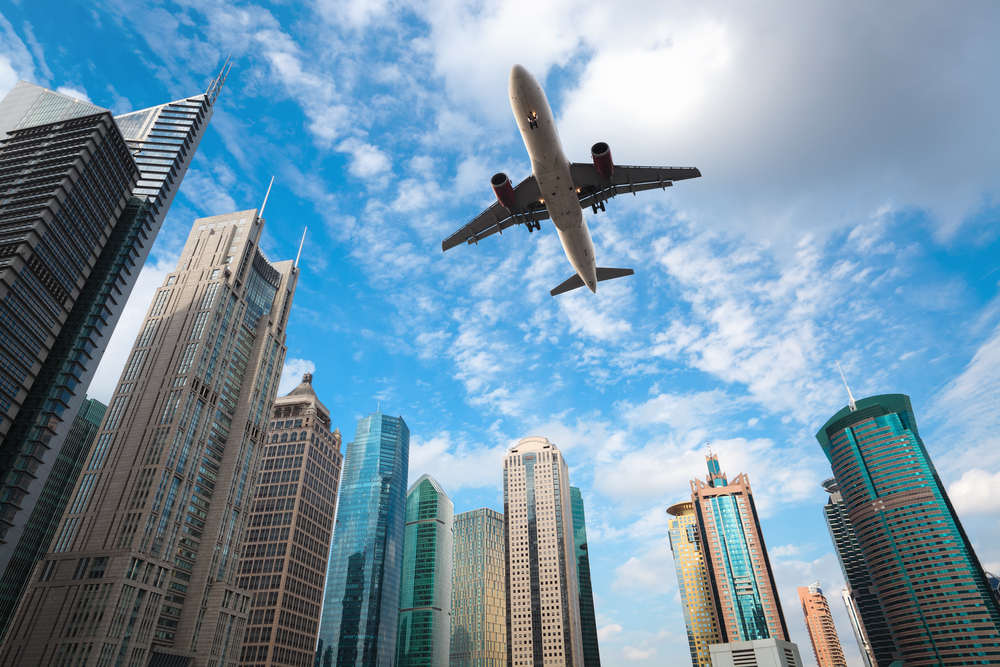 In February 2021, OAG made China the focus of its regular monthly webinar, posing the question 'Does China hold the key to recovery?'. With China having stood out over the past months as the country where aviation has made the most progress towards recovery it is a good question. Add to that the fact that Chinese outbound travellers were becoming a force in global tourism in the years prior to the pandemic, and there are many countries which will be looking to see when those same valued tourists will return.
The Global Picture
2021 hasn't got off to a great start in terms of global aviation capacity. The number of scheduled seats available in the market continues to hover at a level that is 45%-50% below last year. Some countries are doing better, others worse. Europe, in particular, where so much air travel is international rather than domestic, continues to face huge restrictions on travel between countries and as a consequence capacity is often less than 20% of where it was a year ago.
Global and Country Scheduled Capacity by week vs same week in 2020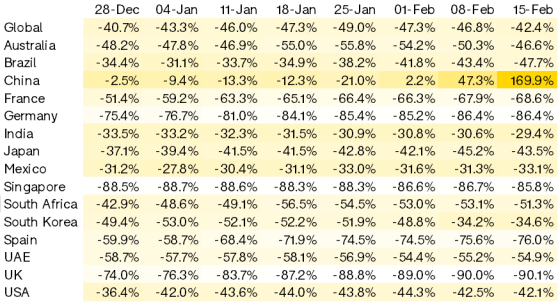 China Ahead of the Curve
Meanwhile, Chinese capacity grew through 2020, and by the fourth quarter was showing growth compared to the previous year in some weeks. With very limited international air services, airlines had diverted some aircraft previously used on international air services to domestic flying.
For the past two weeks OAG data for airline capacity shows that year-over-year, Chinese capacity is now far ahead of 2020. There are two effects taking place here, which need to be considered separately.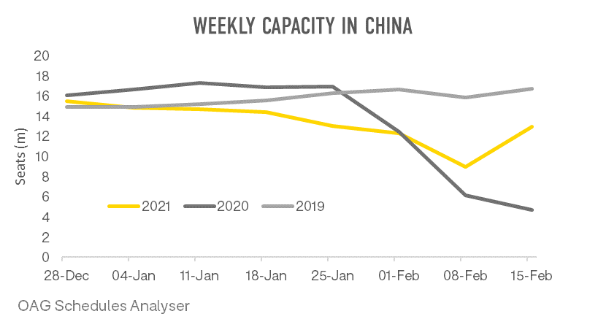 First, the impact of the pandemic hit Chinese aviation much earlier than other countries and by February 2020 the industry was already scaling back operations massively this time last year. So, any flights operating now represent a significant increase over this time last year.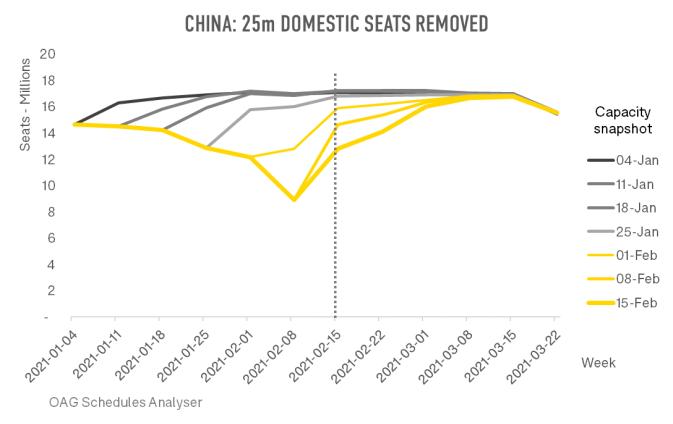 The second effect taking place, of course, is Chinese New Year. Usually this is a time when billions of Chinese would be travelling home and taking vacations. This year the holiday falls a few weeks later than in 2020 so we might expect to see a bit of an increase in capacity in mid-February due to that, but the reverse has been the case. Concerned about travel over the Spring Festival, government advice to limit travel resulted in a massive scaling back of airline schedules. In fact, 25 million seats have been removed from airline schedules between the week starting Monday 4th January and the week of 15th February. At its low point in the week of 8th February, only 52% of the airline seats that were expected to be operating 6 weeks earlier were still in the schedule!
The relatively short notice with which these changes to flights occurred meant that many were simply cancelled.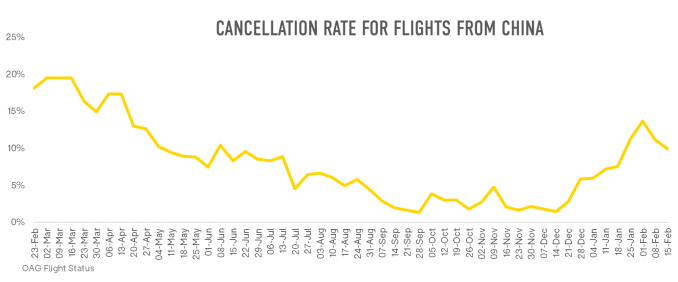 Cancellations reached almost 15% of all scheduled flights in the week before Chinese New Year, and will have affected millions of travellers.
Domestic Market Weakness
While this is an extreme movement, and one that airline schedulers will rarely have to face, the pattern of reduced domestic capacity has been replicated in many of the major countries around the world with sizeable domestic markets. Elsewhere, this isn't about Chinese New Year but about the lack of certainty around covid-19 and the effect this is having on demand for air travel. Business travel continues to be severely impacted, national in-country restrictions on movement continue to be in place, and the frequent changes of policies by governments at short notice leave consumers wary of making plans.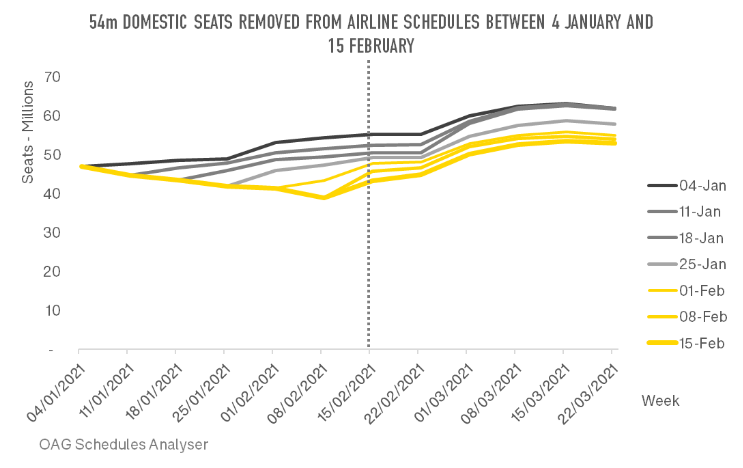 Looking at how global schedules have changed over the first 6 weeks of the year, the same pattern is clear, and China accounts for less than half of the 54 million seats taken out of airline schedules. Overall, global capacity is 11% lower now that it was expected to be at this point in time just six weeks ago. For Japan the figure is 18% down, Brazil 30% down and Thailand 47% down.
Finding Opportunity in Adversity
Meanwhile, in China, the same capacity data shows that two airlines in particular are growing strongly in this dynamic time. China Express Airways and Spring Airlines have both seen capacity growth strongly compared to pre-covid times.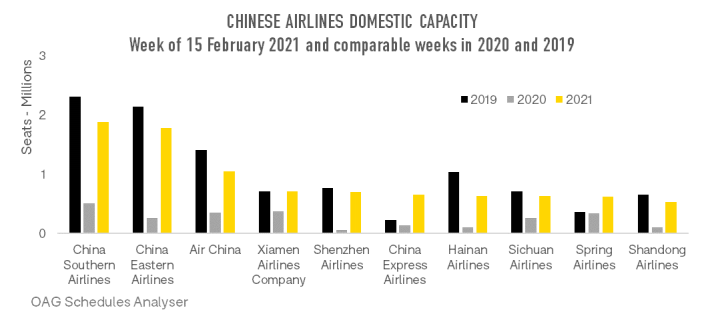 Overseas Hopes for the Return of the Chinese Traveller
In 2019 there were 147 million passengers who travelled by air to or from China, a figure that was a large increase on the 56 million passengers recorded in 2010.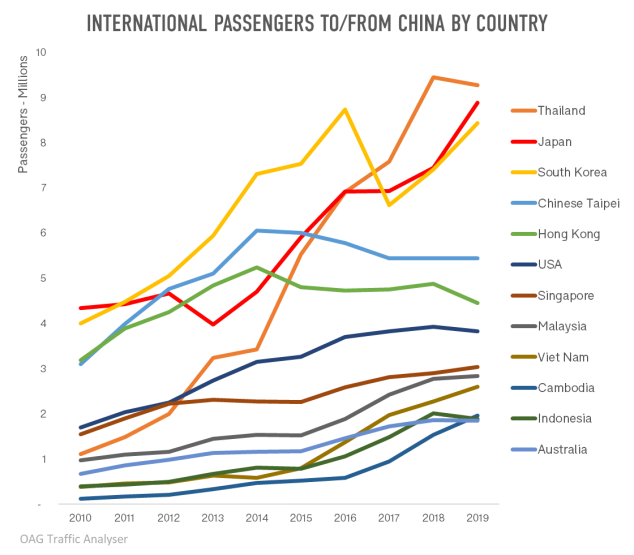 A few destination markets had been massive beneficiaries of Chinese tourists, with traffic between China and Thailand growing on average by 27% each year between 2010 and 2019, by 37% for Viet Nam and 19% for Indonesia.
These destinations will have been transformed as they responded to the desire of Chinese travellers to visit and will be feeling their loss in current times.
According to the guests on OAG's webinars, many of the market fundamentals are in place to see these tourists return: a sign of the Chinese governments' support for international travel can be seen in the prioritising of business people and international students for the covid vaccine; airlines have vast numbers of new airplanes on order but are facing increased competition from high speed rail services for domestic travel and will inevitably be looking to international markets for future growth; and finally, everyone expects Chinese people to continue to want to explore the world.