Expedia Group announced financial results today for the third quarter ended September 30, 2020.
Room nights stayed decreased by 58% while gross bookings were down by 68%.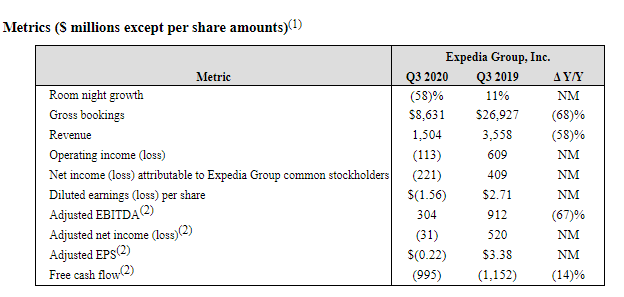 CEO Peter Kern said: "Travel demand continued to be significantly impacted by the virus in the third quarter, but the increased travel in the quarter, along with continued progress on our cost initiatives, led to improved financial results. As the last several weeks have demonstrated, the travel industry and the world still face a prolonged and bumpy path to recovery, with increasing COVID-19 cases and uncertainty around vaccine and therapeutic timelines."
For the third quarter of 2020, total revenue decreased 58%. The year-over-year revenue decline improved in July compared to June and further moderated sequentially in August and September. Expedia Group's Retail segment revenue declined 52% in the quarter and B2B segment revenue declined 72%. The slower decline in Retail segment revenue reflects the benefit from growth at Vrbo, while the B2B segment was impacted by the slower recovery for corporate travel demand.
Lodging revenue decreased 52% in the third quarter of 2020 on a 58% decrease in room nights stayed, partly offset by a 14% increase in revenue per room night. Revenue per room night benefited from an increase in the percentage of room nights contributed by Vrbo, which has a higher revenue per room night than the rest of our lodging business, transaction revenue related to Vrbo's transition to merchant of record, and recognition of certain revenue related to stays in prior periods.
Cash, cash equivalents and short-term investments totaled $4.4 billion at September 30, 2020 compared to $5.5 billion at June 30, 2020.