Marriott International began its push back against the success of Airbnb in Spring 2019 with Marriott Homes & Villas, a luxury property lodging service that offered customers a private residence alternative to hotel rooms. Bookings are up, by a lot, during Covid-19, as more travelers flock to individual properties. That's made the Airbnb rival a rare bright spot in business results for the hotel giant, which like its peers, has seen a massive falloff in traditional room bookings as business travel, travel to urban centers, and international vacation travel dwindled during the pandemic.
From May to August, Marriott saw record performances in top booking days, up to 2x historical highs, according to data the company provided to CNBC. This summer has been highest in gross revenue since launch, with bookings up by 700% over last summer, and revenue increasing by more than 800%. Since the launch, the number of properties on the platform has grown 5x from about 2,000 to more than 10,000 in 250 markets.
"We knew it was an offering that our customers wanted but we didn't have," Stephanie Linnartz, group president of Marriott's consumer operations, technology and emerging businesses, had said in an interview with CNBC shortly before the Covid outbreak.
Fighting Airbnb won't move the hotel needle
But for Wall Street analysts — and even for Marriott management — Homes & Villas is a small silver lining in relation to the massive decline in business for the traditional hotels concentrated in urban areas and overseas travel destinations. Pre-Covid, it could easily seem like Airbnb was the existential threat to the lodging sector. Now, getting the core accomodations back on track, and getting the traditional portfolio of properties aligned with a changed world, is the challenge that demands their full attention.
"It's tiny. It doesn't move the needle for these companies," said Patrick Scholes, managing director of lodging and experiential leisure equity research at Truist Securities. "They will have to make significant further investments to move the needle."
Marriott management has not said anything to the contrary, telling Wall Street in the past that Homes & Villas remains insignificant as far as its earnings outlook, and so small in relation to the rest of the business that analysts should not "get too hung up on it," Scholes recalled of earnings call commentary.
The bet on an "Airbnb-like' model may yet pay off for the hotel giant, but right now, Marriott management has its hands full just trying to figure out how to come out financially secure on the other side of Covid.
Building new loyalty with guests
Marriott has to use advantages it already has, according to analyst, such as loyalty promotions.
While that data has posed a headache for Marriott in recent years when it became the target of customer hacks, the Morningstar analyst says it will be an advantage in charting a course in the new travel landscape. "In a permanent hybrid work environment, people will take more weekend trips, work from a destination. They just need to shift how to use marketing dollars and loyalty data," he said.
According to Marriott, more than 90% of Homes & Villas bookings come from Marriott Bonvoy members. "This tells us our most loyal customers have a need for this type of travel experience and until launch had been staying at homes from competitor platforms," Marriott spokesman John Wolf said.
The future of vacation rentals
Over the summer, a rising tide lifted boats in the vacation rentals market, at least domestically. One of the first signs of that was when Airbnb said in the middle of May that U.S. domestic listings returned to positive growth, at a time when hotel bookings were cratering. But that statistic was domestic, and Airbnb revenue took a huge tumble in the second quarter and saw its private market valuation — which had surpassed that of the largest hotel brands — get reduced by roughly half, and it too had significant layoffs.
Booking Holdings gets roughly 20% of its revenue from alternative accommodations; for Expedia, it is about half of that at 11%. For TripAdvisor, it's "negligible," Wasiolek said.
About two-thirds of Marriott Homes & Villas summer bookings were for stays within 60 days, according to company data, and nearly 50% were for stays within less than 30 days, and it saw the majority of guests booking trips for one week or less and choosing homes with two to four bedrooms in drive-to destinations.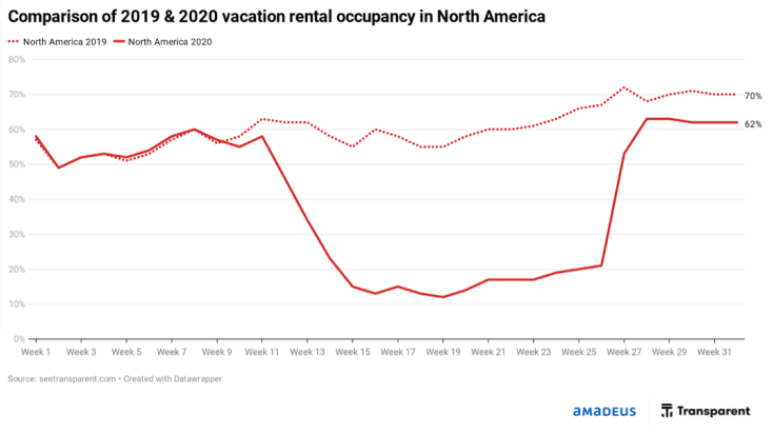 Homes & Villas reservations for this Fall and Winter are showing an expanded booking window, with 75%-plus of the stays through the end of the year being booked more than 30 days out (27% of those were booked 90+ days out). "We believe this shows growing confidence among travelers over the past month and continuing into future months," said Marriott's Wolf.
"If people were going to do trips to hotels they will still do hotels, and people who like Airbnb will do that, and people who tried an Airbnb for first time, that might help them more if they had a good experience. But it benefits leisure travel in general, and that's where Marriott has to get its mix away from corporate."
Read original article