Bruno Huber says he is the happiest hotel manager in Bangkok: He actually has guests in his 293-room luxury property. A former Hilton, its legendary garden was once famous for fertility shrines dotted with large, garish wooden phalluses. Today, the garden is every bit as manicured and regal as before, but guests maintain a safe distance from each other as they tramp anticlockwise around the grounds, taking their pre-booked 45-minute exercise breaks.
As the coronavirus pandemic spread across Asia this spring, borders slammed shut to foreigners. Hotels in Thailand -- the fourth-largest tourist destination in the world -- are languishing. But Huber has ingeniously reinvented the Movenpick BDMS Wellness Resort Hotel, a 4.5-star property, for the age of COVID. It is now among the world's most desirable quarantine facilities.
He sees his new role as a detour in an eclectic career in the hospitality industry. Arriving in 1986, he is one of a group of Swiss and German hoteliers who pioneered management of many of the kingdom's top properties and helped transform Thailand from a backpackers' haven to a top-five global tourism destination in three decades. The country recorded nearly 40 million arrivals in 2019.
Sputtering engine
But the arrival of COVID-19 has rolled these achievements back -- in some instances, permanently. Air travel has plummeted to virtually zero as draconian travel restrictions continue. Hotel occupancy in Asia dropped 43% between June 2019 and June 2020 to 38%, according to STR, a hotel industry data provider. The International Air Transport Association estimates that air travel will take until 2024 to emerge from the crisis, and many observers consider that optimistic.
Now, the tourism multiplier that propelled Asia's growth is working in reverse. In other words, for every USD 1 million lost in international tourism revenue, a country's national income could decline by USD 2 million to USD 3 million, due to the knock-on effect on other economic sectors that supply the goods and services travelers seek while on vacation, according to the United Nations Conference on Trade and Development.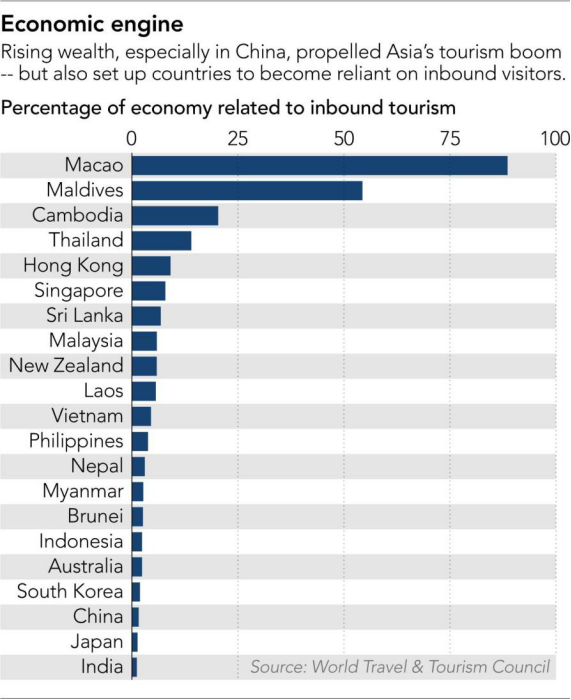 UNCTAD estimates that global tourism's sudden collapse could cause losses of up to USD 3.3 trillion this year when other affected sectors are taken into account -- 4.2% of global gross domestic product. And that is if the downturn only lasts 12 months.
The road back is steep, however. "On the positive side, the fundamentals of travel and tourism will not change," said Imtiaz Muqbil, the editor of Travel Impact Newswire, a tourism newsletter. "People will always want to travel. Airlines, airports, hotels, theme parks, tour coaches, convention centers, museums, restaurants, shopping malls will need the revenue stream. Young people will need jobs. Governments will need tax revenue.
Closing in
The collapse of tourism in country after country has shut off a route out of poverty for some of Asia's most vulnerable people. In mid-July, acrobats from the Cambodian Circus took to the ring in their first performance since the government shut entertainment venues in March. Created in 1994 as an organization to help children living in poverty, its members perform death-defying stunts nightly for audiences in the provincial capital Siem Reap, on the outskirts of the crumbling temple complex surrounding Angkor Wat.
Before COVID-19, one of their Saturday or Sunday night shows would draw between 500 to 600 spectators, overwhelmingly foreign tourists. Some nights, they'd hold a second performance just to meet demand.
But as the spotlights lit up the arena for their first show in four months, the stands were almost empty.
"There were about four or five people in the crowd," Srey Bandual, one of the co-founders of the art school Phare Ponleu Selpak, which runs the circus, told Nikkei.
"Like this, we cannot cover our costs."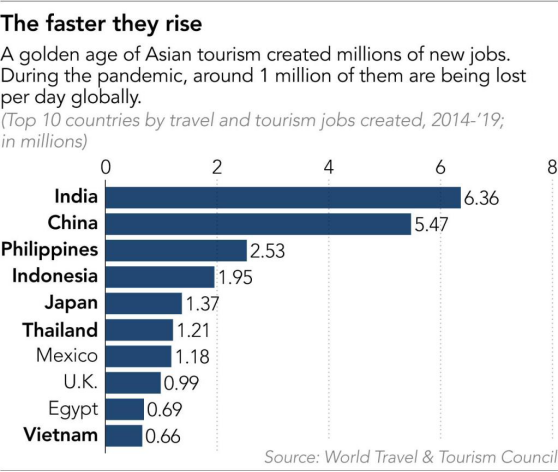 Hot and cold
In July, Japan launched some 1.3 trillion yen (USD 12.2 billion) in travel subsidies, as part of a "Go To Travel" campaign aimed at throwing a lifeline to the pandemic-hit hospitality industry. However, Tokyo almost immediately excluded itself from the program, fearing new outbreaks. The minister of travel and tourism also urged large groups of people to refrain from traveling together.
Tokyo Gov. Yuriko Koike likened the subsidies to "putting cooling and heating systems on at the same time," amid the city's recent spike in cases and those in prefectures surrounding the capital.
The only tourism destination in Asia that has unambiguously benefited from the switch to domestic travel is China. Chinese tour groups used to almost single-handedly prop up Asia's entire tourism industry, but suddenly, the pent-up wanderlust of the Chinese middle class is being spent at home. Tourism hot spots like Hainan, the vacation island off China's southern coast, are booming.
Marriott hotels in Hainan in July even surpassed occupancy of the same month last year, while the hotel chain's properties in other leisure destinations such as Chengdu and Zhengzhou are recording occupancies at around 80%, said Craig Smith of Marriott International.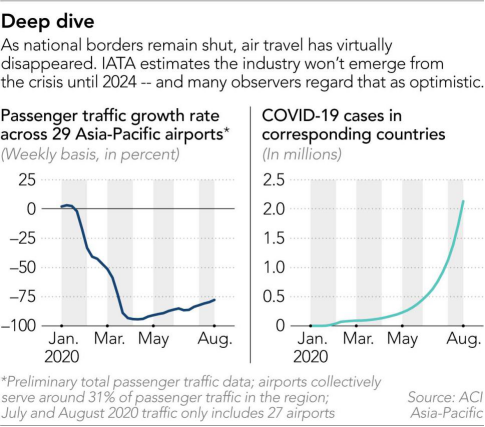 Silver linings
There has been one clear beneficiary of the crisis: the absence of tourists has certainly been a boon to the environment in many tourism-battered areas. In Thailand, mass tourism has taken its toll on local wildlife and ecosystems. With air pollutants from traffic congestion and industry emissions greatly reduced during the COVID-19 lockdown, few in Thailand could recall times with cleaner air and more beautiful cloud formations on view.
According to research undertaken by Booking.com, even before the COVID-19 outbreak, there was a noticeable shift in travelers becoming more conscious about the environmental impact they can have. Over 82% of global travelers identified sustainable travel as important to them.
Read original article