Disney continues to lead the world's theme parks with nearly 156 million visitors last year as a group, according to the latest TEA/AECOM 2019 Theme Index and Museum Index report.
Chinese theme park operator OCT Parks China ranked the third in the global theme park group list after receiving almost 54 million visitors in 2019, trailing behind Disney and Merlin Entertainment.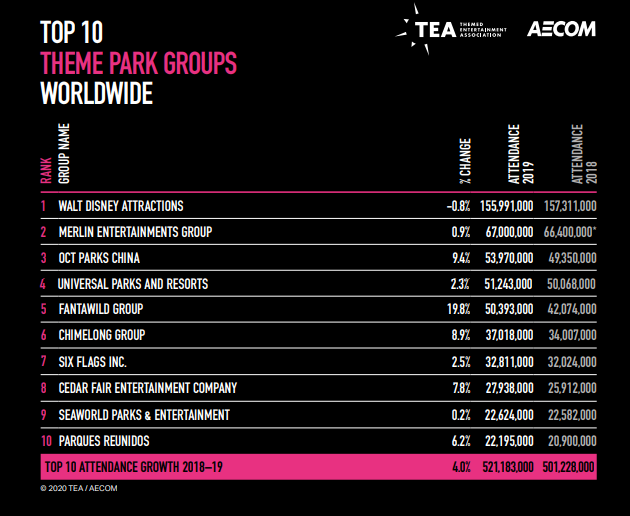 According to the report, Universal Parks was ranked the fourth place last year, followed by Fantawild Group in the fifth place and Chimelong Group in the sixth place, two other Chinese theme park companies.
The average attendance growth rate for the top 10 theme park groups in the past year was 4%, while the China-based Fantawild Group alone registered the highest increase of 19.8%. Disney, the top player of the list, recorded a 0.8% drop in its 2019 attendance.
For individual parks, Disney's Magic Kingdom theme park remained the world's most popular one, reporting annual attendance of nearly 21 million visitors last year.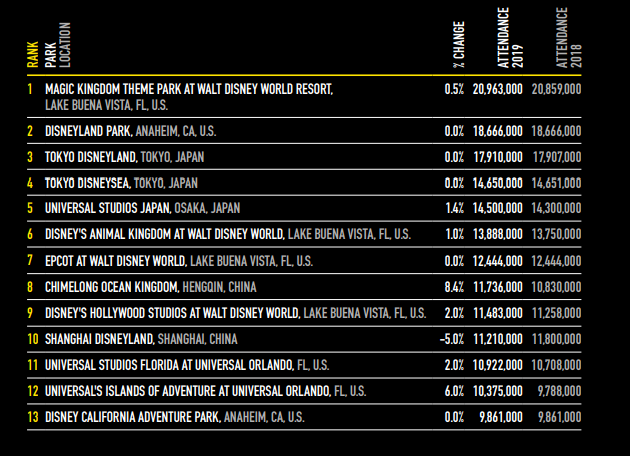 The Chimelong Ocean Kingdom in Hengqin, China was ranked in eighth place with more than 11.7 million visitors in 2019, while Shanghai Disneyland was in tenth place with 11.2 million visitors last year.
The visitor attractions sector in the Asia Pacific region overall showed attendance growth of 1.6% for calendar year 2019, according to the report. The most dramatic increases were in China. Theme parks, water parks and park operators in China showed strong attendance growth across the board, with some dramatic shifts in rank, globally and regionally.
China's growth in the leisure sector is a story of supply and demand: a large population with increasing income and desire for travel and leisure, across a large landmass with ever-better transportation infrastructure.
In Zhuhai, Chimelong Ocean Kingdom ascended to the rank of the top-attended theme park in China. Its 11.7 million visits in 2019 reflect an 8.4% increase from the prior year, coming in about 500,000 higher than Shanghai Disneyland, which saw a slight attendance drop as it focuses on implementing a yield strategy.