ChinaTravelNews - While the rest of the world braces for the second wave of coronavirus, China gets ready for further re-opening of tourism.
The country's culture and tourism ministry announced on July 14 that tour operators and online travel agencies are now permitted to restart inter-provincial group tours and "flight + hotel" business, on the condition that each provincial, municipal and district tourism regulator get prepared for the prevention and control of COVID-19.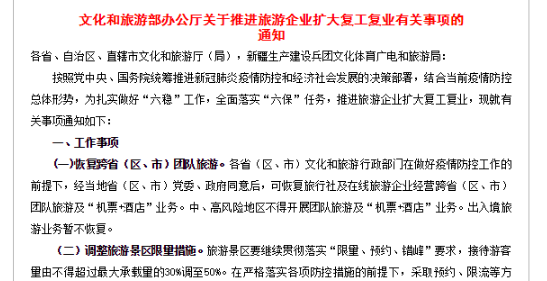 But group tours and "flight + hotel" business are still prohibited in mid- and high-risk areas of the country. Cross-border group trips including inbound and outbound travel are also prohibited for the moment.
The previous regulatory requirement for all tourist attractions in the country to operate no more than 30% of their full visitor capacity has now been relaxed to allow no more than 50% of full capacity, according to the Chinese national travel authority.
On May 16, China took the first step to open up intra-provincial group tours in southern province Guangdong.