India's biggest online travel group MakeMyTrip said its gross bookings for the quarter ended March 31 this year were USD 1,207 million, down by 12.1% year on year. Revenue for the quarter was USD 104.9 million, representing a similar 12.7% decrease.
Revenues from air ticketing and hotels & packages posted declines of 14% and 18.3% respectively. But the company's bus ticketing business still saw an increase of 21% in revenue.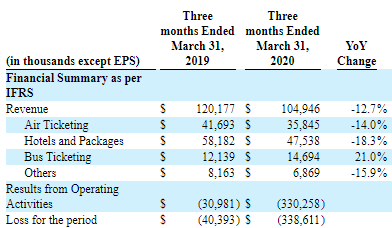 "MakeMyTrip entered the fiscal fourth quarter with continued focus on driving strong business growth coupled with narrowing of operating losses. However, our plans were disrupted by the unprecedented lockdown due to the COVID-19 pandemic starting to impact travel demand significantly from the month of March 2020 onwards." said Deep Kalra, Group Executive Chairman.
Operating loss rose nearly ten times from USD 31 million in the quarter ended March 31, 2019 to USD 330.3 million in the quarter ended March 31, 2020.
As at March 31, 2020, the balance of cash and cash equivalents and term deposits on our balance sheet was USD 167.9 million.