Signs of aviation recovery are emerging — especially in mainland China and Asia Pacific, according to global travel and data analytics expert Cirium.
"The global market reached rock bottom in April 2020, and the only way now is up," said Joanna Lu, Ascend by Cirium's Head of Consultancy for Asia.
Ascend by Cirium's global schedule data indicates a potential recovery across most Asia-Pacific markets through July 2020.
"Mainland China's domestic schedule suggests a recovery to marginally positive year-on-year growth by end of July, all and other regions are showing recovery as travel restrictions begin to ease," said Lu.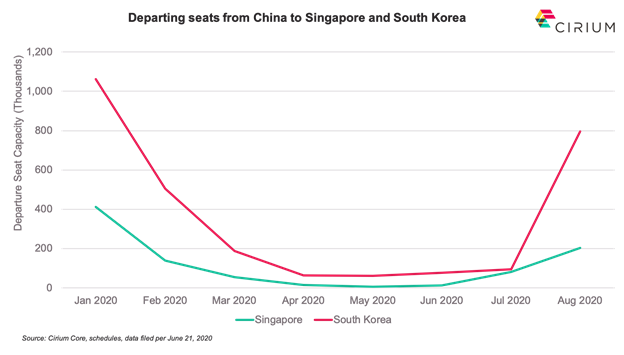 Unlike previous economically-driven downturns, post-COVID-19 intra-region recovery will likely be driven by bilateral agreements. For example, mainland China is planning to establish "travel bubbles" with South Korea and Singapore for essential business travel.
The recovery of airlines in mainland China and Asia Pacific is critical to the near-term delivery aspirations of aircraft manufacturers (OEMs), according to Ascend by Cirium's Global Head of Consultancy Rob Morris.
"Since March 1, 2020, almost 7,000 passenger jets have been returned to service by airlines globally, with more than 20% of them in mainland China," said Morris.