With 4.57 billion people or more than half (59%) of the global population being active internet users nowadays, businesses worldwide are increasingly reliant on digital channels and touchpoints to engage their customers.
The coronavirus pandemic has made online penetration even more imperative for travel brands as people now tend to stay home while also stay connected via the internet, but how should global destinations and travel companies leverage the digital landscape to remain relevant and top of travelers' mind?
TravelDaily, China's leading digital publisher and event organizer, will host a webinar on Chinese Travelers' Digital Journey at 12:00 PM (GMT) on June 23. Travel-focused digital marketing agency Dragon Trail Interactive will join the session and share its insights into the consumer behaviors and user preferences of Chinese travelers after the coronavirus outbreak.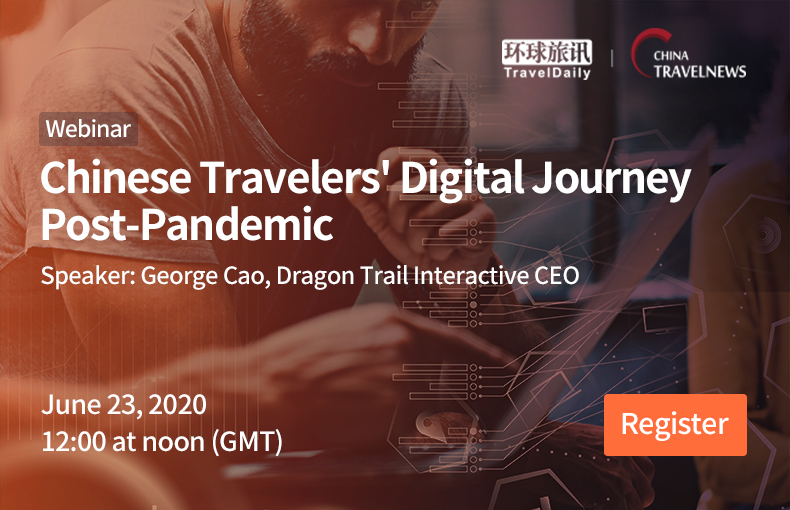 There have been early signs of travel recovery in China, and the industry is exploring new ways to accelerate the rebound. Travel brands including OTAs, hotels, and even airlines are turning to live streaming with KOLs to increase their business volumes, offering advance purchases in compelling deals.
The online session presented by TravelDaily will shed light on the strategies for travel brands to effectively engage with their target audience throughout the inspiration, research & planning, price-comparison & booking, and in-destination phases of the customer journey.
Social media platforms in China including WeChat and Weibo play an important role by spreading word-of-mouth to inspire travelers on choosing a destination and booking a trip. According to research by eMarketer, 56% of and 50% of Chinese consumers in their 20s and 30s respectively think social media is a key travel influence.
But using the right platform marks only the beginning of the marketing efforts for winning the hearts of travelers. Destinations and travel companies should also work with KOLs to further amplify their brand messages to the audience. Data from Dragon Trail Interactive show that posts by destination marketing organizations featuring KOLs perform better than any other posts on average.
The digital marketing plan for any travel destination or brand should encompass the whole customer journey that includes evaluating, booking, pre-trip, on-trip and post-trip advocacy, and engage the audience through all available touchpoints during the time.
Register now for the Chinese Travelers' Digital Journey event scheduled on June 23 and join our discussion on digital marketing for destinations and travel brands.
For assistance in registration please contact: Echo Zeng via Email: echo@traveldaily.cn