Chinese carriers slash Beijing flights after coronavirus spike
>> Chinese carriers have begun suspending flights to and from Beijing, following a rise in a number of new coronavirus cases in the Chinese capital. As of June 17, Air China had cancelled 295 flights in and out of its Beijing Capital airport hub. All affected flights are to points in its domestic network, including cities such as Guangzhou, Chengdu, Shanghai and Chongqing.
China's Big Three carriers see leap in May passenger numbers
>> China's three largest carriers carried more passengers across their networks in May — the first month-on-month increase since the start of the year, when the coronavirus outbreak pummelled travel demand.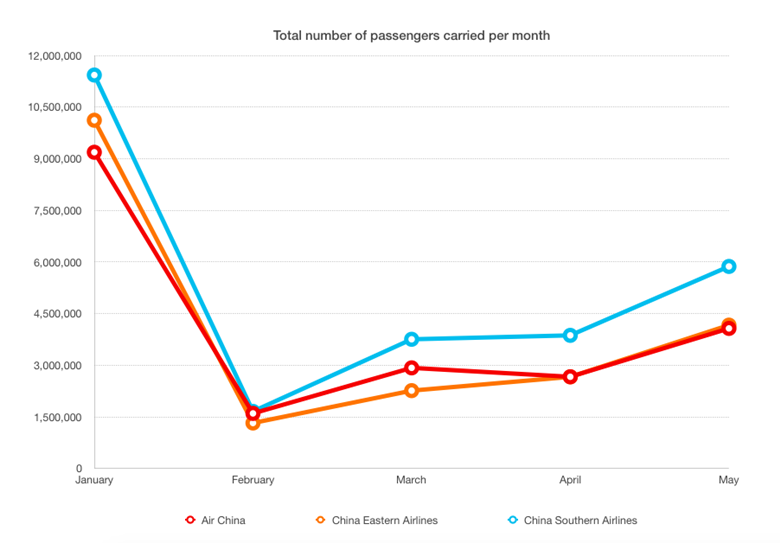 For the month, Air China carried 4.07 million passengers across its network, a 53% increase compared to April. This was still about 57% lower year-on-year, however. China Southern carried 5.87 million passengers for the month — a 52% month-on-month increase, but a 44% decline compared to 2019.
Sunac cultural tourism city to replace suspended Six Flags park
>> Sunac China has signed an agreement with the government of Haiyan county to develop and build Cultural Tourism City. The site will replace the suspended Six Flags project. Sunac Cultural Tourism City will be built in Hangzhou Bay. The site will cover a vast area and will four theme parks, a business quarter, and a hotel. The four theme parks include a land park, outdoor waterpark, children's park and a polar ice world.
Hong Kong launches campaign to boost local tourism
>> The Hong Kong Tourism Board launched the "Holiday at Home" campaign to encourage Hong Kong residents to explore their home place and boost local consumption. Hong Kong residents are unlikely to travel overseas in the short term as many countries and regions have issued entry restrictions at different levels due to the COVID-19 epidemic, the HKTB said in a statement. In response to the travel restrictions worldwide, the board begins with revitalizing local market as the first step to revive Hong Kong tourism.
Internet travel company Mounsey raises $7 million
>> Mounsey, an internet travel company tapping the markets in lower-tier cities in China, said it has received USD 7 million in its series A round financing. Mounsey claims that it has opened 2,500 branded outlets in China within one year, and plans to have more than 10,000 outlets in three years.