ChinaTravelNews, Ritesh Gupta – The travel industry has been hit hard over the past few months, and many airlines, as a result, have had to deal with the liquidity crisis. Carriers have been counting on their respective frequent flyer programs (FFPs) to stay afloat. But working on aspects like FFP liability management, member engagement, redemption options, getting the messaging right etc. hasn't been straightforward during this unpredictable time.
So how have Chinese airlines' FFPs fared in comparison?
The situation in China and elsewhere can't be equated.
"For most Chinese airlines, due to state-owned reasons, the cash flow problem will not be a very big problem. What's more, in China, even before the epidemic, there were not many seats for redemption, which had very little impact on cash income. So I think that for Chinese airlines, the challenge is very small," Jeremy Zeng, General Manager, Worldwide Rewards told ChinaTravelNews.com in an interview.
According to a media report, top carriers such as China Southern Airlines, China Eastern Airlines, and Air China "were able to secure bond issuances and bank loans" despite the crisis facing the industry. The three state-owned airlines reported a combined RMB 14 billion in net losses in Q1.
Airline industry analyst Frank Lin said the financial situation is under control. "We know that both the earning and redeeming of mileages will not affect the cash flow of the airlines. It'll just affect the companies' revenue and cost. Regardless of frequent or non-frequent flyers, how many points they'll earn, airlines get the same amount of airfare income for the service. The carriers just take some part of the income as current income, and other parts as deferred income or advance receipt. That's just accounting and that will affect profit, not cash flow. What will in fact affect cash flow is the non-airline parts, like credit card points, for redeeming a shaver etc. I think as long as we extend the validity period for the points, our customers will not have to redeem their points before year-end, thus slow down airlines' cash outflow," he said.
Sydney-based Binay Warrier, IBS Software's Head of Business Development, too, highlighted that there is "no fear of airlines going bankrupt". The challenge at large for airlines has been to ensure that loyalty program members are able to redeem or use their miles/ points and at the same time it doesn't put too much unwanted pressure on preserving cash flow. "But Chinese carriers don't have (such) pressure to implement such policies. In fact, we see that they (Chinese airlines) have been encouraging smaller non-air redemptions to subsidise member's shopping for essentials and basics as a tactic to generate a positive impression that the programs take care of their member's during tough times." He added, "Chinese airlines did realize the significance of protecting the future loyalty of their elite members, and took actions to ensure that they don't lose on their benefits."
Sustaining the bond
Lin said that the Covid19 crisis didn't kill travel loyalty. "Yes, if airlines do not act at all and travelers do not take flights, the loyalty will die, for none of these members can keep their memberships. But the truth is, almost all airline companies are working to keep their loyalty programs relevant (via pausing loyalty currency expirations, reducing requirements for a certain status etc.)." He added, "So once the pandemic is over, loyalty programs will still be able to encourage travelers to take more flights and earn more points. Loyalty programs will wake up from the shock."
Customer loyalty programs can play many roles in this crisis, pointed out Zeng.
He said, for example, to obtain collateral for cash flow, several major US airlines may use FFP as collateral for government assistance.
"But for the customer, the loyalty program can play three roles, one is to maintain customer relations, such as maintaining the customer relationship by extending the validity of the VIP status; the second is to enhance the brand, such as by leading members through points donations or charity to help those who need help; the third is to obtain income in advance, such as points pre-sale. Unfortunately, Chinese airlines almost only do some simple actions on the first point, such as extending the validity period of VIP status. So far, only Xiamen Airlines has done something different. They have launched an "Egret Miles Assistance Card" specifically for those medical workers who went to Wuhan from other parts of China, which is equivalent to the gold card in their FFP. This action can be seen as a brand promotion, but in addition to this, there are no other actions for FFP members except for extension of VIP status."
China Southern Airlines Sky Pearl Club and Xiamen Airlines' Egret Card Frequent Flyer Program had over 61.02 million members by the end of 2019. China Southern had launched its e-wallet in 2018. It allows the members to redeem at non-travel sector merchants such as Starbucks, Macdonald, KFC, 7-11, supermarkets, etc. These options result in an added incentive to the entire earn and burn cycle, which also includes airlines' association with top hotel companies, for instance China Southern-IHG agreement for earning miles per US$1 spent on qualifying room rates. Also, China Southern and IHG reportedly offered elite status matches late last year (where one loyalty program matches a member's status from another program to the equivalent level in their own program).
Role of data
Data expert Shawn Xuewu Wang, a member of Data Science 50 of China, China Business Network (YICAI) said the premise of providing a superior customer experience is to understand the customer base. "Through data insights of business touchpoints of each customer journey, an entity can understand the consumption tendency of different customer and influence their consumption motivation, and recommend the most suitable products for customers in the appropriate business scenario," he said. More specifically, in terms of segmentation, he said, "The X-axis is the consumption frequency, and the Y-axis is the profit created for the company. It may be that customers who are not price-sensitive purchase a higher price product. All the marketing and services planned, including brand building, are designed to enhance customer value and develop more customers into higher value quadrants."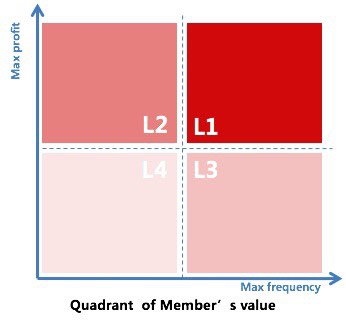 Overall, Zeng felt carriers could have done more. "During the epidemic, Chinese airlines did not have many outstanding moves in the maintenance of their loyal members. The main move was still about the extension of VIP status and mileage validity. China Southern Airlines allows members to reserve a certain flight or route in advance when the number of flights is greatly reduced. The airline will give priority to notify members when there is ticket ... In addition, there does not seem to be too much outstanding practice," he said.
Travel demand dried, shopping behavior evolved
Lin shared that airlines lost 90% of their passengers when the coronavirus first emerged. Now China has an upper hand in virus containment, but the number of passengers is still just 40% of the normal levels, he said. "Business travel is basically non-existent for now and so there's no accumulation in mileage and no redemption. So it's a "shock". But we've got to notice that the non-airline points are still flowing as customers are using the co-brand credit cards and that'll bring valuable cash income for airline companies. If a customer redeems points for a shaver that means cash outflow for an airline. So we can see a huge change in the consumption scenarios for frequent flyers," he said.
Zeng said the epidemic reduced the traveling activity, but the demand has not disappeared. "Once normal, people will still choose the airline they prefer. Even during the lockdown period, many high-frequency travelers actually did not reduce their attention to the airlines or hotels they were loyal to. For example, I took advantage of the pre-sale promotions that some big hotel groups are doing recently, and bought some room vouchers in advance. For another example, I also took advantage of the mileage promotion of an airline and purchased some miles in order to redeem miles for air tickets in the future," shared Zeng.