As the COVID-19 pandemic continues to wreak havoc around the world, the business of TravelDaily and its partners across different sectors are affected to varying degrees. After thorough consideration, we have decided to postpone the "2020 TravelDaily Conference & Digital Travel Show" from September 27-29 to November 25-27, at the Shanghai International Convention Center. ITB China, the largest B2B international travel trade show in China, will join TravelDaily in co-organizing our event.
Since its inauguration in 2008, the TravelDaily Conference, a global leading travel industry event, has been held for 12 years in a row. In this year's event we project that more than 1,300 midrange and senior executives in the travel industry will participate, representing major airlines, hotels, OTAs, tourist attractions, tourism boards, ticketing agents, cruises, car-rental firms and investment companies from China and the rest of the world.
The COVID-19 coronavirus has intensified the pressure of economic downturn and the industry is forced to face accelerated reshuffles and to rethink about the essence of market and business.
Join the 2020 TravelDaily Conference to explore topics most relevant to travel companies: What long-term opportunities are there for the industry after restructuring? How to modify product structure, operation and marketing strategies to cater to segmented markets and personalized demands? How to improve user experience with fine-tuned operation? How to plan and execute corporate digitalization to become more resilient? How to establish a win-win value proposition as travelers' demands are increasingly diversified and the industry chain is working closer together?
The TravelDaily Conference boasts stellar speakers, among them founders and CEOs of top travel companies, veterans with decades of industry experience, industry leaders with insights on systematic solutions and Internet elites pioneering crossover ideas. Travel professionals can leverage the insights and experience from industry veterans to identify future trends and set up forward-looking strategies.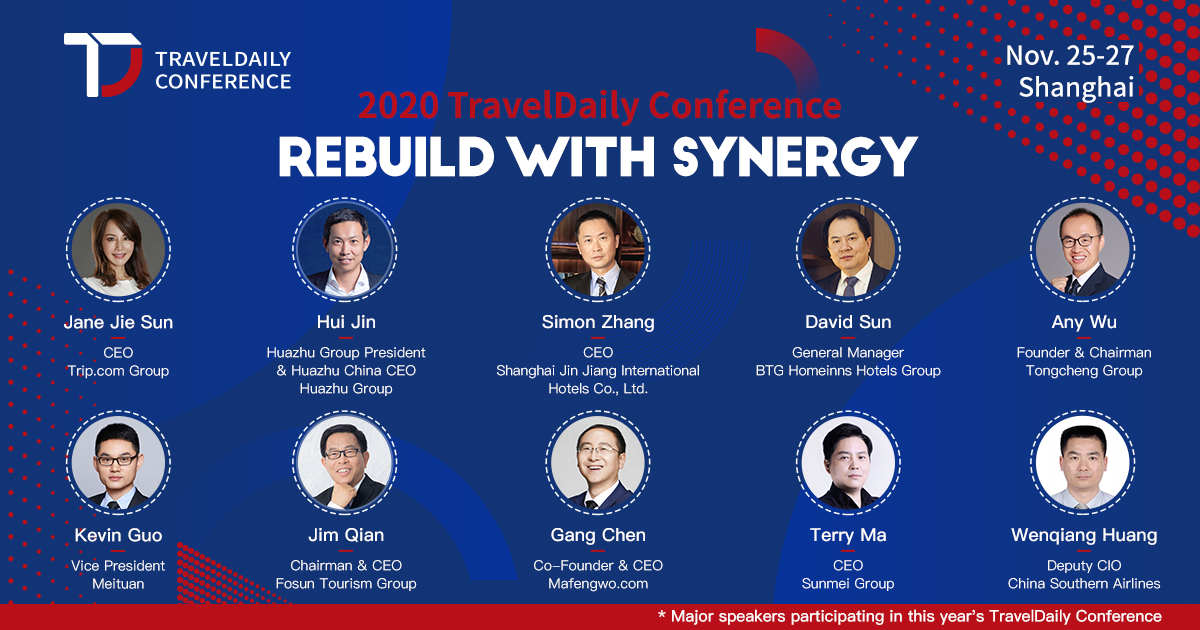 Register now with the Discount Code of TDC2020 to enjoy 10% off.
For more information, feel free to contact us through landline (+86 20) 2882 9360 or email register@traveldaily.cn