Chinese hotel group Huazhu revealed its latest share ownership details in its recent 20-F annual filing: as of March 31, 2020, Trip.com Group had a 7.4% stake in Huazhu while Accor owned a 5.2% stake.
In December 2019, Accor sold 5% or 14,332,376 shares of Huazhu's ordinary shares to Gaoling Fund, L.P. for around USD 450 million, while Huazhu sold 4,904,222 of Accor's shares with gains of around RMB 255 million (USD 36 million).
Ownership structure
Huazhu completed its acquisition of Deutsche Hospitality in January 2020, adding five new hotel brands including Steigenberger Hotels & Resorts, MAXX by Steigenberger, Jaz in the City, IntercityHotel, and Zleep Hotels, in Europe, the Middle East, Thailand and Africa.
In September 2017, the company purchased about 1% equity interest of Oravel Stays Private limited (OYO), an India leading hospitality company. Huazhu does not have the ability to exert significant influence over OYO.
Key operation data
As of December 31, 2019, the company had 688 leased and owned hotels, 4,519 manachised hotels and 411 franchised hotels in operation, 43 leased and owned hotels and 2,219 manachised and franchised hotels under development.
The HUAZHU Rewards had more than 153 million members. In 2019, approximately 76% of room nights were sold to our HUAZHU Rewards members.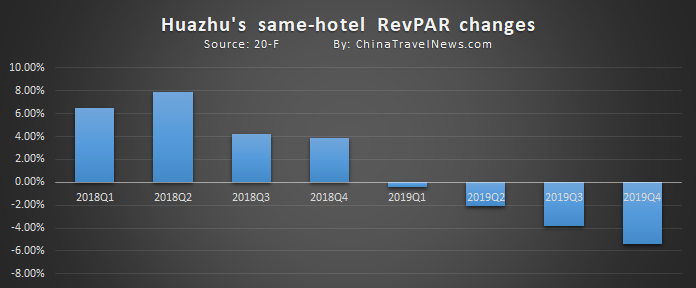 For the past three years, Huazhu's annual RevPAR continued to grow. But in terms of Same-hotel RevPAR, the growth rates have continued to slow down in 2018 and 2019.
This may be partly due to the oversupply in the Chinese hotel market last year, coupled with intensified competition in the greater accommodation industry which is adding not just hotel properties but also alternative lodging supplies like short-term rentals and apartments.
Transactions
In 2017, 2018 and 2019, Huazhu paid RMB 77 million, RMB 61 million and RMB 72 million (USD 10 million), respectively, to Trip.com Group for the commission fees of leased and owned hotels. Huazhu provided marketing and training services to Trip.com Group and recorded service fees of RMB 24 million, RMB 12 million and RMB 41 million (USD 6 million), respectively for the year of 2017, 2018 and 2019.
The company recorded brand use fee, reservation and other service fees to Accor of RMB 11 million, RMB 18 million and RMB 28 million (USD 4 million) in 2017, 2018 and 2019, respectively. Huahzu also recognized service fee from Accor of RMB 8 million, RMB 14 million and RMB 9 million (USD 1 million) in 2017, 2018 and 2019, respectively.