Positive Chinese outbound sentiment to restore Thailand's tourism
>> A new survey of consumers in China's first tier cities has concluded that 53% of respondents would like to travel overseas within 2020. The newly released China Thailand Travel Sentiment Survey 2020, conducted by C9 Hotelworks and Delivering Asia Communications, showed that 71% of Chinese consumers would like to visit Thailand.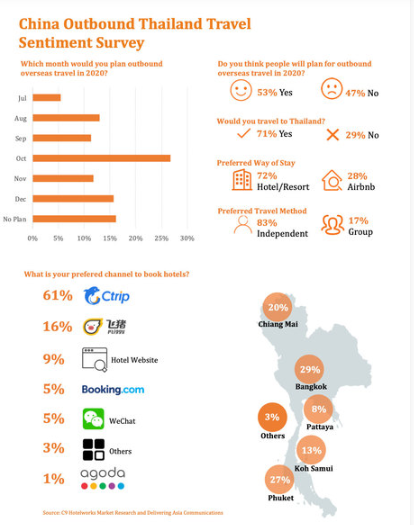 The top 5 preferred booking channels for Chinese travelers to Thailand are Ctrip (61%), Fliggy (16%), hotel websites (9%), Booking.com (5%) and WeChat (5%).
Beijing reopens 30% of its major tourist sites
>> Beijing has reopened 73 major tourist sites, or 30.7% of the total in the Chinese capital city, as the coronavirus epidemic wanes in China. According to Beijing municipal bureau of culture and tourism, the tourist sites that resume operation should receive no more than 30% of the maximum real-time number of visitors, and no more than 30% of the daily visitor capacity.
Sim Leisure inks theme-park deal with Guangzhou Daxin
>> Malaysia-based theme-park developer Sim Leisure signed an agreement with China-based Guangzhou Daxin Water Park Equipment to grant Guangzhou Daxin the right to use "Sim Leisure" as the name to secure theme-park design and building contracts within China and the Asean region, in return for a 5% royalty payment to the company's subsidiary Sim Leisure Creative. Guangzhou Daxin is one of the biggest waterpark designers, equipment suppliers and contractors in China, with a turnover of USD 50 million at its peak in 2016.
Haikou to build China's only volcanic park
>> Southern Chinese city Haikou is looking to upgrade its volcanic national park into a world-class tourist attraction with an investment of RMB 417 million (USD 58.9 million). The money for the 46 projects to complete the Haikou Shishan Volcano National Geological Park will be raised through the government, equity investment, and other types of financing.
Airlines adopt direct sales of all international tickets
>> The Civil Aviation Administration of China has required airlines to adopt a direct selling mode for all international tickets during the fight against COVID-19 to eliminate scalping. On March 29, the CAAC cut the number of international passenger flights so each airline can maintain only one route to one country, while each route can carry out up to one flight per week.
Chinese airlines consider buying embattled Virgin Australia
>> The Victorian government has refused to prop up embattled Virgin Australia, which is teetering on the brink of collapse due to the coronavirus crisis. The company is drowning in almost AUD 5 billion worth of debt and bosses are reportedly in discussions with Chinese airlines, who are poised for a last-minute takeover.
Big Three Chinese airlines see significant losses in Q1
>> Air China said its passenger carried was down by 69.1% in March and down by 51.8% in the first quarter. China Southern Airlines reported a 60.44% decrease in passenger capacity in March and load factor was 58.16% in the month. China Eastern Airlines' passenger capacity in March declined 69% and load factor was 55.78%. All the three state-owned airlines expect significant losses in the quarter.
HNA Group has 'reached the point of life and death' amid pandemic
>> Chinese air carrier HNA Group announced via social media that it had "reached the point of life and death," due to the revenue impact from the coronavirus, according to the Financial Times. HNA Group is also the owner of California-based IT distributor Ingram Micro. Ingram Micro CEO Alain Monie has gone to great lengths to reassure the company's partners that HNA Group's financial woes will have no bearing on Ingram Micro's business.
United sells 22 jets to Bank of China Aviation and lease them back
>> United Airlines will sell and lease back 22 planes to Bank of China (BOC) Aviation. The Singapore-based BOC Aviation did not reveal how much the purchase was worth but said the planes would be leased back to United on long-term agreements. United said it had reduced its flight schedule in May by 90% and expects similar cuts for June as a result of the coronavirus pandemic.
Thai VietJet plans new China route
>> Thai Vietjet has posted details of a new service linking Bangkok and Haikou in China that the airline claims should be up and running in late October. The new service appears in Thai VietJet Air in its winter season plans 2020/21 subject to approval and a clean bill of health as far as COVID-19 is concerned.