90% of Chinese travelers prefer domestic itinerary
>> An uptick in domestic sight-seeing doesn't necessarily mean international travel will rebound as quickly, according to data from Trip.com Group. Based on a survey of 15,000 people across 100 cities in China at the end of March, the company found that 16% of respondents will be ready to travel again in May in time for Golden Week, a five-day public holiday. However, the vast majority of 90% would prefer to travel domestically, with destinations like Yunnan, Hainan island and Shanghai sweeping the top three preferences.
China's market sees upstick while US recovery is delayed
>> China is beginning to see a small uptick in their domestic travel activity as the confirmed COVID-19 case counts come to a stop. The US, on the other hand, is at the beginning of its exponential growth period in confirmed COVID-19 cases but has approached what appears to be a new floor for search volume. The recovery in the US is likely to be delayed for several more weeks compared to what is present in China.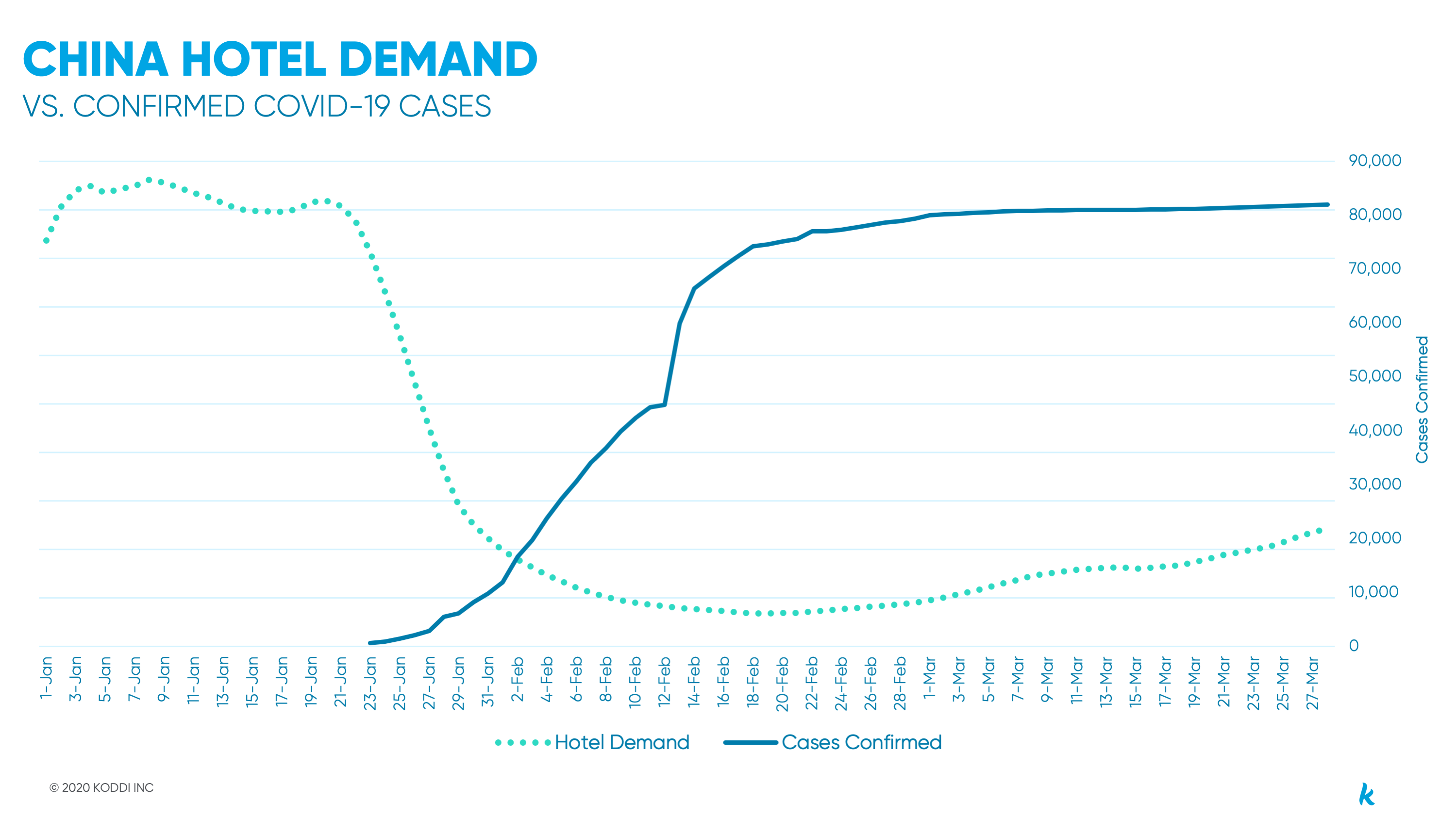 Korean Air will reopen select Chinese routes in May
>> Korean Air has released an updated flight schedule for the coming months. Most flights throughout April are still suspended, but the airline has scheduled more flights to China throughout May as travel restrictions in Asia loosen. Despite this, the schedule is still likely to change as the global situation develops.
China Eastern to sell inflight meals in supermarkets
>> Local authorities in Shanghai have issued a certificate to allow China Eastern Airlines to sell its inflight and VIP lounge meals outside the city's airport. The Changning district's market supervision bureau presented the food manufacturing certificate to Eastern Air Catering so its products can be sold at local supermarkets or restaurants.
Beijing Daxing airport sees more flights move in
>> The Beijing Daxing International Airport has seen more flights move there from the Beijing Capital International Airport. China Southern Airlines started to move another 50% of its total flights in Beijing to Daxing airport, meaning 60 percent of its flights between Beijing and other cities will take off or land at the new airport, the airport said.
Hong Kong airport's passenger volume nosedives 91%
>> Passenger numbers for Hong Kong's airport in March nosedived by 91% year on year, fresh government data has shown, with the new low wrought by the coronavirus pandemic just shy of the rock bottom suffered at the height of the Sars outbreak in 2003. Some 576,000 people including 350,000 arrivals and 226,000 departures passed through Hong Kong International Airport in recent weeks.