Trip.com-invested hotel soft brand collapses
>> ChinaTravelNews has learned that Wujiang Hotels, a soft brand invested by Chinese online travel powerhouse Trip.com Group, recently collapsed amid the coronavirus outbreak.
The brand's chairman Xiaodong Ma told its employees in a letter that the company has decided to cease operation as Wujiang's development plan has been completely disrupted by the COVID-19 pandemic. The company will terminate all its employees' contracts by April 30, 2020, according to the letter. Wujiang was founded just in 2019 and focused on the midscale and upscale hotel segments.
>> Trip.com recently launched the "COVID-19 International Traveler's Guide", a one-stop information source designed to make planning travel safer and easier in a period of uncertainty.
Airbnb halts marketing spend in $800M savings plan
>> In light of the COVID-19 situation, Airbnb will suspend all marketing activities in a move which will save USD 800 million a year. Faced with a backlash over its unilateral decision to refund guest reservations and leave hosts empty-handed while competitors took a more balanced approach, Airbnb co-founder and CEO Brian Chesky apologized to hosts, and detailed a USD 260 million relief package.
>> Airbnb is making prepayments for its landlords in China to improve cash flow for those struck by the Covid-19 pandemic. The move is one of several measures aimed at retaining its Chinese accounts, Airbnb China President Peng Tao said. Landlords usually receive payment one working day after a tenant moves in, but Airbnb will pay half of the amount due in advance.
Universal Beijing Resort will debut two new hotel concepts
>> When it opens, Universal Beijing Resort will debut two new hotel concepts: The Universal Studios Grand Hotel and the NUO Resort Hotel – Universal Beijing Resort. The hotels will be destinations unto themselves, and will both be operated by a joint venture between Beijing Tourism Group and Kempinski Hotels.
Hong Kong hotels and the impact of COVID-19
>> A hotel sentiment survey by Horwath HTL Hong Kong showed that over 90% respondents expect the impact of COVID-19 will last for 3 months and more till the second half of the year. Around 60% of respondents believe that the impact on Occupancy is expected to fall down by 60%, more severe than that of ADR (43% respondents).
Hong Kong hoteliers can forget about V-shaped recovery
>> The onslaught of social unrest and coronavirus pandemic has changed the travel patterns in Hong Kong, bringing along permanent changes to the hotel industry. Visitor arrivals fell 52.7% to 3.2 million in January 2020 from a year earlier, according to the latest data from the Hong Kong Tourism Board, with mainland Chinese arrivals shrinking by 54.2%.
Search data reveals positive trends
>> Travel marketing specialist Sojern said it sees a huge uptick in flight searches in mainland China, an increase in hotel searches and has heard anecdotally that consumers are now calling hotels with queries.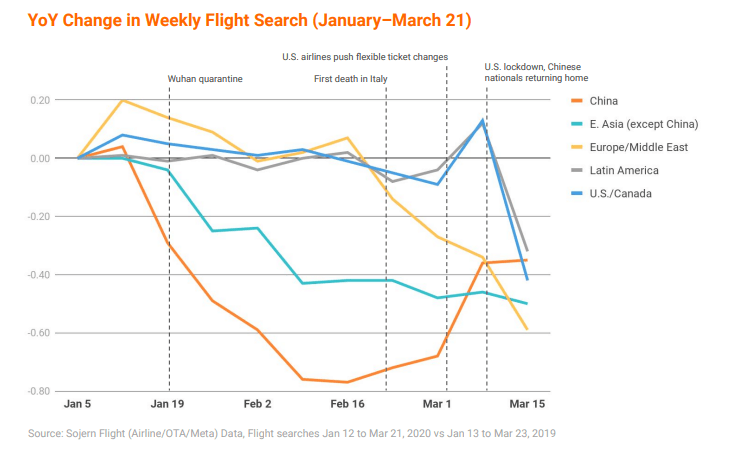 Chinese tourists set to turn to domestic options
>> The latest figures from Oliver Wyman showed that nearly eight out of ten respondents in China said they planned to travel domestically when epidemic subsides – heaping even more pressure on the international aviation and tourism industries. "With 77% of the respondents surveyed now eyeing domestic destinations for their first post-epidemic trips, the COVID-19 outbreak is expected to exacerbate this shift in destination preference among Chinese travelers," states the firm.
Chinese province offers vouchers to boost tourism
>> Eastern Chinese province Zhejiang has issued vouchers worth over RMB 1 billion (USD 140 million) to tourists to boost tourism and cultural consumption hit hard by the COVID-19 outbreak. In addition to the vouchers, many scenic areas across the province have also rolled out plans to waive entrance fees for all visitors before June.