ChinaTravelNews - At least 170 people are dead and more than 7,700 cases confirmed in mainland China, as the virus spreads well beyond the country's borders, according to a CNN report.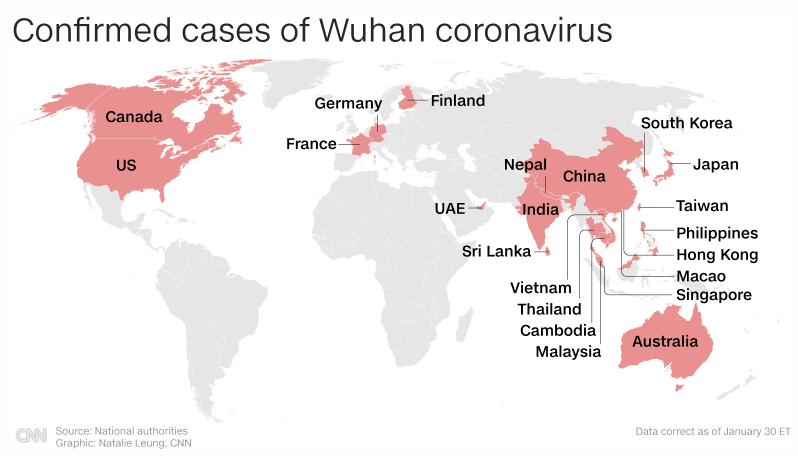 As of January 30 at 18:00, worldwide confirmed cases include:
*Australia (at least 7 cases)
*Cambodia (at least 1 case)
*Canada (at least 2 cases)
*Finland (at least 1 case)
*France (at least 5 cases)
*Germany (at least 4 cases)
*Hong Kong (at least 10 cases)
*India (at least 1 case)
*Japan (at least 11 cases)
*Macao (at least 7 cases)
*Malaysia (at least 7 cases)
*Nepal (at least 1 case)
*Philippines (at least 1 case)
*Singapore (at least 10 cases)
*South Korea (at least 6 cases)
*Sri Lanka (at least 1 case)
*Taiwan (at least 8 cases)
*Thailand (at least 14 cases)
*United Arab Emirates (at least 4 cases)
*United States (at least 5 cases)
*Vietnam (at least 2 cases)
Updates on the travel, airlines and related sectors:
>> Roughly 7,000 people are being kept on a cruise ship in Italy as a female passenger and her husband are being tested for the Wuhan coronavirus.
>> Russian Prime Minister Mikhail Mishustin has signed an order to close his country's far-east border with China in an effort to prevent the spread of coronavirus.
>> Global airlines are suspending flights to and from China including Israel's El Al Airlines, British Airways, Delta Air Lines, American Airlines, SAS, Air Canada, KLM, Air France, Lufthansa and United Airlines. The moves follow travel guidance from multiple governments advising against nonessential travel to the country.
>> According to CNBC.com, White House officials reached out to airlines based in the U.S. to inform them the administration was considering a temporary flight ban as China continues to deal with a rising death total and thousands of sick citizens.
>> Airlines are relaxing their policies and some major hotel chains are waiving cancellation fees, but recouping all the costs associated with trips canceled due to Wuhan coronavirus fears is far from guaranteed. An outbreak of a virus is not covered under most standard trip cancellation insurance policies, according to TravelInsurance.com.
>> ChinaTravelNews learned that Expedia has considered the coronavirus outbreak as "a case of Force Majeure" and thus decided to proceed with free cancellation and refund if any customer wants to cancel their bookings.
The U.S. online travel giant announced the decision in a letter sent to its suppliers on January 28. This Flexible Cancellation policy is applicable for all bookings with the travel dates between January 24 to February 8, according to the letter.
>> The Northern Mariana Islands, a U.S. commonwealth in the Pacific Ocean, has issued an emergency declaration banning all Chinese travelers from entering the US commonwealth for 30 days due to the outbreak of the coronavirus. Approximately 700 mainland Chinese passengers per day arrive in the Northern Mariana Islands, according to the executive order.
>> International sporting events are affected by the virus outbreak: Skiing World Cup races in Yanqing cancelled and Olympic women's football in Australia in doubt on concerns about athlete safety. Badminton, tennis and basketball were among other sports whose governing bodies were rearranging events, weighing possible changes or monitoring the implications of the outbreak, according to a Reuters report.