According to JLL's latest Hotel Investment Highlights report, investors are facing mounting pressure to deploy capital amid geopolitical uncertainty. To generate target returns, a number of investors have adjusted their risk expectations to explore opportunities within their home countries.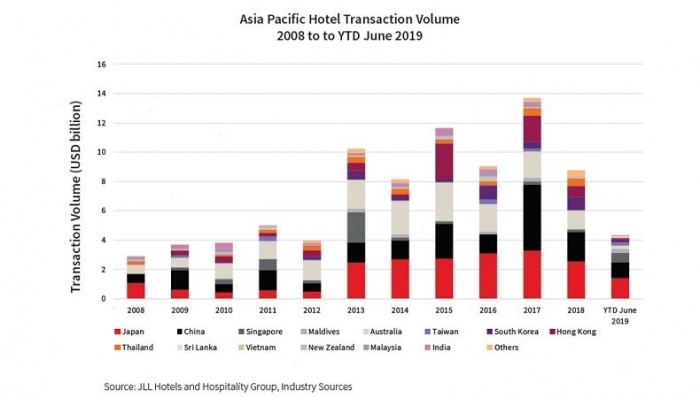 Single asset transactions dominated the region's investment scene in the first half year, including the top three transactions: Hilton Tokyo Odaiba, Beijing Jade Palace Hotel and Ascott Raffles Place in Singapore.
The report reveals that the majority of deals during the first half of 2019 were transacted by domestic purchasers, who drove almost 80% of the total capital invested in the region. While REITs were the largest domestic buyers, private equity firms were the biggest cross-border purchasers, comprising about 27% of the total cross-border volume during the period.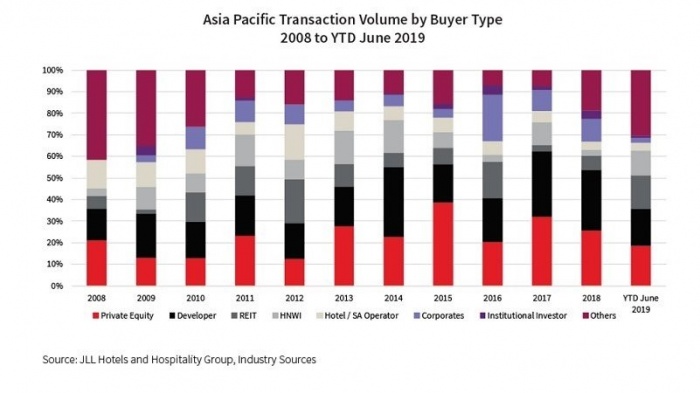 China emerged as the second most liquid hotel market after Japan, with China comprising about 25% of Asia Pacific's total hotel investment volume as at year-to-date June 2019.
In the first quarter of 2019, internet giant JD.com acquired the 411-room Beijing Jade Palace Hotel for around USD 400 million - approximately USD 979,000 per key. The property is slated to be converted to an office and innovation center, continuing the trend which has been witnessed over recent years where investors seek to extract value from typically older hotel properties through alternative use.
"This deal is part of a wave of domestic investors buying hotel assets for conversion to alternative uses such as offices. As hotel deals are driven by a price per square meter basis in China, they tend to be priced lower than other commercial properties. Given the low yield profile of such transactions, foreign investors are likely to be priced out of the hotel market," says Mike Batchelor, CEO Asia, JLL Hotels & Hospitality.
"Although hotel transactions in China have been dominated by domestic capital in recent years, foreign investors, in particular, private equity funds and owner-operators, are still actively looking for investment opportunities in China. As Chinese economy maintains stable growth, domestic tourism revenue continues to increase, coupled with cap rate returning to a normalized level, we believe that hotel transaction activities in China will start showing signs of maturity in the medium-to-long term," adds Ling Wei Tan, Vice President China, JLL Hotels & Hospitality.
Read original article