For the first time, travelers can plan how long it takes to exit airports. Worldwide, travelers' median time from a plane's arrival until they are on their way is 23 minutes after domestic flights and 38 minutes – a 65% increase – after international flights.
Blacklane, the global chauffeur and airport concierge service, completed the first worldwide "seat-to-seat" analysis of travel time. The company compared when guests left airplane seats (flights' arrival times) to the times guests entered its chauffeured vehicles since August. The data comprised hundreds of thousands of flights at hundreds of airports around the world. The findings reveal:
* Luxembourg is the fastest, with a median time of 15.5 minutes. The slowest is Kansai, outside of Osaka, Japan, with a median time of 80.5 minutes.
* In terms of the 10 fastest and slowest APAC airports to exit for international and domestic arrivals: for international arrivals, Shanghai Hongqiao is the fastest with a median exit time of 22 minutes; for domestic flights, Perth comes first with a median exit time of 12 minutes. Delhi is the slowest at 45 minutes.
* Rank of the 20 busiest worldwide airports for international arrivals. Munich's 30-minute median time is first, followed by Frankfurt at 33 minutes and Singapore at 36 minutes.
Blacklane's research includes the total time for travelers to exit aircraft, gather luggage, clear customs and immigration, and walk to vehicles with chauffeurs. The data do not take into account nationality, priority status, age, or checked vs. carry-on luggage. Additionally, Blacklane counts flights within the Schengen Area as domestic since the participating 26 European nations do not enforce border controls among one another.
International Arrivals Go Quickest at Smaller European Airports
Ten of the 11 fastest airports in the world for international arriving passengers are in Europe. First is Luxembourg, where arriving international travelers need a median time of 15.5 minutes to get from the airplane into a chauffeured vehicle. Rotterdam closely follows at 16 minutes.
Many of the fastest airports are a major city's secondary airport – or smaller. Milan's second- and third-largest airports, Bergamo (BGY) and Linate (LIN), take just over 20 minutes for passengers to reach vehicles. London City (LCY) is London's fifth-largest airport. Shanghai Hongqiao International Airport (SHA) handles 40% less passenger traffic than Shanghai Pudong International Airport (PVG).
A couple of important factors for their short exit times are the smaller sizes of planes and airport terminals. A major factor in Europe is that E.U. airports typically group E.U. and U.K. citizens together through immigration control. Many assign more immigration officers and deploy new technology, like electronic passport scans and biometric readers, to speed these travelers through.
10 Fastest Airports to Exit: International Arrivals (11 due to ties)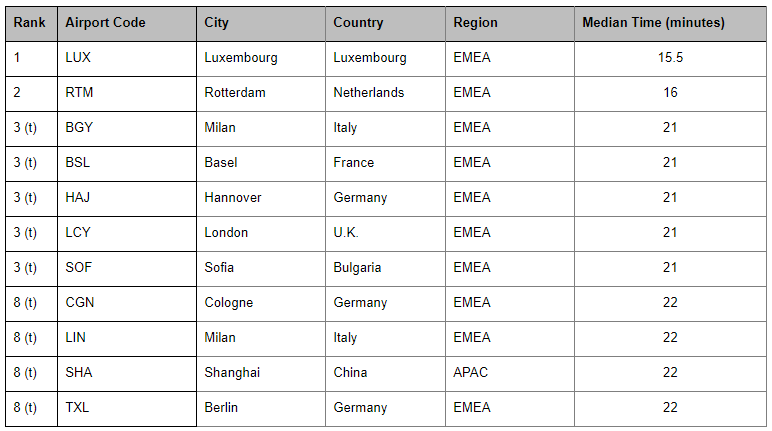 Large Cities Lead the List of Slowest Airports for International Arrivals
Conversely, five countries' largest cities have the world's slowest airports for arriving international travelers. Tokyo, Santiago, Dubai, Buenos Aires and Mexico City all take at least 52 minutes as a median time for passengers to get to their vehicles.
The slowest airport is Kansai International Airport (KIX), serving Osaka. This is perhaps due in part to having the longest airport terminal in the world at 1.1 miles (1.7 kilometers).
APAC has three of the slowest five airports in the world, with two in Japan and one in Indonesia.
10 Slowest Airports to Exit: International Arrivals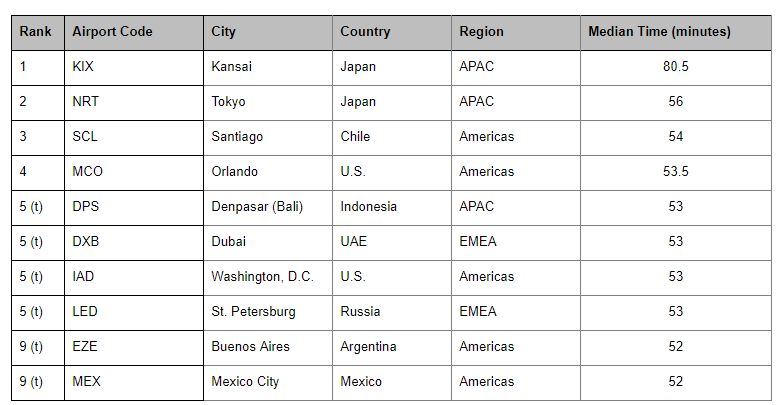 Airports in China, Australia and India APAC Get International Travelers Through Faster
China has the top two airports, Shanghai Hongqiao (SHA) and Macau (MFM) in APAC for international arriving travelers. Australia has two of the next three and India has three of the top 10. At 22 minutes, Shanghai Hongqiao is the only one under 32 minutes. Four of the top 10 are country capitals.
10 Fastest APAC Airports to Exit: International Arrivals (11 due to ties)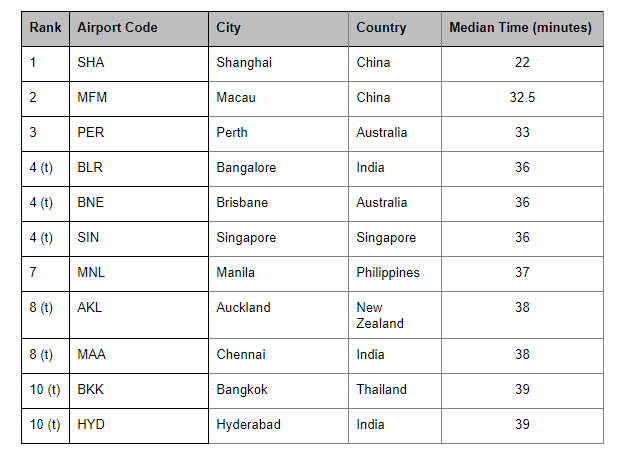 Capital Cities Lead the List of Slowest APAC Airports for International Arrivals
Continuing the global trend, capital cities are the majority of the slowest airports to exit in APAC for international travelers. Tokyo has two of the ten, with Beijing, Colombo, Hanoi, and Kuala Lumpur on the list. All of these take at least 46 minutes to exit. Four airports take 51 minutes or longer.
Shanghai Pudong (PVD), tied for eighth at 46 minutes, takes more than twice as long to exit as Shanghai Hongqiao, at 22 minutes.
10 Slowest APAC Airports to Exit: International Arrivals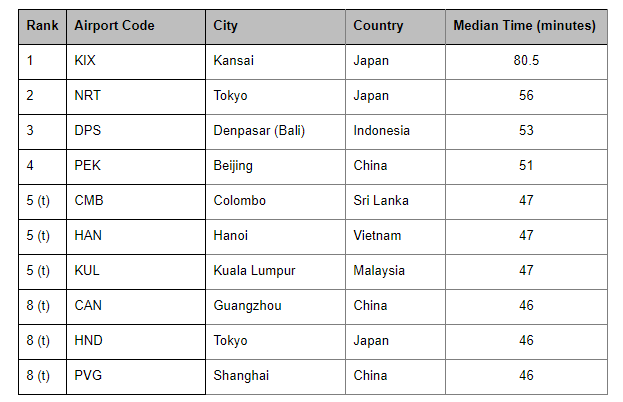 Perth (PER) has the fastest median time for arriving domestic travelers to exit, at 12 minutes. Australian airports take six of the next seven places. Only four airports have a domestic exit time in 20 minutes or less.
Five airports make the top 10 list for domestic and international, with Perth and Brisbane (BNE) in the top four of both groups.
10 Fastest APAC Airports to Exit: Domestic Arrivals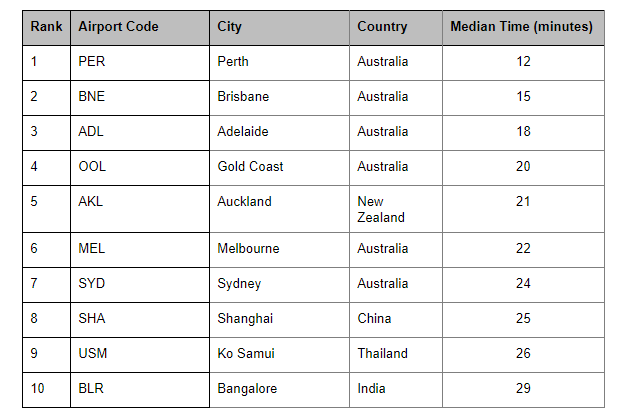 The two slowest airports for domestic arrivals – and the only two that take more than 40 minutes – are in India. Overall, the slowest airports for domestic arrivals include five that were also among the slowest for international arrivals. China has four airports on the slowest for domestic arrivals and Thailand has two.
Interestingly, Bangkok (BKK) is one of the slowest for domestic arrivals at 36 minutes, but it's one of the fastest for international arriving passengers to exit, at 39 minutes.
10 Slowest APAC Airports to Exit: Domestic Arrivals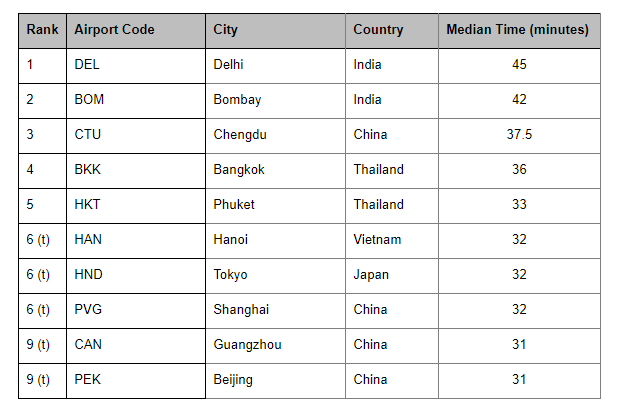 Among the ranking of the 20 busiest international airports in 2018, European airports were the most efficient at getting travelers on their way. The continent had nine of the 12 fastest airports, including the top two, Munich and Frankfurt.
Singapore is the best in APAC, at 36 minutes, with Bangkok fifth at 39 minutes. Tokyo Narita (NRT) is the slowest of the top 20 international airports at 56 minutes.
A higher volume of international passengers does not necessarily mean a longer exit time. For example, Singapore had 64.9 million international passengers and Tokyo Narita had 35.3 million, but Singapore was 20 minutes faster to exit. These airports also handle a varying percentage of international travelers who connect through a hub versus arriving at their final destinations.
20 Largest Airports: Minutes from International Flight Arrival to Boarding Chauffeured Vehicle*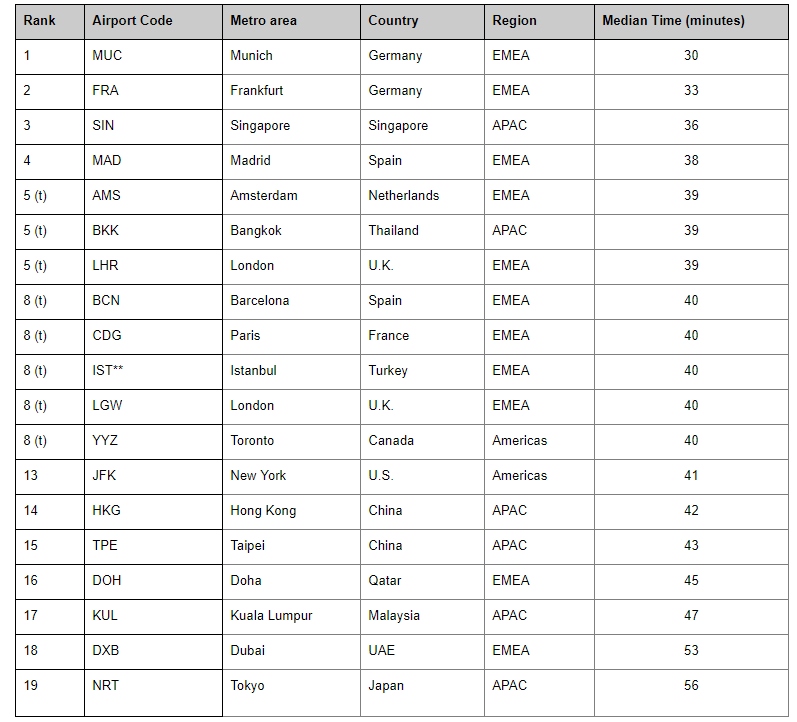 * Seoul is excluded from this list because Blacklane does not offer chauffeur service there.
** Note: IST data comes mainly from Istanbul Ataturk Airport (ISL), which formerly used the IST code.
Road Warriors Get on the Road Quickly
Business travelers are known for their expertise in navigating airports and saving time. The new data further confirms this. Blacklane's business account travelers exit the airport after domestic arrivals in a median time of 17 minutes. All other travelers have a median exit time of 24 minutes – a 41% increase.
For international arrivals, business travelers leave the airport in a 30-minute median time. All other travelers take 39 minutes, 30% longer.
Larger Groups Should Plan for Longer Exit Times
Blacklane guests can book rides in executive-level sedans that seat up to three passengers or chauffeur-quality SUVs and business vans that accommodate up to five passengers.
For the rides in larger vehicles – typically indicating more passengers and/or more luggage – travelers took nine extra minutes to be on their way, for both domestic and international flights.
Domestically, sedan guests took a median of 22 minutes to board their Blacklane vehicles after domestic flights and 31 minutes when taking a business van or SUV. Internationally, the times were 37 and 48 minutes, respectively.