Attendance at global themed attractions by major operators has exceeded a half billion visits for the first time, equivalent to almost 7% of the world population, according to data from the 2018 TEA/AECOM Theme Index and Museum Index.
Disney has readily maintained its position at the top of the list regionally and internationally, followed by Merlin Entertainments Group and Universal Parks and Resorts on the Top 10 Theme Park Groups Worldwide list.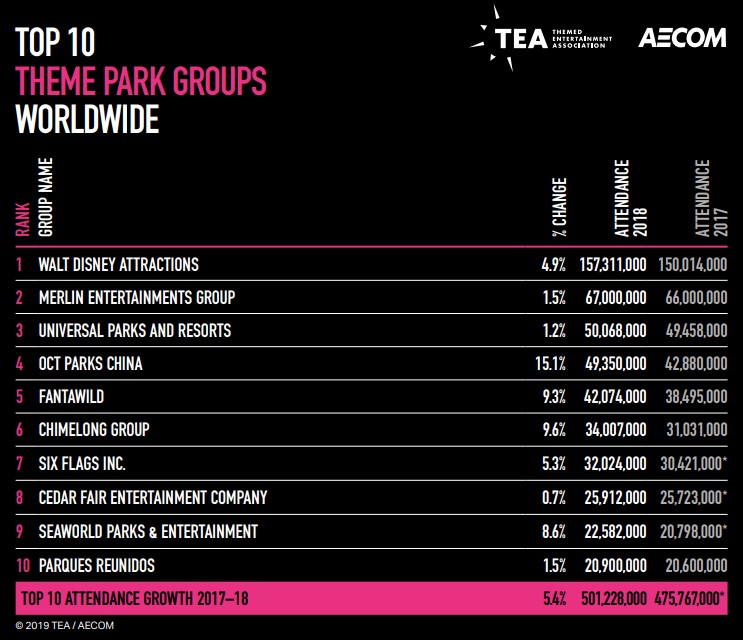 Three Chinese theme park groups are listed among the global top 10 ranking in 2018 by attendance: OCT Parks China (49.35 million), Fantawild (42.07 million) and Chimelong Group (34.01 million). The three groups showed the greatest growth momentum in attendance in the ranking with OCT registering the largest rise at 15.1% year-on-year.
Theme parks in Asia Pacific
The attendance of the Asia Pacific region's top 20 amusement/theme parks in 2018 reached 139.1 million, up by 3.6 percent year-on year. There are 11 Chinese theme parks on the regional list.
Disney parks across Asia had a very strong year in 2018, including properties in Tokyo, Hong Kong and the newest, Shanghai Disneyland. Other leading operators in China include OCT, Fantawild and Chimelong.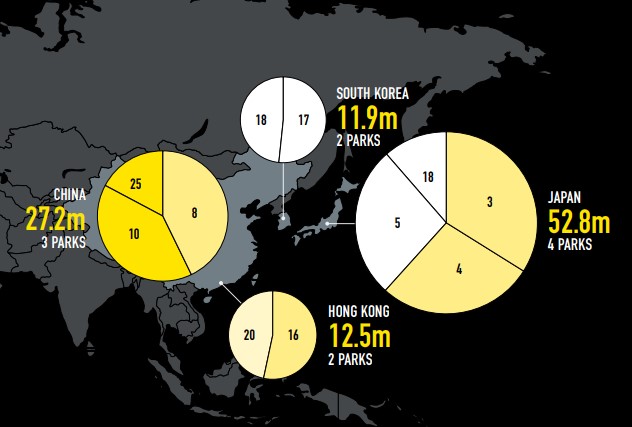 Hong Kong Disneyland and Shanghai Disneyland also enjoyed substantial growth.
The Shanghai park launched programs to help draw in more of the resident market, including its first annual pass. A season pass is a relatively new thing to the market in China, but there are signs that other parks will follow suit.
Hong Kong Disneyland opened a new show "Moana: A Homecoming Celebration," but its attendance increase of 8% for 2018 is also due to a pair of infrastructure improvements that have greatly expanded public access.
Chimelong Ocean Kingdom's 2018 attendance increased by over 10%. Chimelong Paradise in Guangzhou, which was one of the earlier Chimelong parks to be built and opened in 2006, has instituted significant upgrades and introduced Halloween events, and been rewarded with a significant (12%) increase in attendance.
OCT parks generally saw an attendance increase, driven by a first-ever "Cultural Tourism Festival" featuring special events held at OCT attractions across 50 Chinese cities. OCT shows a 15% attendance jump for 2018, approaching Universal Studios numbers.
Attendance growth follows a more organic pattern at top operators Chimelong and Fantawild. The latter's attendance numbers jumped by about 9%, supported by opening of two new Fantawild parks in 2017 that have now been operating for a full year.
Museums
In the Asia-Pacific region, Chinese museums in 2018 generally performed well with respect to attendance.
The National Museum of China in Beijing held onto its first place position on the list of the Top 20 Museums, Asia Pacific — with 8.6 million visits in 2018, representing a remarkable increase of 550,000 visits over 2017.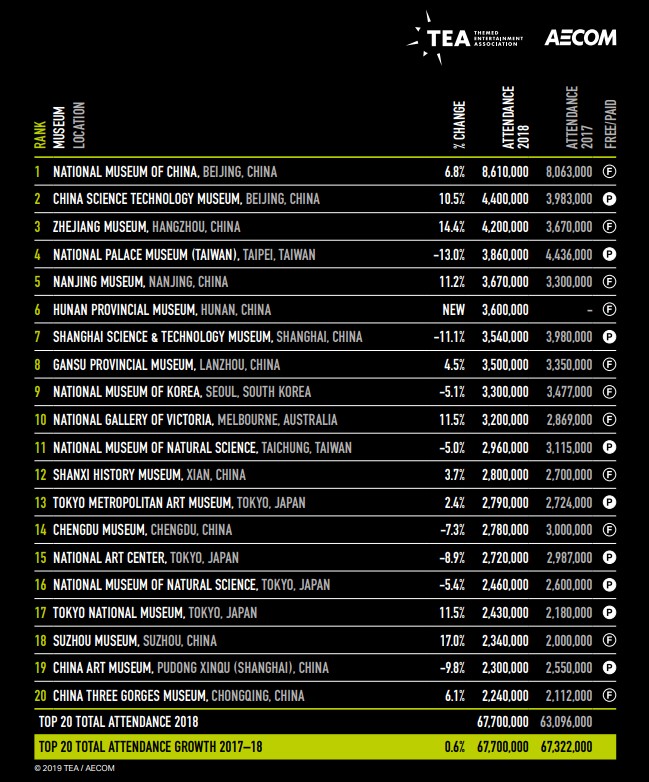 Three new Chinese museums entered the Top 20 this year, and double-digit attendance increases were recorded at multiple existing museums across the country. The Hunan Provincial Museum celebrated its first year of operations after re-opening in a new building and immediately entered the 2018 Top 20, in sixth place.
Observation Experiences
Observation experiences are a type of specialty attraction proliferating across the globe. China's Oriental Pearl Tower in Shanghai and Canton Tower in Guangzhou ranked the 8th and 16threspectively on the top observation experiences worldwide list with 2.8 million and 1.5 million estimated attendances in 2018.
Read Original Report