ChinaTravelNews, Ritesh Gupta - Ctrip has indicated that it can uplift the contribution from its outbound business to 50% in the coming 5-10 years, provided the online travel group continues to improve on several counts.
Speaking during the company's Q1 earnings call, Ctrip's CEO Jane Sun explained that having a large pool of travellers within China along with extensive presence across the country and a wide array of products only means that more consumers would eventually travel internationally with the group in the years to come. The outbound travel business used to focus on outbound accommodation reservation, air ticketing and packaged tours, but now Ctrip is increasingly expanding its product basket, adding dining, shopping and local activities both in China and abroad. The group currently offer over 60 types of products and services.
"Being an OTA, our strength is the comprehensive offering of products," mentioned Sun. She added that the outbound segment is expected to pave way for "a very good uplift for our products".
"…because more and more customers cannot only travel domestically, but they also will be able to travel in international space and Ctrip has lots of advantages," she said. Elaborating on the same, Sun referred to the selling of air tickets. "We're able to work with different airlines, utilize their products to take our customers anywhere, any place in the whole world. Once the customer has informed us where they want to go, we can also provide the information within the cities, within the areas and providing local transportation, providing the local attraction tickets to them. So for our customers, outbound travel, when they book with Ctrip, they have peace in mind that everything will be taken care of."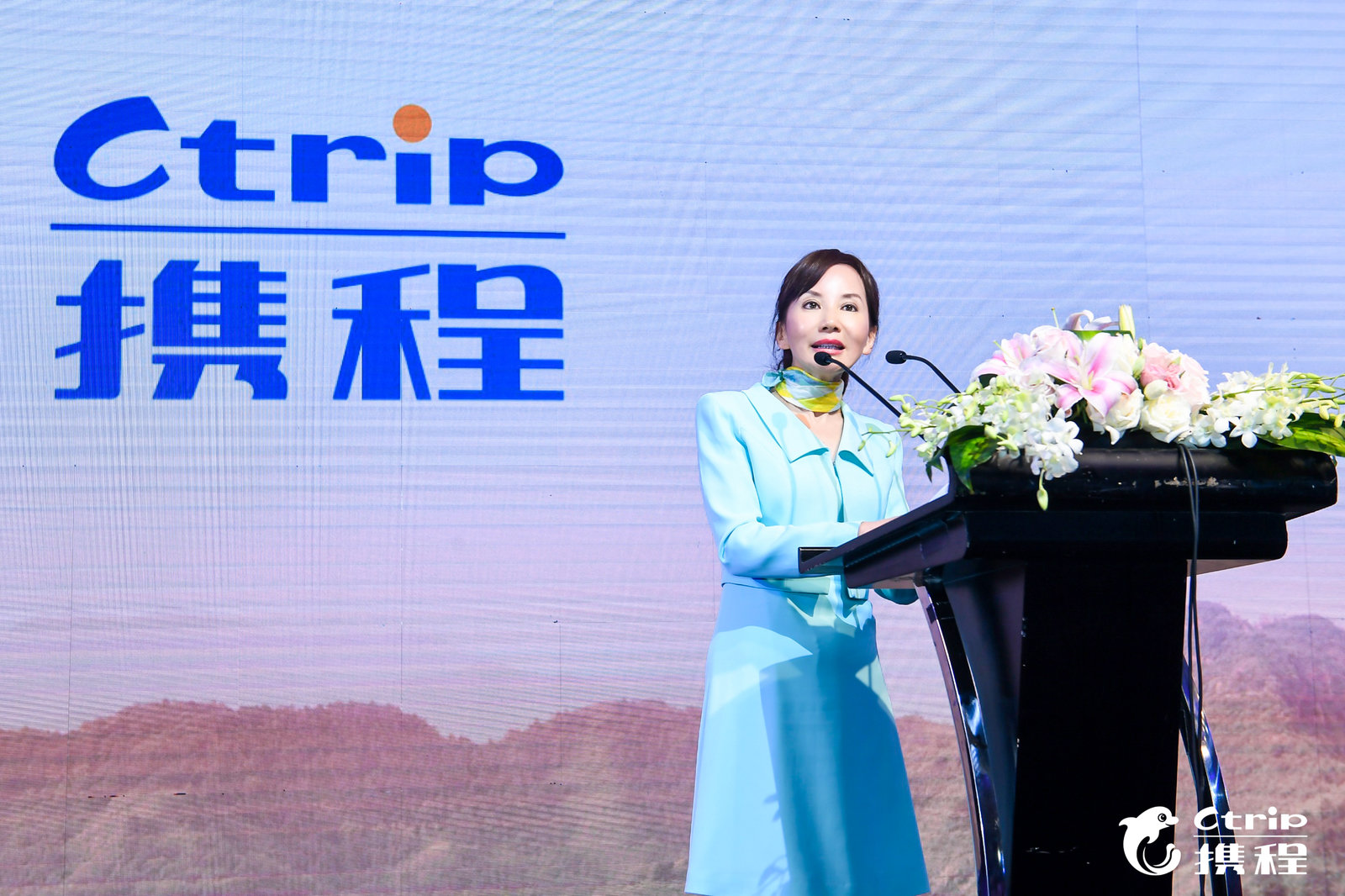 Sun further added, "So right now, the outbound plus international travel accounts for 35% of our revenue contribution. If we work continuously to improve our coverage and price and product offering, in the future, that number can continuously improve to 50% in the next 5 to 10 years."
James Liang, Executive Chairman, Ctrip shared that the China-and-US-related travel might have some negative impact. But that's only a small part of the overall international tourism market.
Overall, the performance from core products, too, has been going up steadily. For instance, in September last year, during the Q2 results of 2018, Sun mentioned that international hotels achieved 40% room night year-over-year growth rate, more than doubling the outbound industry growth pace. It was also indicated that the international accommodation business was contributing 20% to 25% of the total accommodation business revenue, and international air ticket accounted for more than 40% of the total air ticket revenue.
Some of the key pointers that make the prospect of Ctrip's outbound business attractive are: Chinese travellers already spend over $200 billion overseas annually. And this accounts for less than 10% of total Chinese population. Till last year, it was being indicated that only 16-17% of the population had travelled abroad. With measures supporting international travel and also the growth of middle-class population (expected to grow from 430 million in 2017 to 780 million in the next 5-10 years), the outbound pie is set to get bigger. For instance, China's new passport issuance maintained annual growth of approximately 20%. Moreover, the Chinese passport can now allow Chinese to travel to 74 countries with no visa or visa on arrival requirements.
Expanding reach
Ctrip counts on user engagement as one of its core strengths, and the senior management believes that the foundation laid over the years is set to propel it further with the expansion of its reach. "So far, we have only reached just 25% to 30% of the population in the first tier cities and much less than 10% in lower-tier cities," said Liang. Referring to the stickiness of the offering, Liang said going by Ctrip's own five-year cohort data, the average spending per user on the platform is on the rise with around 10% CAGR. "(This growth is) regardless of which tier city our customers are from," said Liang. He mentioned that Ctrip has plans for sustained investment in technology, product innovation, and global service capabilities.
Expanded presence in China is being worked in conjunction with addition of new products. "…we are continuing and (opening) more offline stores in our targeted cities nationwide. We're also expanding these stores' product coverage from packaged tour to include in-destination functions, offering currency exchange, and local attraction tickets (etc.)," said Sun.
As for Ctrip's foreign presence, Liang singled out recent investment in India's MakeMyTrip and existing presence in Europe, especially via Skyscanner. "We have reached a strong position in countries that consist half of the global population," he said.
Refining product
Ctrip has focused on refining its product, and even recently told ChinaTravelNews.com that it isn't a traditional company.
Ctrip is ensuring that not only user base goes up but also the way content consumption and shopping is evolving, it is working on user interface and functionalities of its digital assets as well. The group level monthly active users reached 210 million during the January-March period. "The new products we launched last year are beginning to yield fruit. Trip Moments, which is similar to Travel Instagram, continued to gain traction among travellers, with over 1 million daily active users during Q1," shared Sun. She also shared that Ctrip took into consideration the fact that rather than writing their travel journal, the "young people" prefer to use video or picture to express where they are and what they like, and hence they introduced such a feature.
Sun added that the team is concurrently working to add booking functionality into the users' posts, an indicative of the fact that Ctrip is drifting away from being a mere transactional platform that typically starts with looking for a travel product for certain dates. By doing so Ctrip hopes to convert the content-driven customers into its transactional customers. "So the customers can see the content, plan their trips, book their trips, and we serve them during the trips and when they come back, they will see that through our content again," said Sun.
Overall, the idea here is to build affiliation with an in-destination activity or an experience, and then seamlessly letting the user book the same.