On May 18, Ctrip and GoUSA, the destination marketing organization for the United States, opened a theme store in Dapuqiao, Shanghai. The opening of this theme store indicates that the cooperation between GoUSA and Ctrip has been successfully extended from online marketing to offline, providing consumers with one-stop integrated online and offline services. James Huang and Louis Lu from GoUSA, Jacky Zhu on behalf of San Diego Tourism Authority, Yingjun Lu from Ctrip Channel Business Unit, Qing Zhang from Ctrip Destination Marketing Dept. attended the opening ceremony.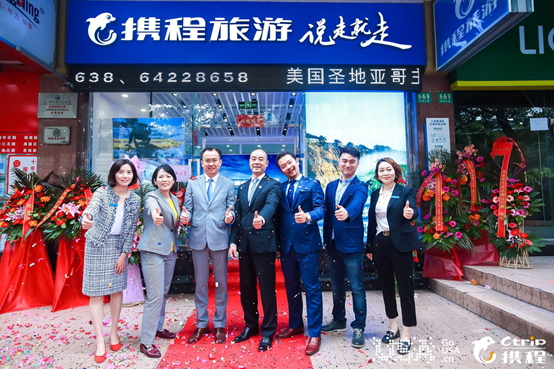 (From left to right:Xi Sun from Ctrip San Diego Theme Store, Qing Zhang from Ctrip Destination Marketing Dept., Jacky Zhu from San Diego Tourism Authority, James Huang and Louis Lu from GoUSA, Yingjun Lu from Ctrip Channel Business Unit,Hao Zheng from Ctrip San Diego Theme Store)
GoUSA themed their Ctrip store to represent the city of San Diego, located in Southern California. GoUSA chose to feature San Diego because of its strong marketing partnership in the China market. China is a major focus for San Diego and they are working towards making their city more accessible to Chinese visitors. GoUSA worked with San Diego Tourism Authority (SDTA) on the creative for their store. Consumers who visit the store will be inspired by the beautiful beach scenery and will have access to San Diego's tourism brochures for more information. At the store, customers can obtain one-stop professional services, purchase San Diego themed travel products, and enjoy various super value discounts. Ctrip will also introduce products and services such as FIT travel products, customized travel products, theme travel products, foreign currency exchange service and other products to Ctrip's offline stores.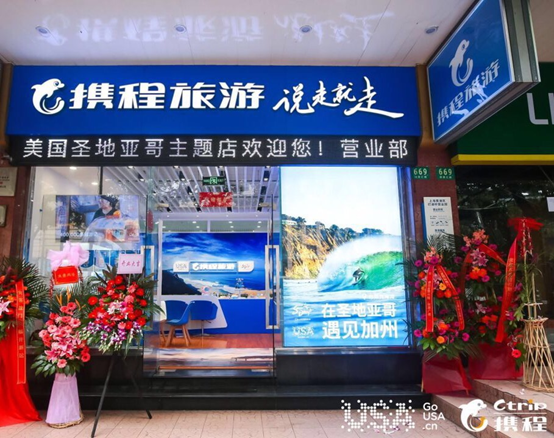 As the second largest city in California and boasting year-round nearly perfect weather, beautiful beaches, natural beauty and diverse outdoor activities, San Diego is known as one of California's top beach cities. Internationally renowned family attractions, a rich California history, dynamic cultural and culinary offerings, unique special events and a vibrant urban atmosphere combined with a relaxed casual vibe make San Diego one of the most popular cities in the United States for Chinese tourists.
From now until May 25, consumers can enjoy a discount of up to RMB 1000 per person when purchasing selected USA travel products in themed stores. GoUSA and Ctrip will continue to provide new products to meet the diverse needs of Chinese visitors.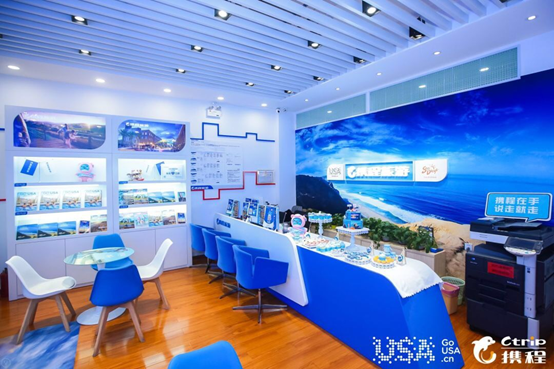 The San Diego theme store will provide consumers with one-stop services with online and off-line interactive experiences, travel consultation and booking services, etc. James Huang from GoUSA commented, China is one of the most important inbound markets for the US. In 2017, the US welcomed 3.17 million Chinese visitors, who spent USD35.3 billion, top all the US inbound markets. It's forecast that by 2021, China will become the largest overseas inbound market for the US. GoUSA and CTrip have been in cooperation since 2018. The San Diego theme store extends our cooperation from online to offline. We believe this will strengthen our collaboration; bring better services and experience to Chinese visitors.
Head of Ctrip Destination Marketing commented, various cooperation such as online ad, social media campaign, and development of CTrip GoUSA themed online shop and products have made more Chinese visitors visit San Diego. The opening of USA San Diego theme store will further lift awareness of USA destinations in China and encourage more visits to San Diego in particular. In 2017, San Diego welcomed more than 124,000 visitors from China, an increase of 8.6% over the previous year.
To date, Ctrip destination marketing has been working with more than 300 destinations around the world to provide professional services such as product development, brand upgrading and precision marketing to various partner destinations, and has accumulated extensive experience in promoting destinations in different target markets around the world. Working with GoUSA, Ctrip destination Marketing will continue to utilize its advantage of big data, platform, products, and traffic resource through Ctrip online resources, to promote destinations in China.
GoUSA, the consumer extension of Brand USA, focuses on inspiring travelers to experience the country's vibrancy, culture and infinite possibilities unlike anywhere else in the world. Through immersive storytelling and programming that caters to diverse passion points, GoUSA takes consumers on engaging journeys across the vast geography of the United States. If you want to discover the best the country has to offer, GoUSA will help you plan a great trip with ideas for unique attractions, fun road trips and themed experiences spanning themes including music, culinary, adventure, art and everything in between.
To discover more about the USA and the boundless diversity of American travel experiences and authentic, rich culture, please visit Brand USA's consumer website GoUSA.cn.