ChinaTravelNews, Ritesh Gupta - Outbound travel from China is a lucrative pie. Tourism boards and destination marketing specialists are keen on learning what a traveller from China is looking for.
In this context, the cohesive marketing effort of Los Angeles Tourism and Convention Board is delivering fruitful results.
Los Angeles (LA) attracted 1.2 million visitors from China last year. The figure is an all-time, making LA the number one ranked U.S. city for Chinese travellers (6.9 percent increase, the largest net gain among all international markets).
Los Angeles reached a historic milestone in 2018, welcoming 50 million visitors for the first time ever and accomplishing the tourism goal two years early. Tourism accelerated Los Angeles County's economic prosperity in 2018 as visitors pumped an all-time high $23.9 billion directly into the L.A. economy, generating a record $36.6 billion in total economic impact, according to the board.
Assessing such success is interesting as China needs to raise its own level of inbound tourism. As highlighted by James Liang, Co-Founder and Executive Board Chairman, Ctrip, during the inaugural session of ITB China Conference, one of the goals of China, as a nation, should be to make people around the world dream about travelling to China. He highlighted the vast gap between outbound travel from China and the inbound segment, and emphasized that it is time China tackled painpoints to elevate the positioning of the country as a tourism destination for foreign visitors.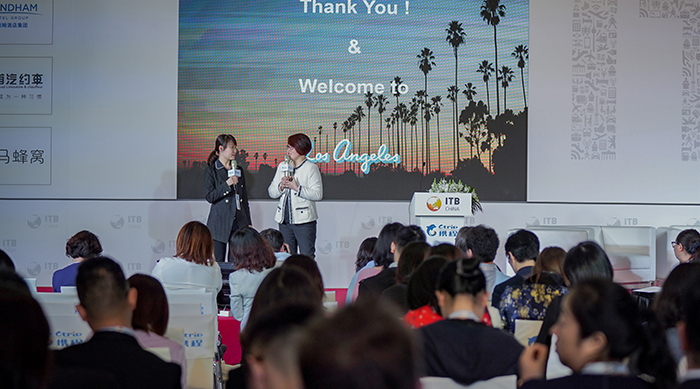 A multi-dimensional approach
Kate Chang, Regional Director - China, Los Angeles Tourism and Convention Board, attributed this performance to a multi-dimensional approach.
"As travel destinations and choices continue to expand, demand for travel products and itineraries becomes even more diversified. LA Tourism strives to utilize current technological advances, effectively work with airlines, airports as well as the travel trade community, to grow air lift capacity, propagate destination knowledge and nurture product innovation. This multi-dimensional approach generates synergy," shared Chang.

Some of the top development that have catapulted LA Tourism's performance:
• a 3.6 percent increase in international seat capacity at Los Angeles International Airport (LAX). "With over 100 direct flights per week from 14 cities in Mainland China alone, Los Angeles is by far the most connected city in the Americas to China. It is not only a major gateway into North America from the Asia Pacific region, but also a key transit point to Central and South America. We work with our airlines partners to help ensure the smooth running of existing services and to assist the wider travel trade community to better Airline product and networks," shared Chang.
• nearly 2,000 new rooms added to the destination's hotel inventory;
• LA's growing reputation as a hot culinary and cultural destination;
• LA Tourism's latest global campaign, 'L.A. Loves' which extended and amplified a message of welcome and hospitality following the acclaimed 'Everyone is Welcome' initiative.
• Close ties with the travel trade. "With the support of member enterprises and organizations in Los Angeles, we are also able to curate the most up to date and relevant product and information to Chinese travel trade. For example, our award winning Mini-Product itineraries series provides over 66 days of activities for travel agents to sample," shared Chang.
• Diversity - "No matter if you are looking for family time, outdoor adventure, sports and entertainment or just simply dine and wine, you'll always be able to fine the perfect arrangement in LA. Diversity is what we take pride in as Angelinos, variety is what we offer to match our Chinese visitor's expectation. Los Angeles may be your final destination, or a place to refuel before embarking further afield. Our visitors will always be welcomed into the city and find what they are looking for," highlighted Chang.
Digital + Offline
Chang acknowledged that are many mobile and digital platforms available at the moment, especially in a fast-changing market like China. Some of the apps are for content and distribution, while others are focused on sales and conversion.
The board using these for both B2B and B2C initiatives.
"As a tourism board, it is of utmost importance to us that our travel trade partners are kept up to date with all relevant product knowledge, and our consumers the latest and timely destination info. We are utilizing our digital platforms and KOL marketing initiatives to help spread our vision with authenticity which enable us to communicate with audiences in unique ways that traditional media cannot reach alone. We work with many online service providers to achieve this goal, these online activities are usually also echoed with offline event," mentioned Chang.
The board is also using interesting initiative to promote its destination at the ITB China.
"The latest example is our 2 week-long exhibition "City of Angels Experience" alongside ITB in Shanghai, to showcase our fabulous LA neighborhoods to the Chinese travel trade and visitors, for them to have a near perfect experience without leaving their hometown. Our built digital passport component within the event is designed to get consumers interest via gamification and interaction," shared Chang.
All the activities are coordinated, as part of unified branding and marketing activities.
"A centralized marketing strategy allows us to speak with one voice across the globe. Having teams placed on territory in our key markets in China, Australia and the UK also enables us to deliver the messages and campaigns in the ways and angles that's most appealing the local audience," shared Chang.