Japan Airlines and Travelport Worldwide, a leading travel technology company, agreed to form a joint venture to take ownership of Travelport Japan K.K. ("Travelport Japan") and JAL's 100% owned subsidiary, Axess International Network ("Axess"). Under the unified Travelport Axess brand, the joint venture will operate a Global Distribution System (GDS) tailored to the needs of the Japanese travel industry.
The proposed joint venture, which will operate under the brand name Travelport Axess, will combine Axess' expertise in Japan and Travelport's global technology leadership. Travelport Axess will continue to offer travel agents services through Axess' GDS platform, "Axess", and enable access to Travelport's GDS platforms, "Apollo" and "Galileo". The proposed joint venture will provide online, mobile and corporate travel propositions including global booking and expense management tools as well as access to New Distribution Capability (NDC) content, offering Japanese travel agencies and their customers the best of locally developed products with best in class global connectivity and capabilities.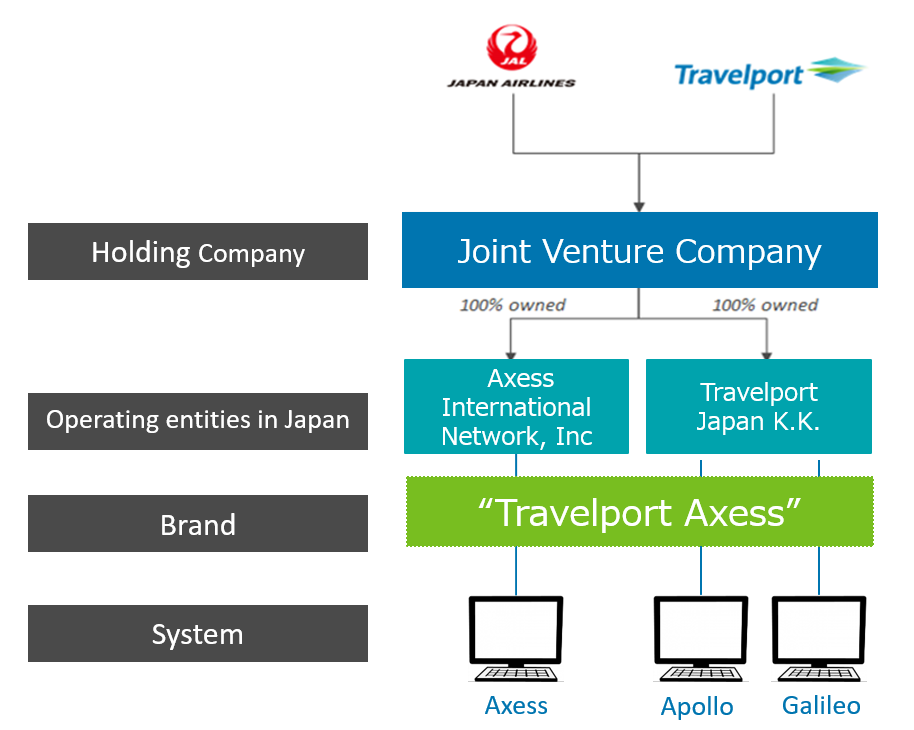 Travelport has worked closely with and provided core systems to Axess under technical collaboration arrangements since 2012 and has established a trusted relationship with JAL. For Travelport, this joint venture will strengthen its position in Japan's growing international travel industry
The number of international travelers to Japan topped the 30-million mark for the first time in 2018, a three-fold increase over the past 5 years, according to the Japan National Tourism Agency (JNTO) while departures by Japanese outbound travelers totaled nearly 19 million in 2018, the fourth year of growth, according to Japan Travel Bureau (JTB).
Travelport Axess will benefit from a team of Japan-based service agents and product specialists uniquely able to deliver products tailored to customer needs. Through combining the strengths of the two companies, Travelport Axess aims to build a strong position and plans to become the leading GDS provider in Japan.
Gordon Wilson, President and Chief Executive Officer of Travelport, commented, "This announcement and our ongoing partnership with Japan Airlines is a significant advance in the provision of state-of-the-art technology for the Japanese travel industry."
Under the planned agreement, Travelport will hold a majority stake in Travelport Axess, with JAL controlling the remaining stake and playing an active role in the joint venture. Following the signing of a definitive agreement between Travelport and JAL, the new joint venture is expected to be formed on June 1, 2019. Initially, Travelport Japan and Axess will continue to operate independently, with a gradual program of integration to combine the two organizations commencing later this year.