ChinaTravelNews, Ritesh Gupta - Brushing aside concerns about the country's economic growth, James Jianzhang Liang, Co-founder and Executive Chairman of the Board of Ctrip, stated that the online travel company sees it as an opportunity to strengthen its presence in the market.
There have been concerns about the economic growth target, with Premier Li Keqiang this week announced a lower but still robust target (cut down to 6.0%-6.5%, lower than the GDP growth of 6.6% in 2018). But Liang quashed the same.
Speaking during the company's Q4 earnings call, Liang mentioned, "Even if there's short-term macro turbulence ahead, such times have proven to be our best opportunity to strengthen our industry leadership and outpace industry growth… (Referring to this year and even longer-term), we are confident of continued growth."
Delving deeper, Liang said from a macro perspective, it is being outlined that the urbanization rate in the country will rise from to 70% to 80% from the current 50% within 10-20 years, reaching the level of most middle-income countries.
"This translates to 10 million to 20 million predominantly young people moving to cities to live and work each year, and indicates that there is a huge consumption capacity still to be unlocked," he said. During the previous quarter, the company indicated that China's middle-class population is expected to grow from 430 million in 2017 to 780 million in the next 5-10 years. Liang also explained that the Chinese economy is continuing to move from "necessity goods to experienced goods from manufacturing to services and from investment to consumption, particularly high-end consumption".
GMV more than doubled in the past three years
Liang also highlighted that the way Ctrip's operations have progressed in the last year or so, it would play an integral part in the future, too. "Based on the foundation we laid in 2018 and previous years, we will continue to outpace the industry growth in GMV going forward and leverage operational improvements at the same time," he said. A prime example of the same, according to Ctrip, is GMV more than doubling in the past three years while the overall headcount of our call center has remained flat. "We also improved our market shares during the past year, with GMV reaching RMB725 billion, excluding Skyscanner, up 30% from 2017," shared Liang.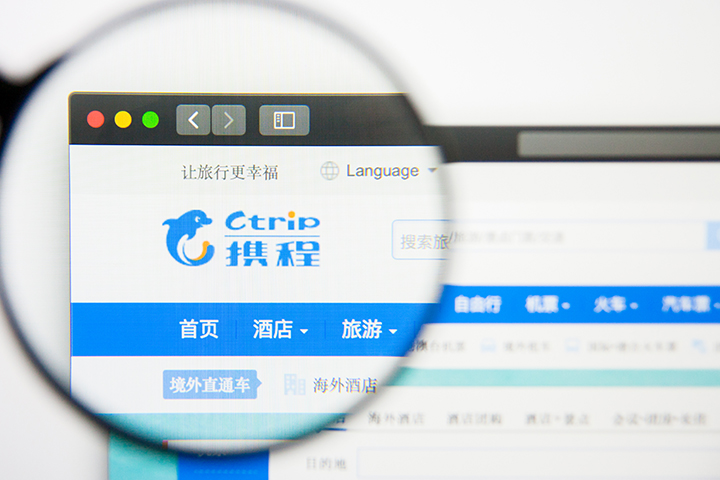 For the full year, net revenue was RMB31.0 billion (US$4.5 billion), representing a 16% increase from 2017.
In the fourth quarter of 2018, revenue generated from the international business accounted for 30%-35% of the group level total revenue, shared Ctrip's CEO Jane Sun. Ctrip believes that it is too early to talk about investments in the international arena.
Attractive user base and ever-refining platform
While Liang referred to Ctrip's supplier network and the refined platform strategy that initiated with the unveiling of the open platform 3.0 strategy recently, Sun spoke about the attractiveness of the user base.
Liang shared that the enhanced platform enables Ctrip's to build relationships with "hard-to-reach suppliers, particularly small and medium tour operators and individual trip planners and tour guides, which accounts for 80% of the in-destination travel supply". He added that the open platform "has and will continue to empower these suppliers with our traffic and platform data, operation training, back-end tools and finance products. Referring to the last year, he said Ctrip managed over 2 million customers to over 9,000 local tour guides across the globe, who were registered on the company's platform. Ctrip believes that with such traffic it is in a position to capitalize on in-destination activity transactions. The same grew by 60% in the domestic market on an annual basis as indicated late last year.
Sun highlighted that Ctrip's customer acquisition tactics remain robust.
If on one hand, the company strives to stimulate more travel demands via its platform i. e. stepping up the average order value from its existing base, on the other, it is adding more users, too. "With an increasing mix of new customers from lower-tier cities, we saw a consistently positive return on investment for our customer acquisition investment," she said.
Sun recently shared that 70% of Ctrip's customers are below 35 years old. And their loyalty and stickiness have been increasing every year (on average, CNY 5,000 per year per person in terms of spending).
Sun explained that the decision to become the super app for travel users, along with strong servicing capabilities have benefitted the company. "As a result of initiatives to drive platform usage and engagement, we already have 40% to 50% of the customers repurchasing within one year and 70% to 80% of the customers coming back within two years", said Sun. She also referred to speedy response to any query from travelers. "About 90% of the phone calls are addressed within 20 seconds and about 90% of the requests are handled on the first contact," she said.
Post consolidation in the travel segment, especially in the OTA category, companies like Ctrip refrain from indulging in price war. Sun acknowledged the same and said that Ctrip is well-positioned to capitalize on the upgrade on the services. "But based on our earnings ability, if there is one (price war), we will relentlessly make sure we leave no room for other players. But I think based on our focus, I think, our earnings ability and service level will enable us to make further investments in the service and technology."
She also referred to Ctrip's focus on generating organic content, with contribution from users, rather just solely relying on commercial messages to be a part of the booking funnel.
"Our new content in social platform, Trip Moments, is another initiative we took on to enhance user stickiness. We're still in initial stage having it just launched in December, but our users have already generated close to one million posts, covering over 6,000 destinations around the world, making us extremely optimistic about its development going forward," she said.
"We will continue to innovate, increase product offering, improve offline store coverage, and elevate service quality," mentioned Sun.