ChinaTravelNews, Elena Li - Trip.com has been actively expanding its services and plays an increasingly important role in Ctrip's globalization plan since acquired by Ctrip in November 2017. Trip.com lists more than 1.2 million hotels in 200 countries and regions, with a flight network of over 2 million routes connecting more than 5,000 cities around the globe. Trip.com also provides train ticket booking services in the UK, Germany, Japan, South Korea and Taiwan.
Trip.com has launched six additional languages on its website and mobile app, and added a new call center in Japan last December. Trip.com is currently available to customers in 19 languages and has three call centers located in Edinburgh, Seoul and Tokyo.
Jane Sun, CEO of Ctrip, pointed out that international users now make up more than 45% of Ctrip's customers as a result of its overseas acquisitions. Ctrip plans to increase its overseas market revenue by 40% to 50% in the next five years. The Chinese travel giant will stay focused on tourism destinations popular among mainland Chinese travelers, such as Hong Kong, Macau, Taiwan, Japan, Korea and Southeast Asian countries.
Ctrip has aggregated more than 60 kinds of offerings including accommodation reservation, transportation ticketing, packaged tours and corporate travel management in China. How does Trip.com choose the products that suit the needs of overseas travelers? As its competitors Booking.com, Traveloka and Agoda have been building their shares in the global markets for many years, what is Trip.com's strategies and advantages for overtaking these platforms?
Customized offerings for better services
Lynn Qu, Vice President of Product of Trip.com, told ChinaTravelNews that they have studied the customers and competitors in the market in-depth to see what kind of travel products travelers have been booking through OTAs. For example, hotels and air tickets are the most popular items shopped online, and an increasing number of travelers turn to OTAs to book attractions, tours and activities.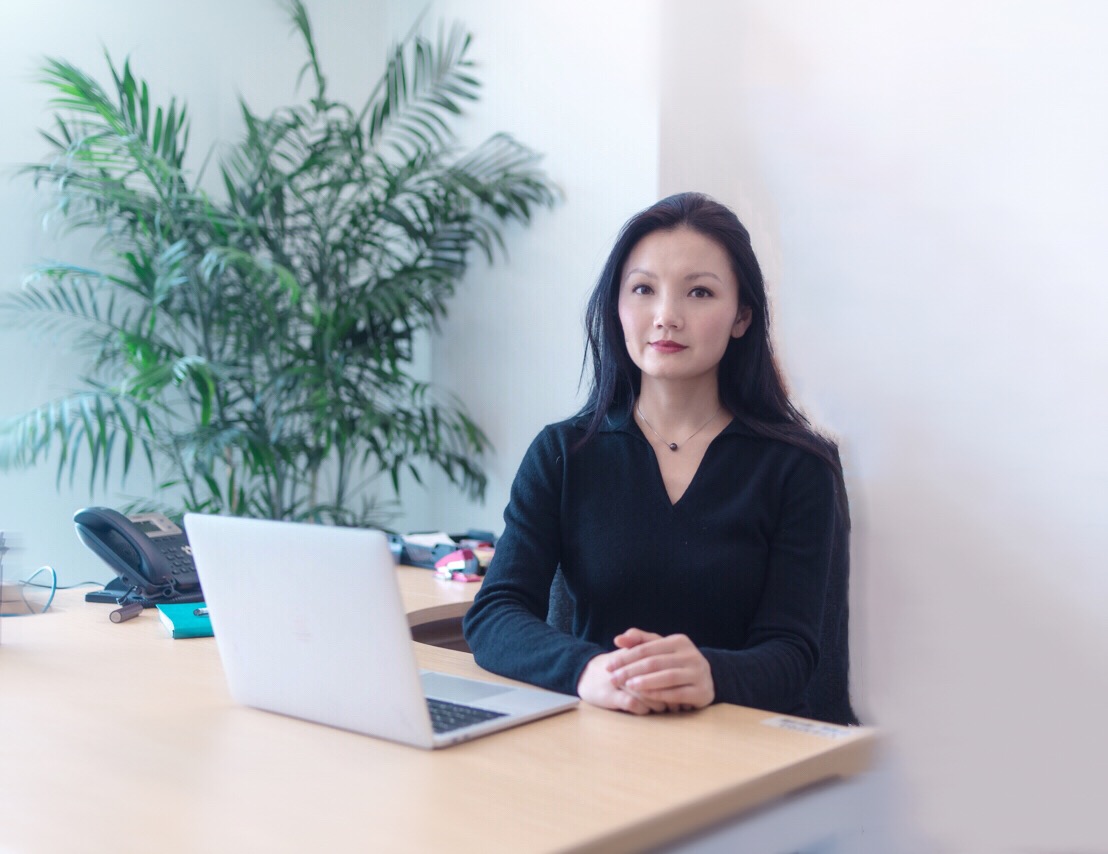 Lynn Qu, Vice President of Product, Trip.com
But many travelers are unaware of the advantages of booking through OTAs for services at destinations, such as airport transfers and portable Wi-Fi.
Ms Qu said Trip.com values not only the variety and pricing of their supply but also service localization.
"Trip.com has hired hundreds of customer service agents in our three global call centers to service customers in their native languages both on the phone and via instant messenger."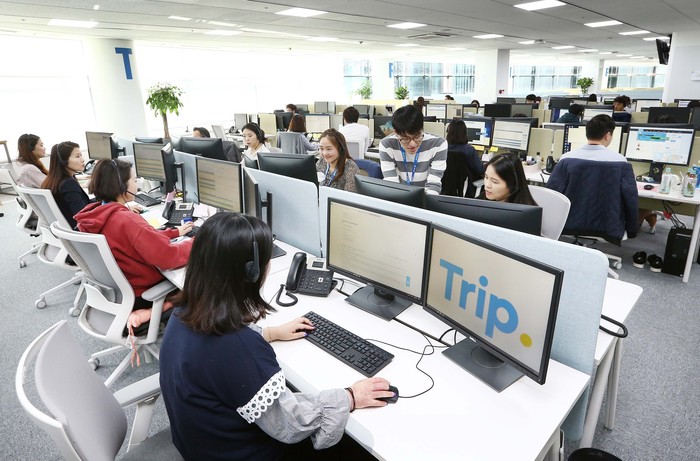 Call Center of Trip.com
"In addition, we are increasing our investment in artificial intelligence to categorize frequently asked questions in more languages to automate the reply of some basic questions," said Ms Qu. "Trip.com is also closely tracking issues reported by our customers in each market and provide them with feedbacks to perfect user experience."
Along with localized offerings, Trip.com has expanded its markets by diversifying travel products beyond hotels and air tickets businesses.
Ms Qu said South Korea is one of Trip.com's first targeted markets and they have launched strong flight and hotel offerings for Korean customers. "As ground transportation an important part of a travel itinerary, we decided to add the rail ticket booking service, along with airport transfer and car rental services, to deliver more booking options and seamless travel experiences to customers."
Ctrip has been working with South Korea's national rail operator Korail since February 2018 and made Trip.com the first global third party to sell Korean rail tickets.
Differentiated Strategies
Travelers have different user behaviors and preferences driven by new technology and travel knowledge. Trip.com has tailored offerings for different markets to deliver unique shopping experiences.
In Japan, for example, where a lot of users text to search based on their own typing habits, Trip.com will give detailed instructions to travelers with special characters in their names to enhance the booking experience. In addition, Trip.com will adjust the display of search results in consideration of user preferences and search patterns in different markets.
On the other hand, the mobile-only world is fast becoming a reality in the travel industry. In terms of mobile booking rates for hotels, Asia is far ahead of the rest of the world at between 45% and 49%, against 28% and 33% respectively in North America and Europe, according to an analysis by Criteo.
The Korea Herald reported that more than 90% of the population in South Korea uses mobile devices running on Google's Android operating system and they are app-savvy users. While in Japan, a majority of the population is Apple users and prefers mobile websites and H5 pages.
Ms Qu told ChinaTravelNews that Trip.com has developed a good working relationship with LINE – a popular messaging platform across Japan and Thailand and Taiwan. With nearly 200 million active users per month in these areas, LINE heavily focuses on connecting with users early on in the booking process by sending them trending travel articles and trip recommendations via messaging.
Moreover, Trip.com has cooperated with local reputable organizations in Japan for marketing. Softbank is in its partner lists. Trip.com has also launched a co-branded credit card with the Sumitomo Bank in May last year, which allows users to log loyalty points with purchases.
In Korea, meanwhile, Trip.com has launched a TV commercial featuring British veteran movie star Tilda Swinton, who is known for her works such as Dr. Strange and The Grand Budapest Hotel.
Synergy with Skyscanner
Trip.com has achieved double-digit growth in air ticketing volumes for the eighth consecutive quarter with the help of Skyscanner's direct booking initiatives. Trip.com and Skyscanner have represented over 90 million monthly active global users for the quarter ended September 30, 2018.
In an interview with the Financial Times, Ctrip CEO Jane Sun revealed that 3%-4% of Skyscanner's bookings were contributed to Trip.com and the figure is poised to rise to around 20%-30% in the long run.
Ms Qu said that Trip.com and Skyscanner are independent. Trip.com serves as a one-stop travel service platform while Skyscanner continues as one of the world's largest metasearch sites.
"Skyscanner has been a good channel for Trip.com to expose the programs to users who may be attracted by the special discounts offered by Trip.com when they search for their trips. Some Skyscanner users may even register and become a Trip.com member in order to enjoy further discounts."
Xing Xiong, Executive Vice President of Ctrip, announced that Ctrip is set to apply for ticket seller licenses in several European cities, which will enable Trip.com to direct contract air ticket inventory in the future.
More Exposure from Concept Stores
Free individual travelers (FITs) often experience inconvenience when it comes to local services after arriving at overseas destinations. Ctrip has launched travel concept stores to extend to customers, particularly Chinese, 24/7 high-quality customer service available in local languages and in-destination products.
After two travel concept stores were launched separately in the Dubai International Airport and Kuala Lumpur airport in July 2018, Ctrip subsequently signed a Memorandum of Understanding with Gold Coast Airport to open its first Australian store at the main gateway to the Gold Coast in 2019.
Trip.com's multilingual service system has also increased Ctrip's chances of gaining customers in overseas source markets. Some overseas tourists have purchased last-minute in-destination products in these stores and contribute to the site's turnover.
"It's interesting to note the purchases by these travelers but we're not expecting a lot of transactions from physical locations," said Ms Qu. "The travel concept stores are more like a trial to enhance our brand awareness, and to reach more consumers and increase user conversion rate."
Trip.com expanding to Asia and the world
Google and Temasek reported that Southeast Asia's online travel booking reached a gross value of USD 30 billion in 2018, and is projected to increase to USD 78 billion GBV by 2025.
Online booking platform Agoda, a member of Booking Holdings, has grown to offer a global network of 1.8 million properties in more than 200 countries and territories worldwide with 150,000 hotels in Southeast Asia. Indonesian OTA Traveloka has increased its market share by offering competitive prices, supported by investments from Expedia, Sequoia Capital and JD.
Emphasizing its advantages in the global market, Ms Qu said that Trip.com has maintained mutually beneficial relationship with partners and launched highly competitive rates for package products.
Moreover, Trip.com has extensive regional presence to offer localized services.
Along with the three international call centers, Trip.com has set up regional offices in Thailand, Japan, Korea, Australia, Singapore, Indonesia, as well as Hong Kong and Taiwan. "Our service agents provide customer care to meet travelers' needs and also form a closed-loop channel for positive feedback based on customers' itinerary details. "
When asking if Trip.com would favor direct contracting to better differentiate its products from other providers, Ms Qu said Trip.com is devoted to bringing customers the best offerings and will balance direct contracting and inventory shared by third parties. For example, Trip.com has partnership with Booking.com mainly in inventory sharing.
Trip.com is a young global OTA platform and backed by Ctrip's powerful resources. Ms Qu promises that Trip.com will continue to be more competitive in pricing, coverage, customer services and user experience, as well as expand to more countries and regions while consolidating existing markets.