Hospitality company OYO Hotels & Homes is continuing its quest to become the largest hotel chain in the world with confirmation this week that it is rolling out its first OYO Townhouses in the U.S.
OYO Townhouse is the India-based company's brand that is targeted to millennial travelers.
Combined with its other brands - OYO Homes, OYO Living, OYO Rooms, SilverKey and Pallete – the company says it finished 2018 with 458,000 fully controlled, leased and franchised rooms in more than 18,000 properties in over 500 cities in India, China, Malaysia, Nepal, Indonesia, United Arab Emirates, the Philippines and the U.K.
The company already has several employees in the U.S.
According to LinkedIn, Marcus Higgins began as head of U.S. operations for OYO in December, and the company has hired business development managers and other sales executives in cities including Dallas, Austin, San Antonio, Miami, Orlando, Denver and Charlotte.
"We aim to bring our franchising, revenue management, and hotel management expertise to the large unbranded market that exists," says an OYO spokesperson via email.
"We see great opportunity in this market, but also appreciate the competitive nature of franchising and uniqueness of the United States. We will bring learnings from building similar markets like the U.K. and constantly learn and modify our strategy to suit the needs of the U.S. market like we did to succeed in the U.K."
Brand strategy
The OYO model is based on transforming unbranded hotels through property renovations, a proprietary technology stack that manages revenue, pricing, inventory, food and beverage and front desk operations and a guarantee of services such as air conditioning, free Wi-Fi and clean bathrooms and linens.
On its website, OYO invites hotelier to join its network, stating it delivers a 100% increase in revenue within six months for its partners and 70% occupancy every day.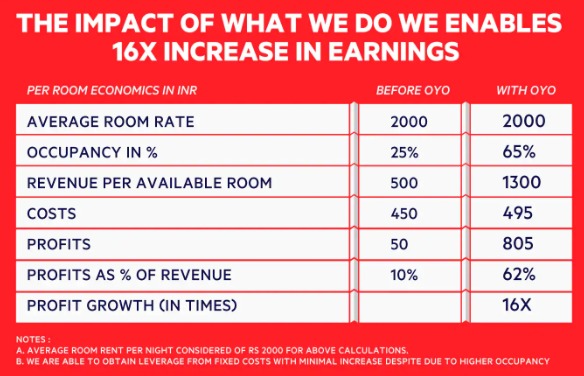 That combination of physical and technological upgrades and higher revenue could make OYO a welcome opportunity for unbranded accommodations in the U.S., which number around 18,000 – about a third of all hotels in the country.
"The U.S. hotel market isn't clamoring for it, but the business model will be very attractive to a lot of small hotel owners who are not being well served by the lower tier hotel franchise brands," says Robert Cole, Phocuswright's senior research analyst for lodging and leisure travel and founder of hospitality consulting firm RockCheetah.
"OYO won't kill the major hotel brands in the U.S., but if they execute well, they can have a successful business that will present the major hotel brands with some challenges, similar to the way Airbnb is creating issues."
One possible entry point - the Asian American Hotel Owners Association, which says its 18,500 members own almost half of all hotels in the U.S. and about one-fifth of those are independent properties.
"The OYO model should work in the U.S.," Cole says.
"Its focus is on technology and operations. They totally control their distribution. That's pretty different from the U.S. franchise approach that is almost totally branding, with some centralized technology and hit-or-miss property-level operational technology that owners have to deal with."
European expansion
In Europe operations are well under way, with OYO's aspirations clearly extending beyond the nine properties currently listed on the brand's U.K. website.
The company has hired Andrew Verbitsky as European Union region head, Jeremy Sanders as country manager for the United Kingdom and Tobias Jörk as country manager for Spain.
Prior to joining OYO in January, Verbitsky was general manager for central and eastern Europe for Airbnb for nearly four years and before that was a regional managing director for Kayak.
Sanders joined OYO in October, around the time of the U.K. launch, and was formerly co-founder and CEO of a quick-service chain of Italian restaurants. And Jörk was with a digital marketing agency and also was Groupon's CEO in Spain.
With those executives in place, now OYO is looking to add staff to ramp up its European operations – its website lists more than a dozen positions each in the U.K., Spain and Germany.
"At first glance, there would seem to be a lot of potential for this concept in Europe," says Peter O'Connor, Phocuswright's senior market analyst for Europe and a chaired professor at ESSEC Business School in France.
"Seven out of ten hotels are currently unbranded, so on the supply side the concept could have legs. But, given its diverse geographical markets, Europe is too fragmented on the consumer side. So I think it would be too difficult - and expensive - for them to build awareness."
OYO has raised about $1.6 billion since it launched in 2015. Its most recent round of funding came in the fourth quarter of 2018 with $1 billion from SoftBank Vision Fund with participation from existing investors Lightspeed Venture Partners, Sequoia and Greenoaks Capital.
But OYO shows that budget chains, perhaps more than any other segment, need massive, massive scale to make a buck.
From a single hotel in May 2013, OYO has over 8,500 hotels with a total of 458,000 keys as at December 2018.
Even with that kind of room count, OYO isn't profitable yet. It has only managed to narrow losses further as the rapid expansion brought in more sales, while cost as a percentage of sales went down as brand market share, technology investment and human resources were spread over a larger base.
Audited data of India operations — its biggest revenue earner — for fiscal year 2017-18 shows losses as a percentage of sales narrowed to 20%, from 45% in fiscal year 2016-17. It expects to lower this further to 10% in fiscal year 2018-19.
OYO Chief Financial Officer Abhishek Gupta would not tell Skift when he expects OYO to break even. However, he said OYO today has "a strong balance sheet" and "can go more places than ever, introduce new categories – without raising any further capital."
OYO said it is all set to be the world's largest hotel chain, adding more rooms than the top three hotel chains combined.
In an earlier interview with Skift, founder and CEO Ritesh Agarwal gave a timeline of 2023 for the goal.
The world's hotel chains however don't see OYO as a competitor. "They are a budget brand and we don't play in that segment," said the Asia-Pacific head of a global chain, pointing out there is a huge difference between a budget hotel and an economy hotel in the industry lingo.
"OYO is disrupting the budget segment and it remains to be seen if such a model is sustainable," he added.
Jesper Palmqvist, STR area director Asia-Pacific, said, "Given that it's a five-year plan, it's hard to rule out anything and it is a pretty long time. But one should remember that we will not only see further growth by other big chains in the same period — but possibly also more consolidation."
Read Original Article