Island travel is on the growth path: Chinese consumers continue to hone their conception of leisure due to rapid urbanization in the country as a recent report commissioned by ITB China revealed. The ITB China Travel Trends Report was created in collaboration with the international consulting and research company Kairos Future and will be presented at ITB China, set to take place from the 15 to 17 May 2019 in Shanghai.
Although China has a long coastline, beaches are rather rare and during holiday seasons often overcrowded. Within the past years the vision of escaping to an island has become more and more popular. Several travel companies are reporting an expected Compound Annual Growth Rate (CAGR) of 35 percent in the next three years, while the market for island travel currently already exceeds RMB100 billion annually(approximately USD 146 million).
According to interviewed experts, one of the main drivers behind the growing interest in island travel are the visa-free policies for island destinations guaranteeing a smooth, carefree, and relaxed journey. The growth expectations are being fuelled especially by Chinese millennial consumers, whereas in a referenced poll 30 percent of questioned millennials expressed the desire to go on an island trip within the next three years.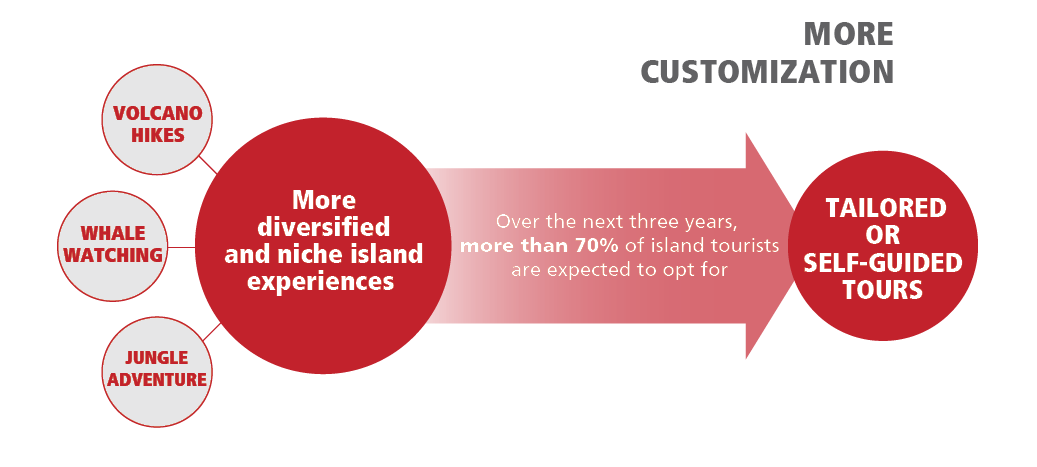 The research further highlights that from the perspective of Chinese travelers, islands are typically associated with romance, adventure and escapism. According to Kairos Future's text analysis of social media posts on the topic of island travel, privacy is a key trend, correlating closely with the notion of romance. Segments that stand out among island travelers include soon-to-be wed couples engaging in destination wedding photoshoots, newlywed couples on their honeymoons, and adventure seekers looking for activities such as scuba diving.
In the past years the perceived image of some island destinations important to the Chinese traveler had suffered due to operated 'zero-dollar' tours that included unannounced mandatory shopping trips. This phenomenon might, however, now have come to an end, following shifting values among Chinese consumers paired with an increased control and regulation by destination government authorities having identified and addressing this issue. The Indonesian Tourism Association, for example, began to intensively regulate low-cost tours in 2018 and Bali, one of China's top island destinations, has seen all tour-related shopping sites close. Since 2016, Thailand has also taken drastic action to eliminate 'zero-dollar' tourism.
As the purchasing power and travel knowledge of Chinese consumers continues to grow, vendors are seeing an increasing number of tourists choosing customized tours to meet their specific travel needs. 'Travel tips' is one of the largest themes in the analyzed travel-related social media posts. By exploring destinations through social media, and developing preferences for activities on their itinerary, Chinese consumers are prepared to make informed decisions about their travel plans. On top of beaches, more diversified, niche activity offerings – including hiking active volcanos, whale watching, and jungle adventures – reflect a present shift towards experiential tourism.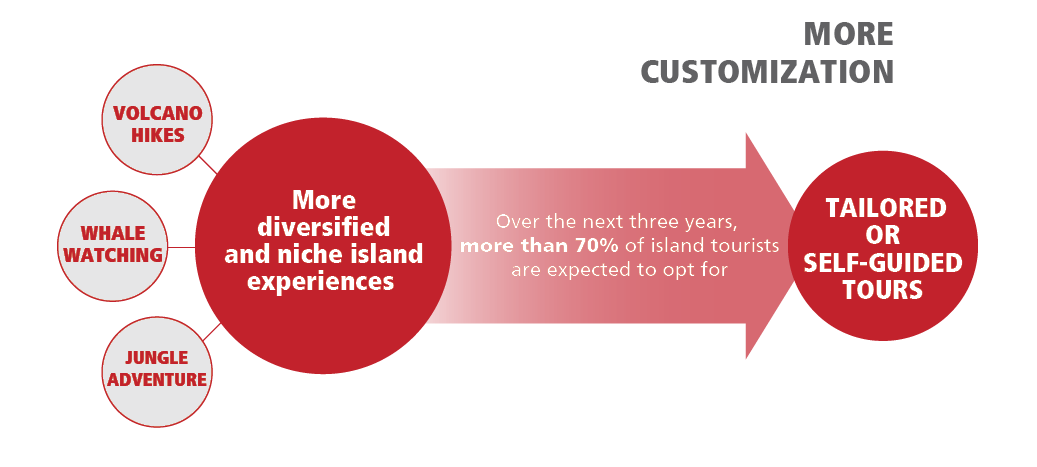 Over the next three years, more than 70 percent of island tourists are expected to opt for tailored or self-guided tours. Identifying each island's differentiators and understanding market demands will allow vendors to engage in more precisely targeted marketing and advertising campaigns, thereby attracting more customers.
Island travel demand is also strongly influenced by the island depictions in media, with films, TV, and social media that highlight previously-unknown islands attracting the attention of new travelers.