Home
>
>
Who will dominate future aviation distribution, airlines, intermediaries or tech giants?
Who will dominate future aviation distribution, airlines, intermediaries or tech giants?
01/23/2019
|
9:40:13 PM
|
中文
It remains to be seen if airlines and the rest of the distribution players will become dummy pipelines or if they will be able to stay relevant in the value chain as owners of the content and capable to directly connect with the end users.
Predictions rarely turn out the way we imagined them - even more so today with the breakneck speed technology is transforming almost all industries, plus the giant digital wave spreading into our personal and work lives.
Shifting user behaviors (mobile, voice); the rapid expansion of digital giants (Google, Amazon?); new technology standards disrupting the existing ecosystem; a rapid consolidation of intermediaries; and strong determination by airlines to directly connect with the end consumer.
These elements are sending shockwaves across the distribution landscape.
Add to this the rapid adoption are artificial intelligence, cloud computing, and blockchain, etc. The airline industry is at a digital tipping point where seismic forces will shake up the existing ecosystem.
The scenarios we will be seeing are narratives of four specific and plausible future environments which substantially differ from each other to highlight relevant forces that might move in very different directions: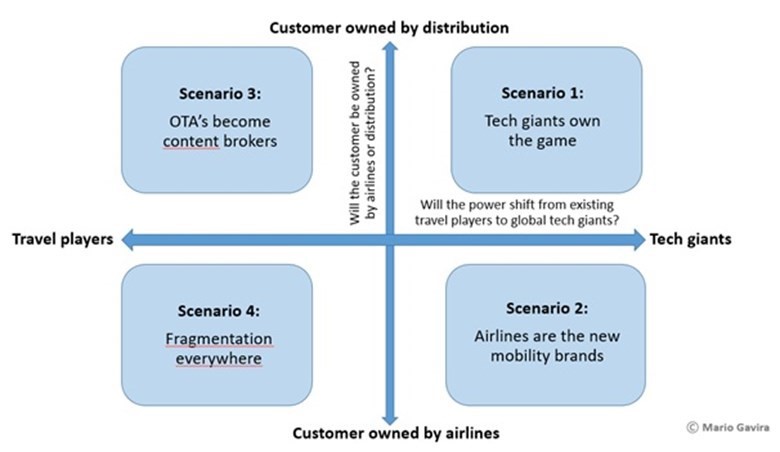 The X-axis - "Will the power shift from existing travel players to global tech giants?" - reflects the increasing power of technology giants across almost all e-commerce verticals.
This dimension illustrates today's trends such as Google's rapid expansion in the travel industry with products like Google Flights and Google Hotel Ads and Amazon's seemingly unlimited ambition to conquer all major retail sectors.
It also takes into account how these platforms are vertically expanding into the entire value chain from cloud computing to shaping new user behaviors such as voice search.
Read Original Article