Dragon Trail started compiling its WeChat rankings for travel brands at the start of 2017, and has recently compiled its overall rankings for Q3 2018, based on the number of article views per account of national tourism boards, regional destination marketing organizations, museums & attractions, and other segments.
NTOs
Japan has been in the lead for NTOs' official accounts on WeChat for all of 2018, and very comfortably held on to its first-place ranking in Q3. Earlier in the year, their top posts were dominated by food- and flower-related content, but Q3's most popular articles were much more mixed, including several area guides to different cities in Japan, B&B recommendations, and even an article about seaside train stations.
Canada rose up the rankings from 5th place in Q1 2018 to 3rd place in Q2 and 2nd in Q3. Like Japan, Canada also attracted readers with area guides, including two posts on Toronto, a travel guide to Quebec, and their most-viewed post: a Banff travel guide, with 14,464 views during the week of 10-16 September.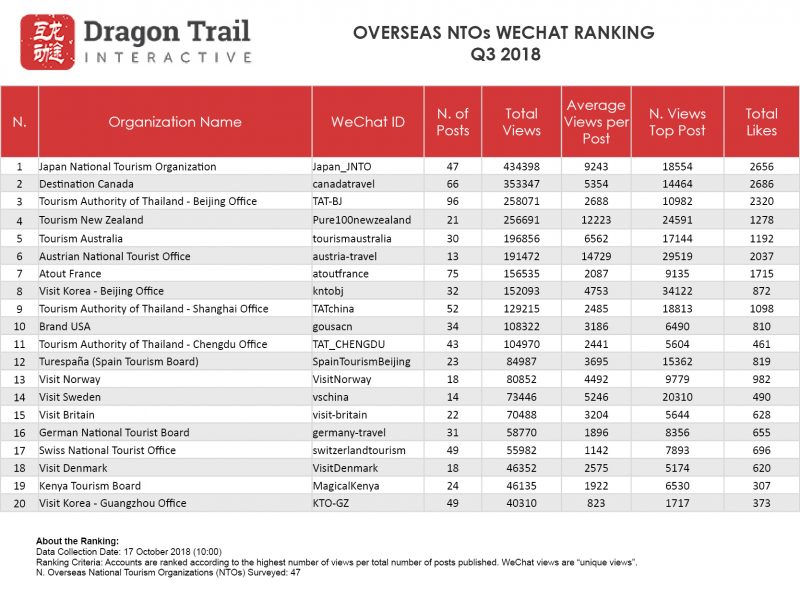 DMOs
Dubai reached the first-place ranking for DMOs in Q3 2018. The city's most-viewed post was on Chinese actor Deng Chao's visit, which was seen around 32,000 times during the week of 17-23 September. Dubai also went with a good balance of activity-related content, with several successful posts on shopping malls, but an even more popular article on free things to do in Dubai, which got around 22,000 views.
Macao rose up the rankings to secure 2nd position in Q3, leaving Hong Kong in an uncharacteristically low 3rd place. However, Macao has worked hard for this ranking, publishing 142 articles in Q3 (up from 125 in Q2) compared to Hong Kong's 45 articles over the same time period.
Another success story in Q3 2018 is the South Australian Tourism Commission, which has climbed from 10th place in Q1 and 9th in Q2 to 5th place in this last quarter. Their content strategy emphasizes food, wine, wildlife and landscapes, with posts featuring their official Chinese celebrity spokesperson Huang Xiaoming, as well as other influencers, and a popular campaign to win RMB4,999 in travel money.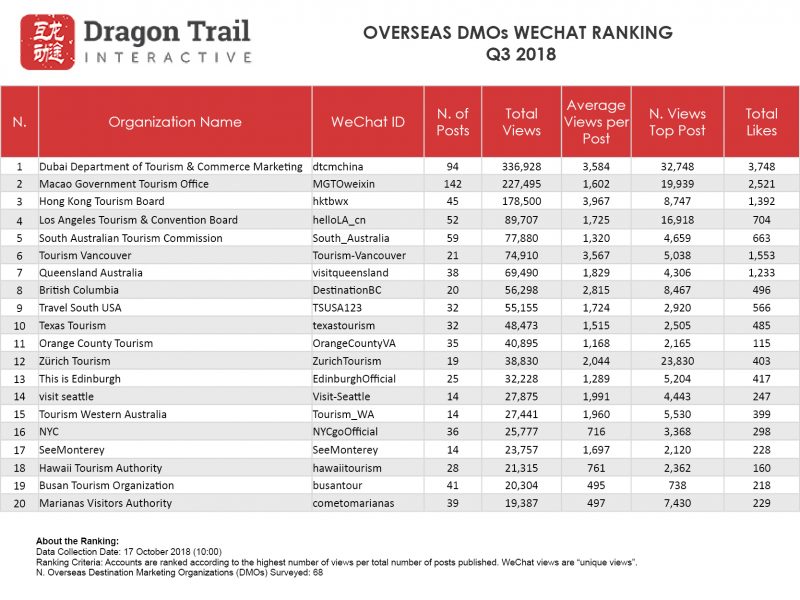 Museums and attractions
Hong Kong Disneyland and Hong Kong's Ocean Park continue their significant lead over more high-culture attractions farther afield.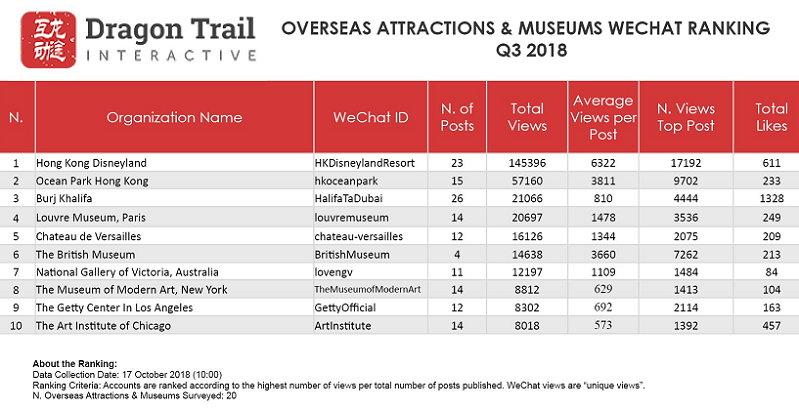 Read Original Article