ChinaTravelNews, Ritesh Gupta – An organization like Airbnb is potent on many counts. It is agile, is apt for today's digital economy, their dexterity in crafting a digital product at scale is unmatched…the list is impressive.
But is Airbnb's product enough for China? What would it take to excel in this market?
While there are no definite answers to these questions, especially considering that foraying into China and establishing a travel e-commerce business remains an enigma for many, Airbnb has chartered its plans.
The company is sticking to its core strengths that have defined its expansion over the years. These include banking on the network effect that astute software companies like Airbnb efficiently capitalize upon, refraining from commoditizing the offering by distributing inventory via OTAs etc. At the same time, Airbnb's journey is showing signs of being entrenched locally, too.
Razor-sharp product development
The way Airbnb goes about uniting people across product disciplines, making the most of "creative hacks" or managing complexities associated with product designing, all of this has started to happen in China with 100 executives – including designers, engineers, product managers etc. – already a part of overall 200-strong team in China.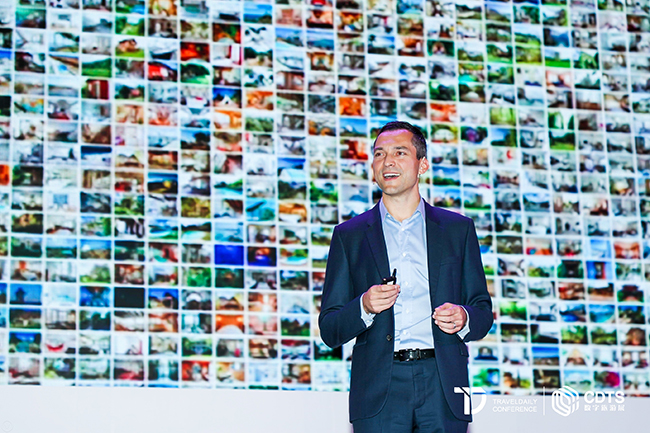 Nathan Blecharczyk, Co-Founder, CSO & Chairman, Airbnb China
The plan at this juncture is to forge fitting balance between autonomy and being in sync with the overarching global strategy and access to enterprise-level product innovation. And the bridge for the same is Nathan Blecharczyk, Co-founder, Chief Strategy Officer, and Chairman of Airbnb China.
"We have been building operations over the years. It's never been stronger," says Blecharczyk, who was recently in Shanghai for the TravelDaily Conference.
"The team in China needs resources to be under its control. This is relatively new. (Our product development team) is a new muscle that we are building in China. We are growing and we are capable of doing new localized product initiatives here. We also just gained the missing piece of the puzzle – our China President, Tao Peng. He is an accomplished entrepreneur, understands the local market, the travel space and our business in particular. My role as the chairman is that of an ambassador between the two (local and global operations). There is a direct line of communication (between operations here and parent company's senior management). What I have found in the past from our different ways that we have worked is that one has to spend a lot of time here. It is important to ensure synergies are realized, and at the same time autonomy is preserved," explained Blecharczyk, who mentioned that he does visit China once every month.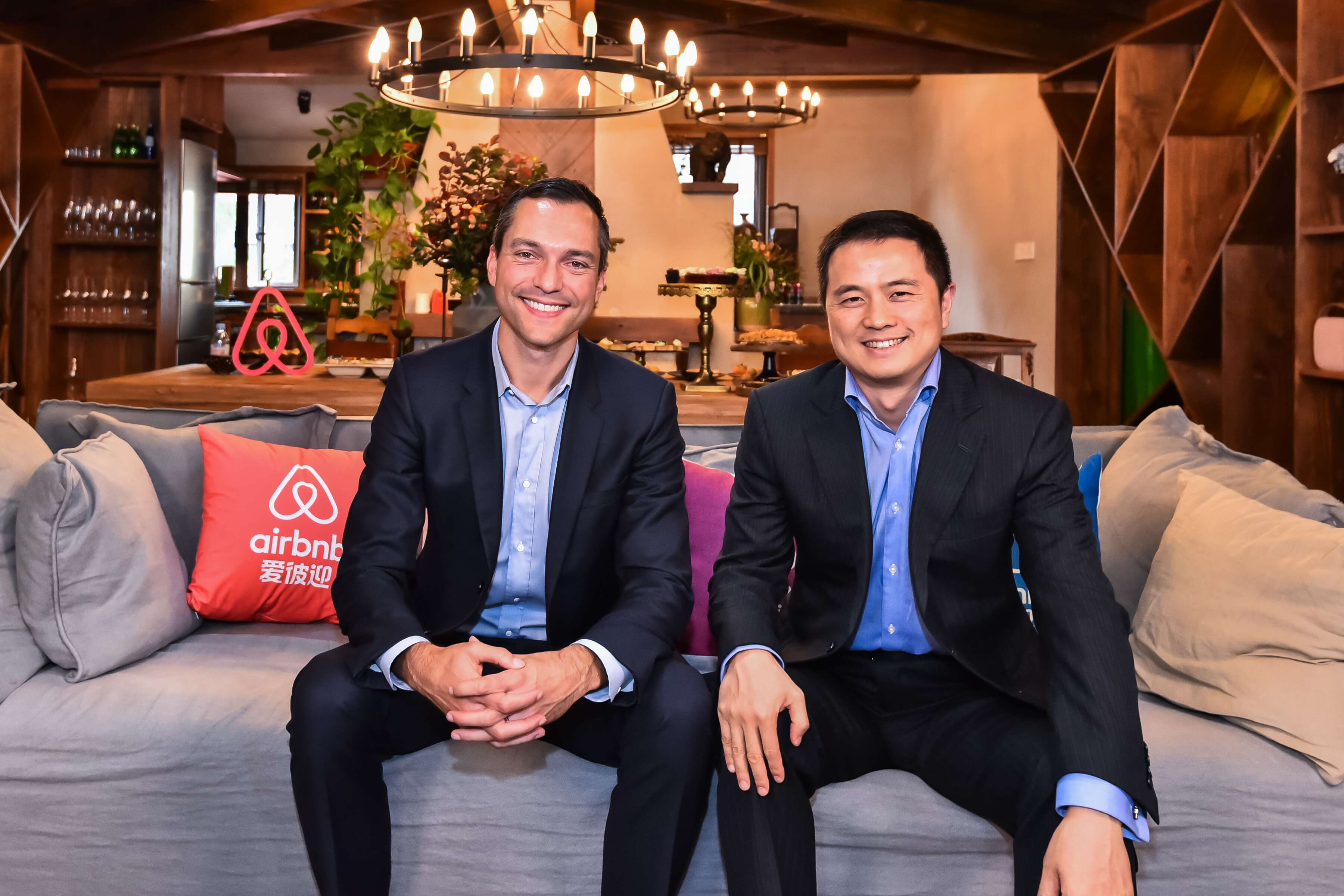 Nathan Blecharczyk and and Tao Peng, China President
In the last 12-18 months or so, Airbnb has not only dug deep to learn from China's design community by meeting fellow specialists from Didi Chuxing, Baidu etc. but it has already come up with a tailored offering for Chinese travellers. Peng said, "Chinese users are influenced by offerings of different ecosystems, represent a different culture, and are curious about the world, they are technology savvy…so we evaluate how they think of the world psychologically and what sort of product needs to be offered that can be the best way to discover the world."
Even as the unified app design is going to ensure that much of the core experience is retained, the brand differentiation is being attempted via introduction of fresh design elements. Airbnb has worked on a new content feature, titled Stories, for Chinese users. "This is a way to let people share unique travel stories and be inspired by others," mentioned Blecharczyk. The short-rental accommodation and home-sharing concept is relatively new for travellers here, so the company felt that it needed to create more awareness about Airbnb by letting the community to come together and educate more people on this new way of traveling. "This content site doesn't exist outside China," shared Blecharczyk.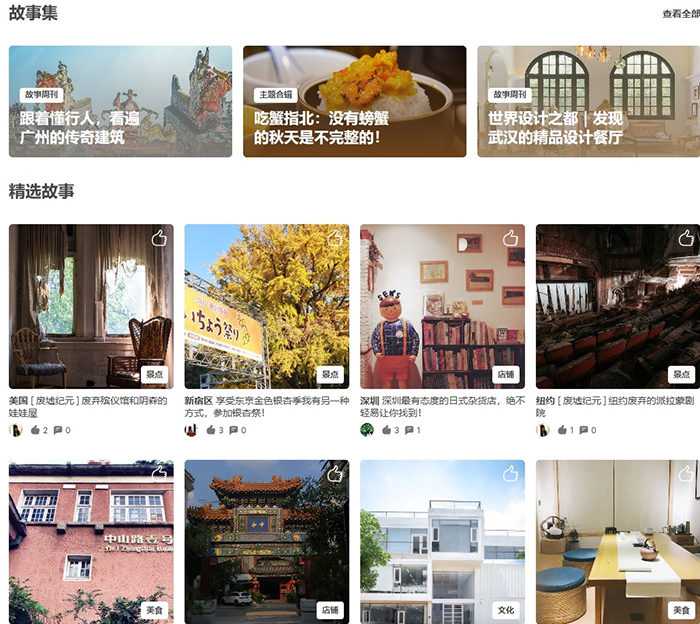 Sticking to strengths
All customer-centric moves don't shape up the way as planned, for instance, the recent cancelling of the Night at the Great Wall contest in China. The company has managed to run around popular contests by transforming iconic spaces. Still Airbnb is sticking to its strengths. A couple of them are:
1. Network effect: Acknowledging the failure of others in China, Blecharczyk, "We are very aware of the track record of other companies in China, which causes to a very deliberate and thoughtful approach here. We have dwelled on what our natural advantages are. Because frankly we have some disadvantages, too. Companies here are superfast, have lots of capital. But one obvious advantage that we have is Airbnb's network effect. Travel is inherently global. (It is exemplified by the fact) we have over 5 million homes across the globe. It is advantage on day one (here). It is the reason that so many Chinese travelers use us to go abroad. That's the entry point. From that singular idea, come along a lot of other sub-advantages. When guests come back, they come back with an experience – become host and also travel domestically. This "finances" the user acquisition cost, too, of our domestic business. Also, we have high caliber guests, who have shown a high propensity to spend and is a plus for inbound business," said Blecharczyk. "Over the last 2.5 years we also saw a constant growth across China."
Some of the pointers that show progress:
• According to Airbnb's data as of mid-September, Chinese guest arrivals for domestic listings by local travelers during the National Day Holiday increased by 200% compared with the same period last year.
• Domestic listing has grown x 2.5 year–on-year
• China outbound travelers visit South Asian countries like Philippines, Vietnam, Thailand and Malaysia has grown more than 80% this year with respect to last year.
• During the National Day Holiday, Airbnb guests in China will travel to more than 300 cities across mainland China.
2. Keeping the brand distinctive: There are areas that Airbnb isn't going to foray just the way it hasn't done globally. For instance, Blecharczyk asserted that Airbnb is not reliant on OTAs for distribution. The company is confident about the strength of its brand. "Most of our traffic and customers aren't paid for. We have certain smaller partnerships with travel sites, but we have (largely) stayed out of alliances. We don't believe in syndicating our inventory."
It is clear that Airbnb doesn't believe that 3rd party distribution can do justice to what it has to offer. At the same time, Airbnb is open to those digital platforms that complement it and one example is WeChat mini-program in China. "One could see a photo on WeChat Moments, they probably want to have the same experience. How to do that? Our listing on WeChat could just do that. So we are open-minded. If an experience (that Airbnb believes is fit with its brand) can be replicated, that's when we sense an opportunity (to count on any 3rd party site/ platform)," said Peng, Airbnb China President. "We don't see ourselves as a purely transactional service."
Blecharczyk also mentioned that products – be it for Homes or Experiences – are unique and this results in organic traffic. Airbnb plans to introduce Plus (quality homes with hosts known for great reviews and visited in person for a 100+ point quality inspection) to eight cities by the end of this year in China. Also, there are 400+ Experiences (activities designed and led by inspiring locals) and entries are open to both urban and rural areas in China.
"We live in a world of WeChat, Instagram…everyone wants to express and share that they are having an experience that's personal and unique. This plays quite well to Airbnb. Our listings allow people to define travel, come up with a distinct story and call their own among their social circle (offline and online). So traffic acquisition challenges can be avoided with a strong word of mouth. Airbnb typically doesn't have to bid and pay for traffic. And that's a very competitive space."
Biggest challenge
"Opportunities and challenges are different sides of the same coin," said Blecharczyk. "The market here is so big, yet still early days of home-sharing here. It is growing rapidly. Our trajectory is good. Understanding the target audience is just half of the equation, it's equally important to be able communicate with your audience in a way that will really resonate with them. The challenge is that – how do you communicate the value proposition and live up to the expectation such that it becomes a mainstream way of travelling in China. That's where having a tight control of the quality becomes extremely important. Some of the things that we do quality-wise, we don't do anywhere else (for instance, manually reviewing every listing, in-home inspection and working with the host to showcase their home)," concluded Blecharczyk.