Since venturing into Shenzhen last November, OYO Rooms has launched more than 1,000 hotels with 50,000 rooms in China through franchise, management or leasing contracts in just nine months, according to the Q1 financial report of Softbank.
In July alone, OYO Rooms signed about 400 franchisees and the number of rooms has increased by more than 25,000 rooms.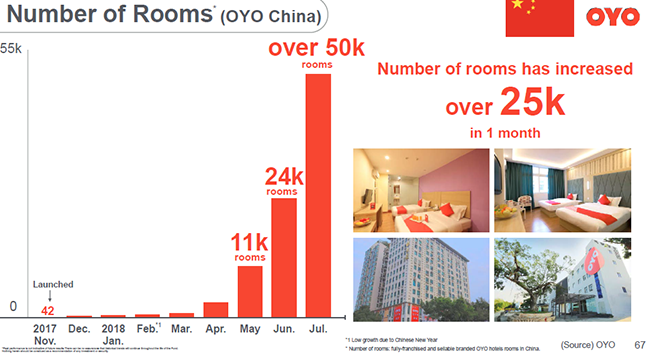 In the second quarter up to June, OYO Rooms added a total of 34,000 rooms in India and 47,000 in China, at a pace exceeding the top three international hotels (Marriott at 8,000; Hilton at 7,000; and IHG at 2,000).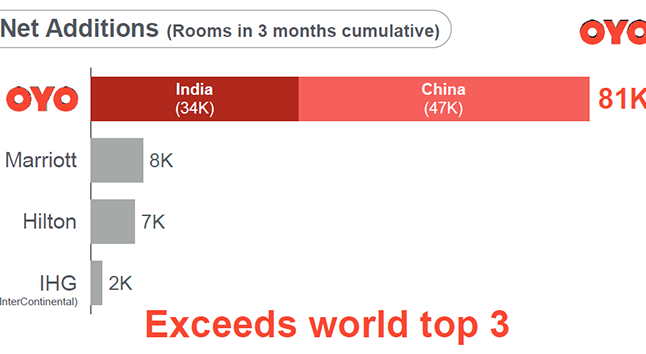 A ranking list by China Hotel Industry Association indicated that OYO has surpassed the Motel brand of BTG Homeinns Hotels Group to rank No.11 in terms of the number of hotel rooms, and that OYO has also knocked out the Vienna brand of Jinjiang International Hotels in terms of the number of hotels, rising to the top 10.
Compared to other hotel chains, OYO Rooms invested much more in smaller cities, as more than half of its hotels are located in second, third, fourth, fifth or sixth-tier cities or even more remote markets, covering 28 provinces, municipalities and autonomous regions in China, said industry professionals.
Recently, OYO has set out to explore multi-brand operations with its first upmarket brand to be rolled out in Guangzhou and Shijiazhuang.