ChinaTravelNews, Ritesh Gupta - Travel companies with different distribution business models - online travel agencies, international hotel wholesalers and indigenous B2B hotel intermediaries etc. - are increasingly counting on the lower tier cities in China for more outbound hotel-related transactions.
They all are diligently looking at the offline presence, such as offline stores and working with traditional travel agencies, to connect with travelers and come up with a suitable option for them.
As indicated by Ctrip over the last year or so, GDP per capita in lower-tier cities has touched the threshold of a certain spending level where more people from these regions are expected to travel. This is also reflecting in the financial performance of Ctrip. Total gross merchandise volume of the offline stores grew around 50% year-on-year in the January-March this year. A concerted effort by Ctrip, such as opening of over 1,000 Ctrip and Qunar-branded franchise stores last year, exemplifies the plan.
Jane Sun, CEO of Ctrip, said the company wants to ensure the offline presence will take care of the concern of those travelers who aren't yet comfortable with online transactions, especially with the large-ticket sized transaction. Sun has mandated the team to go after the share of the market and last month stated that the company is "not intending to make money" from this lower-end market at this stage. Ctrip is driving offline store growth through a franchise model.
Others too are ready to go after the pie
Foreign specialist Hotelbeds Group operates four brands - Hotelbeds, Bedsonline, Tourico Holidays and GTA - and they all operate together here in mainland China. They all work in unison, so when it comes to working with travel agents and tour operators all these brands are represented as one. The group is not only targeting B2B partners in Beijing, Shanghai, Guangzhou and Shenzhen (the group has offices in these 4 cities in China), but also smaller cities and towns to capitalize on the outbound travel demand.
"More than the number of offices here, more important is the deployment of resources. There are two distribution models here - offline wholesale and retail. So in case a traditional retail agency needs a one-to-one interaction, we ensure our resources are optimized for that," said Andrew Hughes, Regional Director Hotel Sourcing of Hotelbeds Group. "China in itself is a region for us, separate from other markets coming under the APAC region. It demands people, resources and special focus to do business." The team asserts that with its new structuring it is also ready to go deeper into China. Post the integration of Tourico Holidays and GTA, a new departmental structure has been created for various functions and this also includes two different segments - retail travel agencies, and wholesale sourcing. They are going to be managed in a specific manner.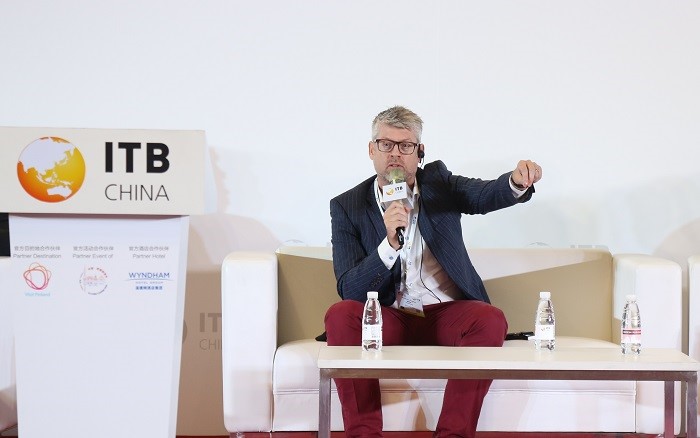 Andrew Hughes, Regional Director Hotel Sourcing of Hotelbeds Group
Explaining that further, Hui-Wan Chua, Wholesale Sales Regional Director, APAC, Hotelbeds Group, said, "Wholesale is about API connectivity, about knowing their customers well - understanding what they are looking for, what they are buying and targeting the repeat business. On the retail side, it is about the human touch, the customer service. They need to be present or available when a traveller faces a problem."
Home-grown Chinese players, too, have been strengthening their presence in the outbound sector.
For instance, Shenzhen-based Didatravel is focused on B2B hotel distribution, and their core area of focus is distributing global hotel inventory to China's B2B market. "We are working with travel agencies, reaching out to 14000 offline travel agencies' stores or shops here. Actually, one agency can have multiple branches. So even if there are around 30,000 offline agencies in China, the number of travel agency shops or stores can be far more. We count our association with agencies in terms of offline shops. Out of 14000 shops, around 60% are based in main cities such as Shanghai, Beijing, Shenzhen etc. Rest we have in tier 2 and lower cities, like Xian, the capital of Shaanxi Province, and Shenyang. All agents buy our global hotel inventory via our website or connect to our API," mentioned shared Rikin Wu, CEO, Didatravel. He added that there are eight offices spread over tier-1 and tier-2 cities. "Most of the global B2B players don't have offices in tier-2 cities, they are only present in tier-1 cities."
Rikin Wu, CEO, Didatravel
Who has the edge?
A company like Ctrip even in their 19th year of operations asserts that this is the beginning of the addressable travel market. So if the content of international hotels has to reach out to lower tier cities, then who is taking the lead?
Say if a traveler in fourth-tier city intends to travel outside China and stay in a specific hotel in Thailand, who would serve the content - OTA or an offline agency? Hui-Wan believes both players can serve the purpose.
No doubt that Ctrip or other operators would continue to capitalize on the shift from group travel toward individual travelers. But essentially there has always been a difference in which online specialists and B2B organizations work. "Of course, top OTAs initially covered the first tier cities as buyers showed early signs of propensity to travel - first domestically, then Hong Kong, then Asia and finally other destinations. Then OTAs shifted their focus and added second tier and third-tier cities. What we, as a group, ensure that our content is always available regarding of the strategy of the agency or the OTA we work with to help them grow at the pace they intend to grow," said Hui-Wan. "We do see a balanced distribution (not only skewed towards top cities only and rather there are bookings coming from lower-cities as well)."
Hui-Wan also referred to the quality of hotels that the group has to offer. "The choice of content that a B2B partner would have with HotelBeds would differ and that's an advantage when bookings come from lower-tier cities."
Citing an example, she mentioned, "China is now the fourth source market in the wholesale channel for Hotelbeds Group, up from fifth place only last year. 2017 accounted for 2.3% of all inbound Chinese hotel bookings into the United States market." Only as recently as 2012 China was not even in the group's top 20 source markets globally.
She added that the team focuses on sourcing Chinese-friendly hotel inventory in major destinations (the hotels would have Chinese speaking staff and also offer amenities that Chinese traveler prefer) and this when extended to Chinese intermediaries helps them further in their business."
The group has over 170,000 hotels in their portfolio. There are global intermediaries with 5-6 times the number of hotels in their portfolio, but Hughes mentioned that it is vital to have a broad range and not necessarily having the "broadest" would be the ultimate goal. "An OTA might show 3000 hotels in Bali, but for us, 700 might be the best that we would like to work with," he said.
Customization of the content for the buyer in China remains an issue.
As for aligning content that helps buyers or trade partners (both on the retail and the wholesale side) in China, Hughes says the group focuses on their own point of sale in terms of enriching Chinese content. "It is a journey for any international company working in China and it takes time to get to the depth. Where travel agents need a certain level of depth and in case we don't have that then we will collaborate with our business partners here in China where they may be able to expand on our depth and we in return can take that rich Chinese content to distribute on our wide network coverage. We choose to work with partners that will complement our content rather than customizing our content. This way agents will see an increased depth and breadth of product on their shelves."
Complexity on the rise
Didatravel's coverage span 500,000 hotels globally.
"By working with Didatravel, offline agencies can instantaneously get access to one of the largest base of hotels with real-time pricing," said Wu.
The distribution landscape is becoming intriguing as companies like Didatravel are working on arrangements for sourcing inventory to increase their transaction margin. For instance, they are contracting directly with hotels and not dealing with intermediaries in certain cases. They are also connecting to global OTAs to expand their reach.
"We have more than 300 suppliers. And the list of partners includes wholesalers, OTAs etc., mostly outside China with major focus on the outbound segment. 90% of our total transaction value is from the outbound category," shared Wu. Didatravel works with more than 125 international hotel distributors to serve the Chinese outbound tourists.
"The reason we have gained traction is owing to our IT set up, with the team mainly comprising IT professionals who have been associated with the travel technology sector, having worked with OTAs and managing hotel distribution. Our tech stack facilitates real-time inventory distribution system supporting automatic processing from booking to confirmation. We offer customized deals based on search records and booking patterns of agencies, and also offer promotions to loyal customers through email promotion campaigns, WeChat or SMS. Another area is customer service. We offer support in Chinese language. And that's another differentiator."
For their part, Hotelbeds is open to working with partners to penetrate the lower tier cities as the group sees that as an upcoming, huge opportunity.
Impact of digitization - threat or opportunity
The emergence of new online players over the years has given consumers a lot of choices.
Hughes said no doubt consumers like an array of choice and it is the group's responsibility to ensure that different channels that "sit between us and that consumer to remain relevant to them".
"In the B2B space, our role is to help partners win in the digitization space. Just recently Bedsonline improved and introduced a new Chinese language website. It features content for agents and is fully integrated with WeChat through an automated client acquisition program created especially for this key market," said Hui-Wan. "This would also help Bedsonline's sales force team of 15 sales managers who cover the whole Greater China region, including Hong Kong, Taiwan and Macao."
As for how shopping in the B2C domain is impacting the B2B arena, Hughes mentioned that it is imperative for agencies to invest in technology to remain competitive and have a role in the supply chain. "We would continue to partner with agencies in China, partner with them for content, guide them where to invest in technology to take them forward," he said. Hui-Wan mentioned that it is vital for agents to invest and grow their customer base. "For instance, can the traveler rely on the agent to sort the issue they are facing? So they need to count on digitalization to strengthen this arena - maybe use the WeChat account for serving passengers/ guests."
And what about an agent selling via Fliggy or Meituan? What if hotels are concerned about the same if their brand isn't represented appropriately on these heavy-traffic platforms?
Hughes acknowledged that distribution is becoming more complex day by day. "Hotels are selling to more partners (than in the past). And these partners are choosing to distribute in different ways. Agents are trying to find ways to stay competitive and there are travel agencies selling to other agencies. And if hotels have concerns about whom they are doing business with and intend to be in control, then they need to consolidate their business."
There is no one player who would take charge of the outbound business. Each player has its strength. In fact, such is the level of complexity that even one booking could be facilitated by more players than ever before!