Chinese homestay chain brand Youjia received "tens of millions of US dollars" in its latest financing round backed by investors including Ctrip and Tujia.
The Beijing-based company operates as a Virtual Store & Service Center – each group of 100 guestrooms within a radius of three kilometers is clustered into a virtual store, supported by a service center that provides concierge, housekeeping, laundry and luggage valet services.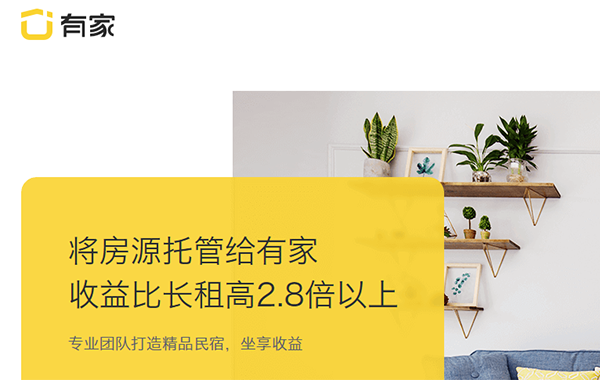 Zhiqiang Shen, Founder and CEO of Youjia, said that he intends to build a homestay brand that provides a chain of quality accommodation to different short-term rental platforms.
Mr. James Liang, Executive Chairman of Ctrip, once said the immediate problem for China's homestay sector is the shortage of quality accommodation.
As travelers are increasingly choosing home-share accommodation instead of traditional hotels, a stable of quality accommodation becomes the key to a business. Airbnb launched Airbnb Plus in Shanghai in March 2018 to recognize hosts who deliver exceptional hospitality.
One of Youjia's major rivals in the business is Locals, a home-sharing platform backed by smartphone maker Xiaomi's founder Jun Lei. Locals has around 10,000 listings in more than 50 cities. The company received USD 24 million (RMB 150 million) in its series A round funding in January and brought in another USD 15 million (RMB 100 million) in March. (Translated by Jerry)