ChinaTravelNews, Ritesh Gupta - Ctrip is bullish about sustaining the group's growth in the domestic market, after posting 30% year-on-year growth last year.
"GMV is growing, the overall market is growing and our market share is growing (so we expect GMV to grow accordingly)," James Liang, Co-founder and Executive Chairman, Ctrip told TravelDaily China in an interview during ITB China, which commenced in Shanghai on Wednesday. The company had posted RMB 560 billion in GMV in 2017. Liang didn't specify the expected GMV growth figure, but he asserted that Ctrip has plenty of room to grow when it comes to the addressable travel market.
Another speaker, Steven Shu, CMO, Meituan Dianping, too acknowledged the scope for growth, but he categorically mentioned that one of the key aspects going forward would be the level of service. "China (travel market) is a huge industry, very well-developed. How we can provide the best service would be a key factor. Meituan realizes that there is passion for travel, willingness to spend and there is a demand for high-quality experiences." Going deeper into the service aspect, he said, "Well, it is a comprehensive concept, but the idea is to take out complexity and offer a one-stop solution that it not only about travel but also living, eating and enjoyment."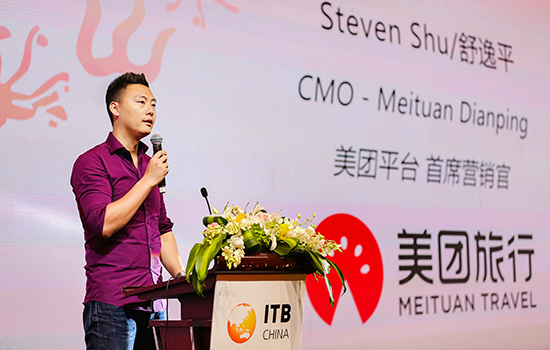 Ctrip, too, emphasizes on service, with its strength being offering choice, in addition to pricing and delivering unique, top-notch experiences.
Growth and customer service to go hand in hand
For their part, the Ctrip group is looking at targeting the lower-tier cities in order to expand. Plus, the team also believes that the association with the user base is getting strong and resulting in more transactions. Also, air ticketing buyers gradually boost cross-selling, featuring in accommodation-related transactions.
Ctrip asserts that the team has built a robust offering after being in the business for more than 18 years. First, the group has refined its product strategy via a diligently crafted ecosystem through their open platform. This way the team has managed to overcome inherent challenges associated with China owing to a complex value chain that covers multiple non-standard travel categories. And in today's fast-paced environment, where every touchpoint is expected to deliver as quickly as possible, Ctrip points out that it manages to respond to 95% of requests from its users within one-third of a minute. Also, the team has an astute approach towards making the most of data and converts into actionable intelligence by acting on 50TB of daily travel data for the benefit of various stakeholders.
Liang also acknowledged that the team is working on plans to step up the share of international revenue at this juncture. It currently stands at 20% or so. Post a series of strategic alliances in the last couple of years in the online travel space, the company is betting on a mix of organic growth (opening more offices in foreign locations) and through the acquisition route to grow in stature as a global online travel company.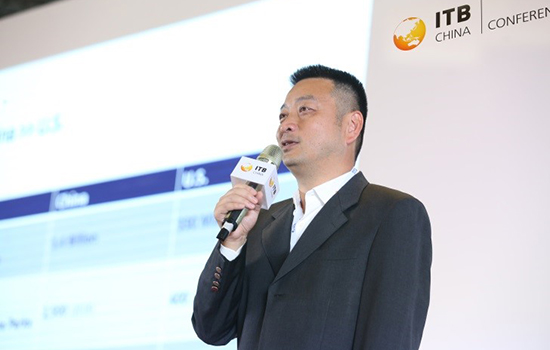 James Liang, Co-founder and Executive Chairman, Ctrip
Liang also referred to the wide gap between outbound travellers from China and inbound travel. Even the growth of outbound travel is positive news, there is a need to focus on areas such as inbound visa to boost the inbound sector.
Offering consumption service experience
Meituan's Shu referred to the group's multitude of services - store + home + travel + local transportation concept. The company had introduced their travel and leisure brand and integrated platform, featuring online accommodation booking service, attraction and excursion package ticketing, outbound travel and flights, rail, boat tickets, and travel insurance, around the same time last year. In terms of one-stop shop, Meituan is banking on selling hotel room nights and sightseeing attraction tickets together or understanding the co-relation between different shopping categories. For instance, how those book hotel rooms, how they also place dining or catering orders and opt for tickets for recreational activities.
On how the company's core audience - the "Millennials" - responds to travel, Shu said, "This group will become the leading force of future consumption. Their annual consumption growth rate is 11%, twice that of consumers aged over 35. Compared with other countries, Millennials in China prefer travelling, they pursue higher convenience and upgraded experience," he said.