36Kr reported that accommodation operator ttg has secured tens of millions of yuan in its Pre-A round of financing to expand its team and improve the business. Wecash and Will Hunting Capital were the lead investors, and Ceyuan Ventures along with two institutional investors also participated.
ttg, formerly known as Teatree Group, was initially founded as a design studio in 2011. It ventured into the urban youth accommodation space in 2014. So far, it has integrated more than 20 directly managed or franchised youth hostels, inns and boutique hotels.
The founder and CEO of ttg, Haixin Jin, told 36Kr that the business aims at becoming a new-generation accommodation service provider as well as an innovator in the travel accommodation sector. By providing superior accommodation facilities and diversified, friendly and shared experiences to travelers, he hopes to foster a new standard for the youth hostel business in China and a new platform for young people to explore life and exchange ideas.
ttg bases its urban accommodation operation on five elements: host, guest, facility, space, and service, and explores the boundaries of public and private spaces of young people, the balance between the business models of self-service and non-self-service, and the optimal integration between hosts and guests.
"Together Hostel", ttg's urban flagship brand, sees space as wide open instead of partitioned into closed rooms. They remove all the walls of the second floor of a hotel to return the space to its original shell, and then redefine different regions using small and large "tents".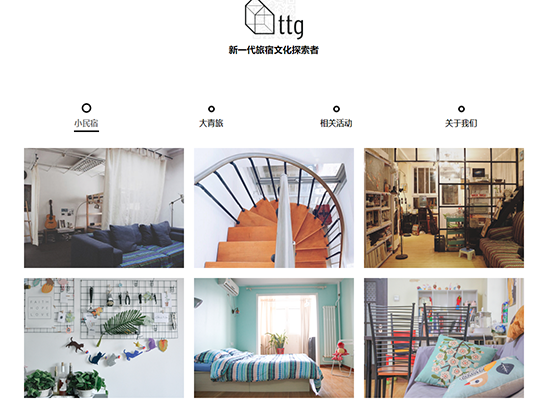 At present, ttg has three Together Hostel flagship properties, one of which will be officially opened in Suzhou in the middle of May.
The Together Hostel in Suzhou will be designed as a distinctive pop-up store in line with local features and traditions, where young travelers can rent the establishments as flea markets to trade second-hand books, homemade designs or artworks.
In addition, ttg operates more than 20 urban bed-and-breakfast units, and has launched a new decentralized short-term rental brand, Teatree Apartment, to provide both standalone and packaged services. Though the apartments come in different forms, the performance indicators, like investment, the rate of return, and per customer transaction, are all managed on a standard basis.
Mr. Jin said the company plans to explore developing different forms of youth community venues and expand Together Hostel to Chongqing, Xi'an and other cities.
Currently, ttg has more than 500 listings, and aims to increase that number to 2,000 in 2018. In 2017, ttg had more than 15,000 registered guests, and charged each guest around 90-120 yuan. The majority of the guests were from generations from the 1980s to the late 2000s, and over 30% of them booked their stays directly on ttg's platform. The average repurchase rate exceeded 20%.