Attendees of ITB China 2018, taking place from 16 to 18 May in Shanghai, can look forward to an exciting conference program featuring more than 120 different speakers. The ITB China Conference is the platform where newest trends and innovation of Chinese and the global travel industry are presented. It runs parallel and will be jointly organised with TravelDaily China. Travel Tech, Online Travel, Business Travel and MICE will be on the agenda for the second day of ITB China Conference on 17 May. For the first time the Business Travel Day will be launched. It offers an ideal training and networking platform for everyone working in the business travel market.
The morning sessions of "Travel Tech" will be presented by Mr. Lei Guan, CEO from Beijing Babel Technology with the topic of "The Innovative Application of AI Translation in Cross-border Tourism". Ms. Allen Chen, Vice President, JIGUANG will talk about "Big Data Application of Tourism and Analysis Practice of Tourist Behaviour" and Mr. Jarhead Gai, CEO, Yundijie.com delivers a keynote speech on "Reform of Scientific and Technological Innovation in Supply Side of Customized Travel". Industry experts from WeHotel, WebBeds, Hotelbeds, Jinling Hotels and DerbySoft will debate in a panel discussion about "The New Dynamics of Hotel Distribution" from 11 to 11.50 am.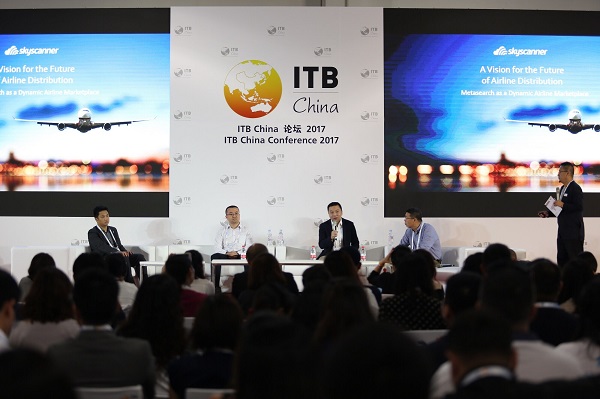 ITB China 2017
Mr. Bin Du, Vice President from Mafengwo.com opens the "Online Travel" sessions with a speech on "The Strategy of New Tourism: How to Grow Business in the Time of Great Changes" followed by a keynote from Mr. Wells Zheng, Vice President, Fliggy. Mr. Fisk Yu, CEO, Haoqiao.com discusses "The New Roles of the Travel Agencies in New Internet Era" afterwards.
These sessions will be concluded by the award ceremony of the second "ITB China Startup Award" recognizing travel-related start-ups introducing innovative products and solutions over the past year. The winner will be awarded with a complimentary booth at ITB China 2019. The jury is comprised of industry veterans, including Philip C. Wolf, Founder, Phocuswright; Shiwei Zhou, Vice President, Ctrip Investments; Herry Han, Partner, Lightspeed China Partners; Jay You, Partner, Yuantai Investment Partners Evergreen Fund; Fei Ye, VP of Strategic Investment and Capital Market, China Lodging Group.
Meanwhile, Ms. Alicia Yao Hong, Regional Vice President, PCMA ICESAP will set the scene for the MICE session featuring a keynote speech and a case study on the "Belt and Road Initiative" - How Does It Affect the Business Events Industry in China?" Moderated by Mr. Philip Pang, Marketing and Membership Manager, PCMA ICESAP, the following speakers will contribute to an intensive verbal exchange: Ms. Ivanka Xu, Founder & CEO, Merak; Mr. Shane Ullman, Managing Director, Travel Events Asia; Mr. Ike Zhang, Vice President, Corporate Services, Tempus Group and Ms. Eugene Lin, Asst. President, Shanghai Jin Jiang Travel.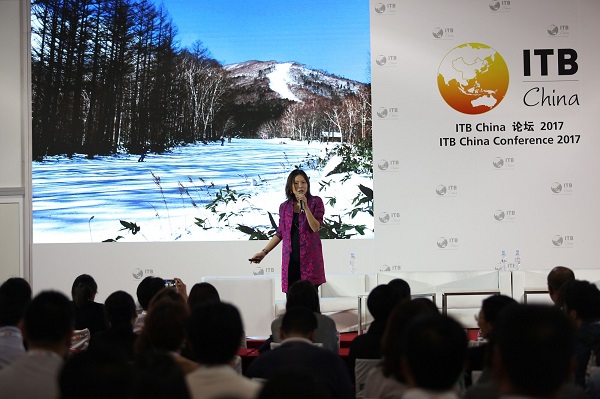 ITB China 2017
The Business Travel Day will kick off with a panel on "How Technological Innovations Are Transforming Business Travel". It will be moderated by Mr. Jonathan Kao, Managing Director from Greater China/ BCD Travel followed by discussions with Mr. Robert ?hrnberg, General Manager Greater China, Finnair; Ms. Huilian Duan, Vice President Sales & Marketing, APAC, Maritim Hotels and Giles, Chairman of the Board & CEO, Fanjia International and Mr. Charlie Xu, Director of New Business Development, Greater China, HRS. This year's exclusive partners are CITS American Express Global Business Travel, Carlson Wagonlit Travel China and BCD Travel.
Further sessions of "Business Travel" will witness insights and panel discussions on the topics of innovations in business travel, unmanned services and digital intelligence applications, such as "The Belt and Road Initiative - Powering the Business Travel Globalization" hosted by Mr. Kevin Tan, Vice President & General Manager, CITS American Express Global Business Travel.
Full details of the Conference program