Following the financing round in January, boutique homestay brand Locals announced on March 8 that it has raised another RMB 100 million in funds, backed by Shunwei Capital. The investment will be used to expand property listing, enhance technical support, improve operational efficiency, and develop new divisions on home furnishing retail and urban travel.
Locals' founder and CEO Mr. Tongmin Su said in an interview that the company would maintain its brand advantage to become the Hilton of the B&B industry by expanding its scale and upgrading service quality.
Currently the company has more than 10,000 boutique accommodation listings in 55 cities. It aims to enlarge the pool to 50,000 properties and receive 20 million guests in 2018. It expects to achieve gross merchandise value (GMV) of 2 billion yuan accordingly. To this end, the number of employees will increase by four times, and the ranks of middle and senior-level staff will be augmented this year.
Mr. Su had previously revealed that the target of Locals was to lead the development of the smart homestay industry with first-class user experience and scalable operation, and also to take a leading share in home furnishing retail leveraging its massive traffic volume.
The main goal of Locals' smart homestay is to enhance user experience. "Our smart accommodation features comprehensive interactions with all smart home designs." said Mr. Su. Locals has already installed smart devices in its properties, such as smart air systems and locks.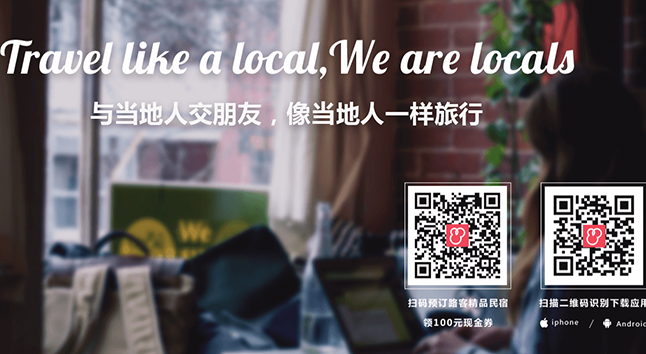 In addition, Locals' new home furnishing retail business will accelerate in 2018.
In response to user demand, the platform has introduced high-end brands such as JNBYHOME, EXNIHILO, Xiaomi, ZAOZUO and ZENS as strategic partners in 2017. It will also introduce quality bedding, boutique homeware, bathing, tableware and other products in 2018, enabling users to buy products after trying them out during their stays.
The urban travel business is another new business for Locals in 2018. Unlike the Experience program of Airbnb, the urban travel business mainly aims to better understand the needs of guests and to provide value-added services with local characteristics through its friendly assistant hosts.
Mr. Su hopes to connect the two additional divisions through product experience and creating demand. The two newly added divisions are expected to generate2 billion yuan GMV for Locals this year.